More Illinoisans on food stamps this Thanksgiving, 50K recipients will soon need jobs
This Thanksgiving, about 17,500 more Illinoisans will be using food stamps. By New Year's, about 50,000 Cook County recipients must find jobs or lose benefits.
As families prepare to celebrate the bounty of Thanksgiving, new numbers from the federal government show Illinois was one of only two states to increase the number of people using food stamps from a year earlier.
An extra 17,500 Illinoisans were part of the Supplemental Nutrition Assistance Program in August compared to a year earlier. Illinois had 1.78 million residents collecting food stamps, which is 14% of the population and higher than any neighboring state.
Cook County has about 826,000 food stamp recipients, and about 50,000 of them will need to find work to keep receiving those benefits after Jan. 1.
The 50,000 Cook County residents who are under age 50, able-bodied and have no dependents will only receive three months of food assistance over three years if they do not find at least 80 hours of work per month, according to the Chicago Tribune. Job training, volunteering, or other work-related activities count toward the hourly requirement.
The SNAP work requirement has been in place since 1996, but Illinois has been able to claim a waiver from the rule because of high unemployment. Unemployment rates fell so low, first in DuPage County in 2018 and now in Cook County, that county residents now must comply with the program's work requirement.
Illinois is still seeking waivers for the other 100 counties, and they are expected to be approved. Of the state's 1.78 million SNAP recipients, about 162,000 are able-bodied adults without dependents. The Cook County changes affect less than 3% of the state's recipients or about 6% of the county's recipients. The benefits are worth about $200 a month for a single adult, and Illinois distributes them using the Link card.
Cook County unemployment has fallen to 3.9%, below the national average of 4%. States can only receive waivers from the U.S. Department of Agriculture for areas with high unemployment, but the Trump Administration has pushed to make it more difficult for states to obtain the SNAP work waivers.
Some worry the work requirement will increase food insecurity. Private and government agencies are working to find resources that will help the 50,000 individuals find jobs so they can continue receiving benefits, or ideally earn enough by working so they don't need them. Social service workers worry people will lose the food stamps due to an inconsistent number of work hours, prior criminal records, trouble holding a job or a lack of transportation.
The Greater Chicago Food Depository is working to make sure food banks are adequately stocked for what they suspect will be a greater number of people in need come January.
SNAP participation had fallen in Illinois in recent years, but poor economic recovery drove up the recent numbers.
Illinois lawmakers and Gov. J.B. Pritzker over the summer changed state law so SNAP benefits could be used at fast food restaurants, saying there was a need to help those who cannot cook or get food for themselves.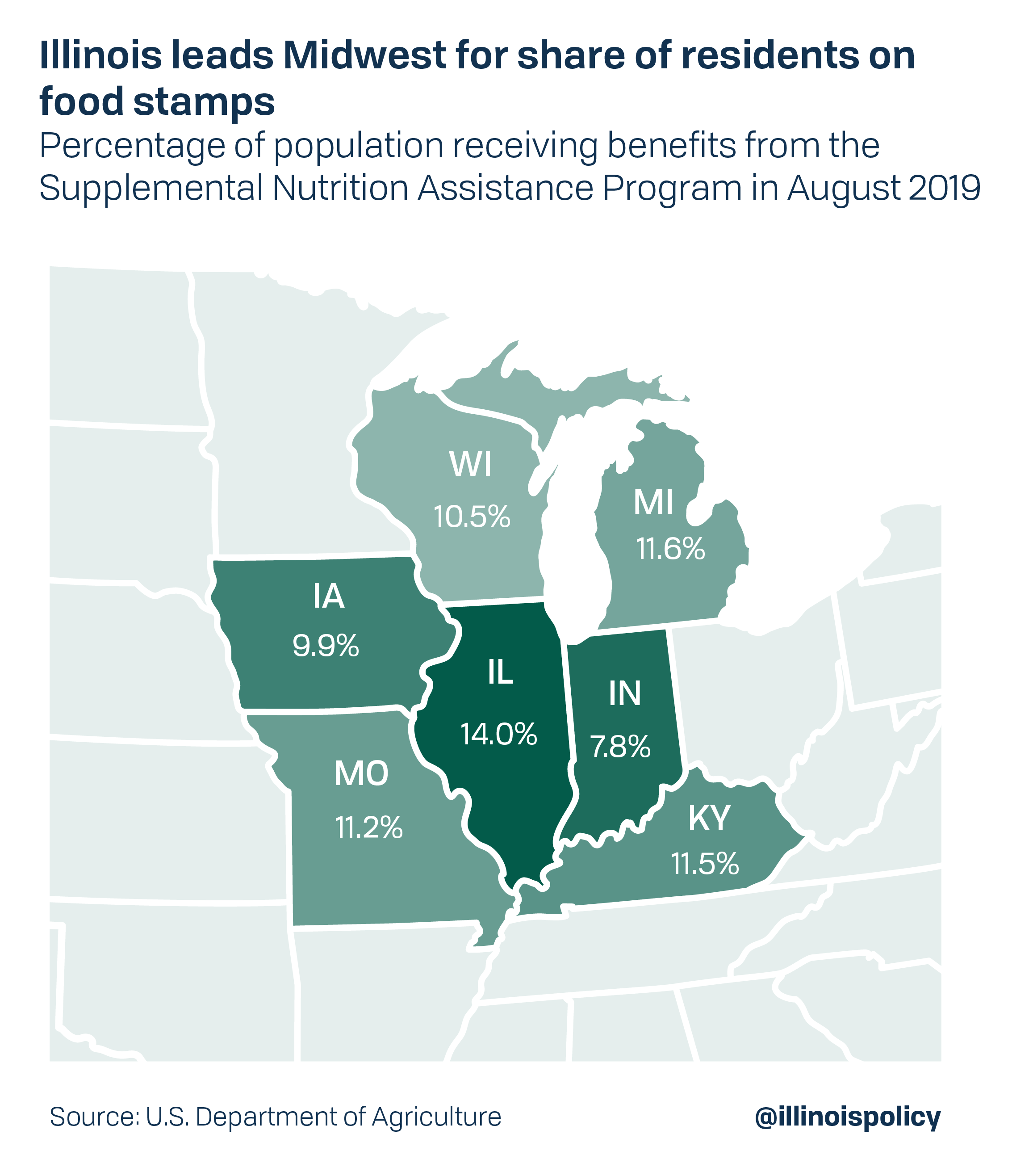 If Illinois wants to curb the growth in food stamp dependence by next Thanksgiving, and help create jobs for those 50,000 Cook County residents who will need them, then state leaders should work to reform the state's economy. Raising taxes through a progressive state income tax won't improve Illinois' economy any more than past tax hikes have. Higher taxes will only aggravate the No. 1 reason Illinoisans say they think about moving.
The only way to improve the state's economy is by addressing the reason taxes are rising so rapidly, and that is the growth of public pension costs. A constitutional amendment that protects current retirement benefits while controlling the growth of future, not-yet-earned benefits is the only way to tame the pension beast, stop tax increases and improve the job climate so fewer Illinoisans need to rely on food stamps for their next meal.