This Thanksgiving, food stamps will buy nearly 14 percent of Illinoisans' meals
Food stamp participation has seen an encouraging decrease, but lagging economic growth leaves Illinois ranked highest among neighboring states in SNAP enrollment.
For far too many families across Illinois, this year's Thanksgiving dinner will still be limited to whatever they are able to purchase using a state-issued Link card.
Nearly 1.8 million Illinoisans are enrolled in the Supplemental Nutrition Assistance Program, or SNAP, according to preliminary figures for July from the United States Department of Agriculture, or USDA. That's 13.8 percent of the population, a higher share than in any neighboring state. Benefits per person are about $130 per month.
On the household level, Illinois is seeing a decline in food-stamp enrollment year over year.
More than 892,000 Illinois households were receiving benefits through SNAP as of August 2018, the most recent data available from the Illinois Department of Human Services. This represents an 8-percent decrease from the same time in 2017, falling from nearly 969,500 enrolled households in August 2017.
However, SNAP enrollment numbers are less encouraging when viewed back to 2010 ­– the period immediately following the end of the Great Recession.
Illinois' weak economic recovery
A troubling indication of Illinois' post-recession recovery is that more residents are now enrolled in SNAP than in August 2010. In terms of individual SNAP enrollment, Illinois has seen a 2.3-percent increase.
Neighboring states such as Indiana, Wisconsin and Michigan have experienced significant declines in SNAP dependence during the same time period.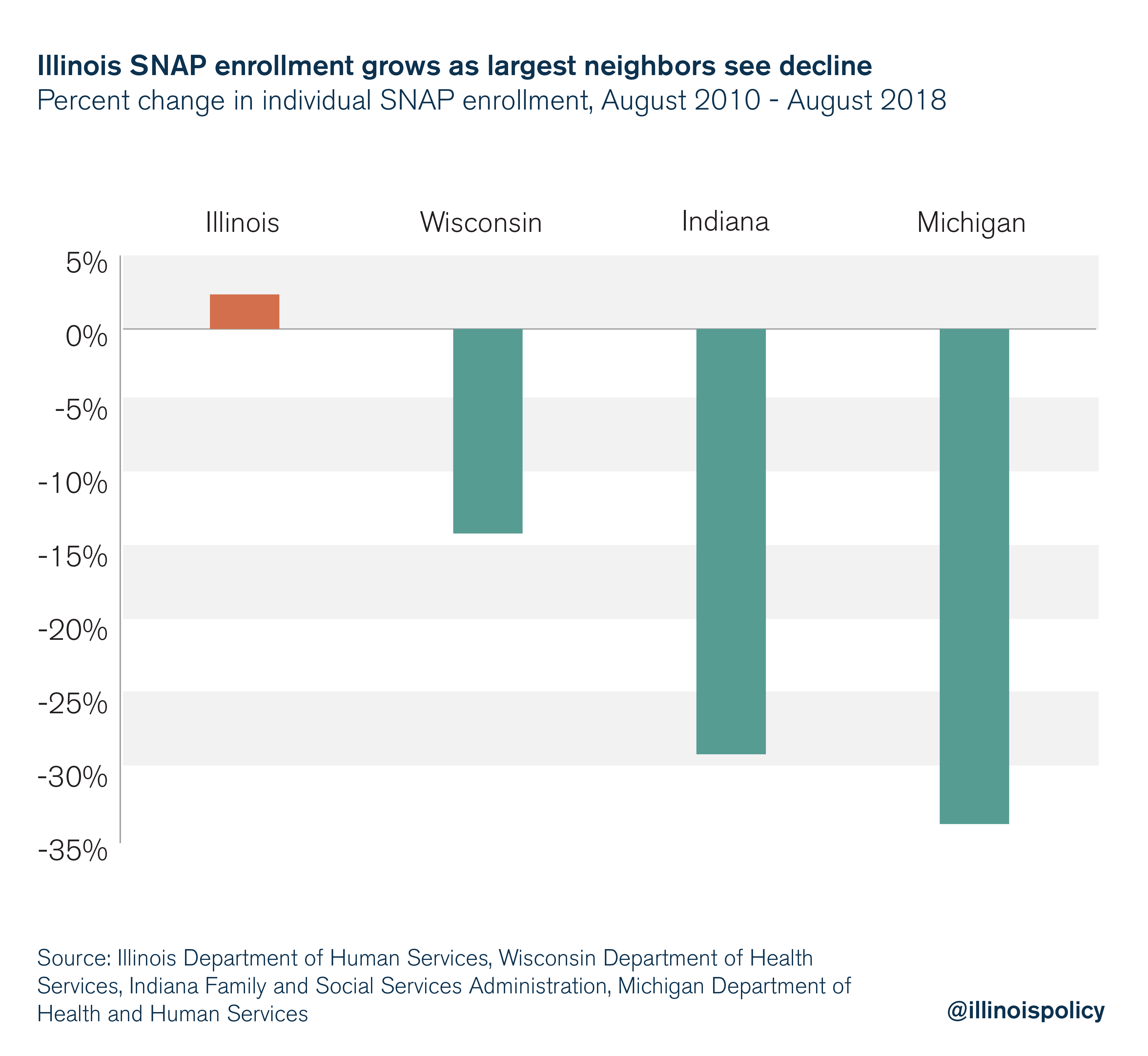 Work requirements
In September, the USDA warned Illinois that it was over-issuing federal food assistance to individuals who did not qualify for benefits, risking hefty fines.
States opted to waive these work requirements in the wake of the Great Recession. Under federal law, able-bodied adults ages 18-49 without dependents must work 20 hours per week in order to qualify for benefits. If this requirement is not met, eligibility for food assistance is limited to three months during a three-year period.
By October 2016 the work requirement largely returned, with 42 states enforcing some level of work. Illinois remained one of the eight to continue waiving the requirement. Among Illinois' neighbors, Iowa, Wisconsin, Indiana and Missouri do not waive work requirements. Michigan and Kentucky have partial waivers.
Illinois was one of six states to secure a statewide work requirement waiver for the first quarter of fiscal year 2018, as it has done for the past 20 years. The state has since been unable to meet the conditions the USDA stipulates for statewide work waivers, and is currently under waivers for parts of the state.
Illinois' comeback
Lawmakers in Springfield need to take action on policies that promote economic growth and job creation in order to organically reduce reliance on public assistance. Continuous tax hikes have battered Illinois' economy, making opportunities scarce compared to the rest of the nation.
Possible reforms include a spending cap that is tied to growth of taxpayer incomes and property tax relief that would free up precious dollars in family budgets.
But to make real property tax relief possible, lawmakers need to take pension reform seriously and the General Assembly must come to terms with the reality of the state's unsustainable public worker pension system. A good first step would be to end legislative pensions, followed by moving all future state workers to a 401(k)-style alternative – which has been proven successful for thousands of state university workers.
Springfield must overcome its dependence on tax hikes and bloated budgets so that it may bring prosperity and economic growth back to Illinois.