More than 130 six-figure school district administrators oppose education efficiency bill
An Illinois House bill that would allow more education funding dollars reach the classroom before getting trapped in administration has earned support from both parties – and the opposition of administrators.
The biggest opponents of the Classrooms First Act? Education bureaucrats who work in administration, rather than the classroom.
More than 400 school district administrators across Illinois have filed witness slips in opposition to House Bill 3053, a bill that could enable property tax relief while ensuring more education dollars reach students and classrooms first, rather than district administrative bodies.
Over 130 of the school district administrators who filed in opposition to the Classrooms First Act collect six-figure taxpayer-backed salaries, as of May 13.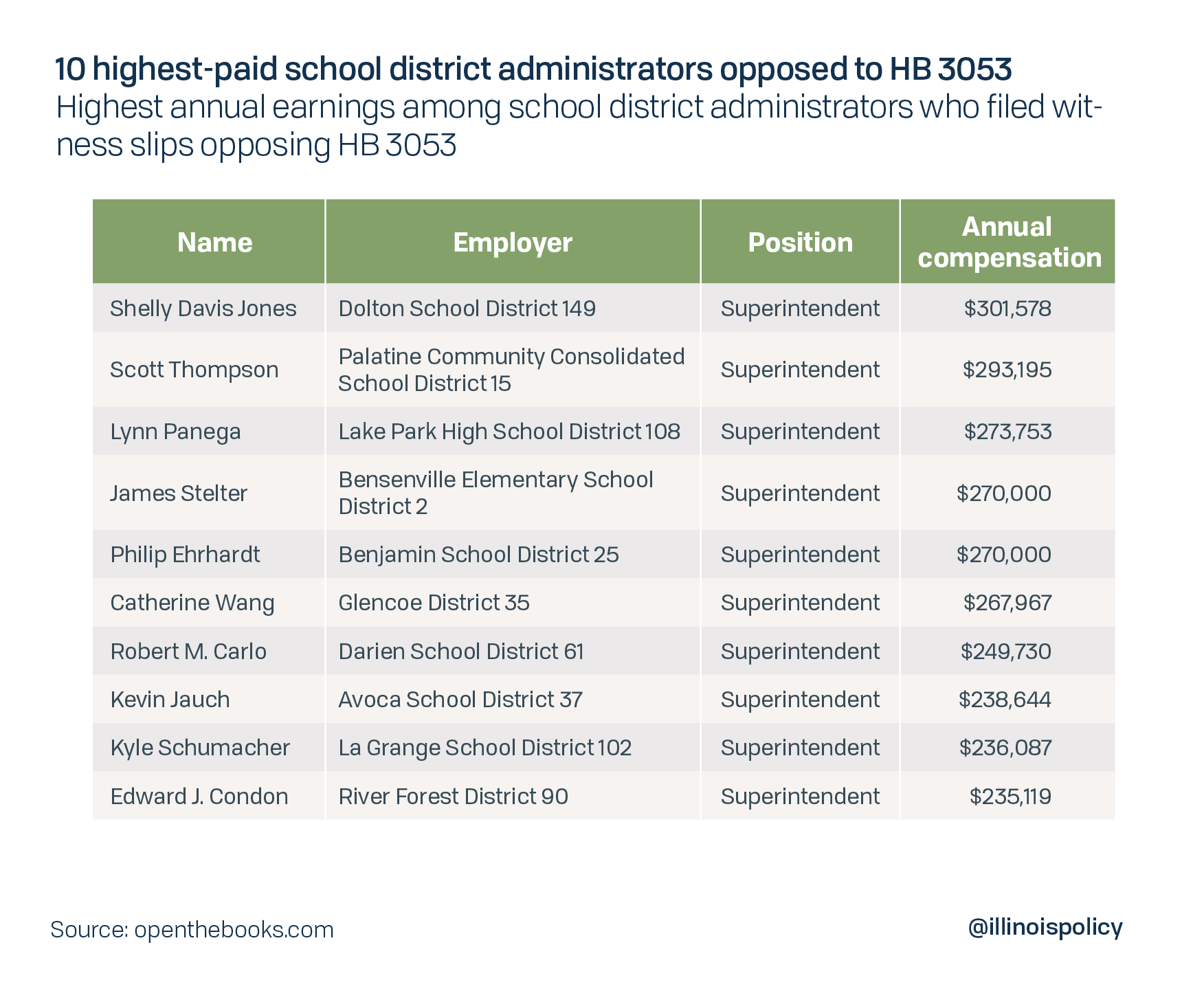 In March, lawmakers in the Illinois House of Representatives unanimously passed HB 3053 in a 109-0 vote. State Rep. Rita Mayfield, D-Waukegan, the chief sponsor of the measure, introduced the bill in February. It is now under consideration in the Illinois Senate, and backed by a bipartisan coalition led by state Sens. Tom Cullerton, D-Villa Park, and Dan McConchie, R-Hawthorn Woods.
HB 3053 would create the School District Efficiency Commission, tasked with reviewing the state's 852 school districts, which together consume nearly two-thirds of property taxes collected in Illinois. The commission would then make recommendations for consolidating school districts, with the goal of reducing the count by a minimum of 25%.
Importantly, consolidation of school districts strictly involves merging administrative bodies, not closing individual schools. On average, Illinois school districts serve just 2,400 students per district, the sixth-lowest among states with school populations over 1 million, as of 2018 – suggesting ample room for cost-savings.
If Illinois served the same number of students per district as Virginia, it would have just 210 districts, 644 fewer than today. The same is true for the two largest student populations – California and Texas. If Illinois served the same number of students per district as California or Texas, the Prairie State today would have 514 and 398 fewer districts, respectively.
The commission's 25% district reduction goal would not force any individual district to consolidate. Instead, the recommendation would go straight to the voters as a ballot question, allowing parents, teachers, and taxpayers living within each school district to decide what is best for their local community.
Moreover, HB 3053 would require all newly formed districts to be unit districts, meaning they'd serve both high schools and elementary schools – the most efficient in terms of spending per student, according to data from the Illinois State Board of Education.
Illinoisans spend more than their neighbors on education for worse outcomes. Neighboring states like Wisconsin, Iowa and Indiana spend between $2,400 and $4,000 fewer per student – and all three states maintain better scores in K-12 math and reading proficiency, according to the National Assessment of Education Progress.
Why the gap between spending and performance? Just look at where the state's education funds go: Illinois spends more than any neighboring state and nearly double the national average on "general administration" costs, which include spending on district-level bureaucracy, but exclude administrative costs within individual schools.
Too many education funds that would otherwise flow into the classroom are instead captured by administrators at the district level.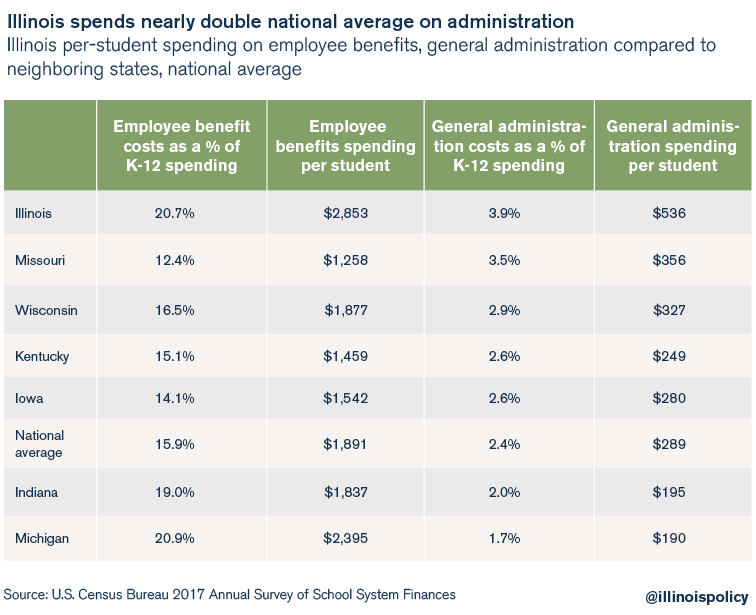 As of 2017, over 9,000 school district administrators in Illinois collect six-figure salaries, indicating the state's education spending priorities are seriously misplaced. One example is Troy Paraday, former superintendent of Calumet City School District 155, who earned a salary and benefits totaling $440,000 per year – despite overseeing just three schools and 1,100 students. District 155 fired Paraday in October 2018 following an investigation into "pay padding" and other abuses.
HB 3053 would give local communities a mechanism to curb bureaucratic waste and increase efficiency in K-12 education, sending more money to classrooms and providing a path to much-needed property tax relief. Lawmakers in the Illinois Senate should follow the example set by their House colleagues in siding with teachers and students, and send HB 3053 to the governor.
The Classrooms First Act is scheduled for a hearing May 15 in the Senate Government Accountability and Pensions committee.