More than 8,000 Illinois workers have stopped paying AFSCME Council 31
Thousands of Illinois workers are no longer sending a part of their paycheck to one of the state's most politically active unions.
Fewer Illinois workers feel like they're getting their money's worth from AFSCME Council 31. That's according to the union's own federal reporting documents, filed with the U.S. Department of Labor on April 1, 2019.
In 2017, the union took dues and fees from 65,042 workers across the state. That included more than 7,000 "fee payers" who opted out of union membership but were still forced to send part of every paycheck to the union.
In 2018, that number sank to just 57,000.
That means 12% of workers represented by AFSCME Council 31 in 2017 are no longer paying the union.
In June 2018, the U.S. Supreme Court ruled public-sector workers could no longer be forced to pay money to a union just to keep their jobs. Before that decision, government workers who were not union members were deemed "agency fee payers," and had to pay fees to the union. Members had to pay dues.
Significantly, the 12% drop in payers is not solely composed of people who were nonmembers before the court's decision. AFSCME Council 31's membership numbers have also dropped by 995 workers, or nearly 2%.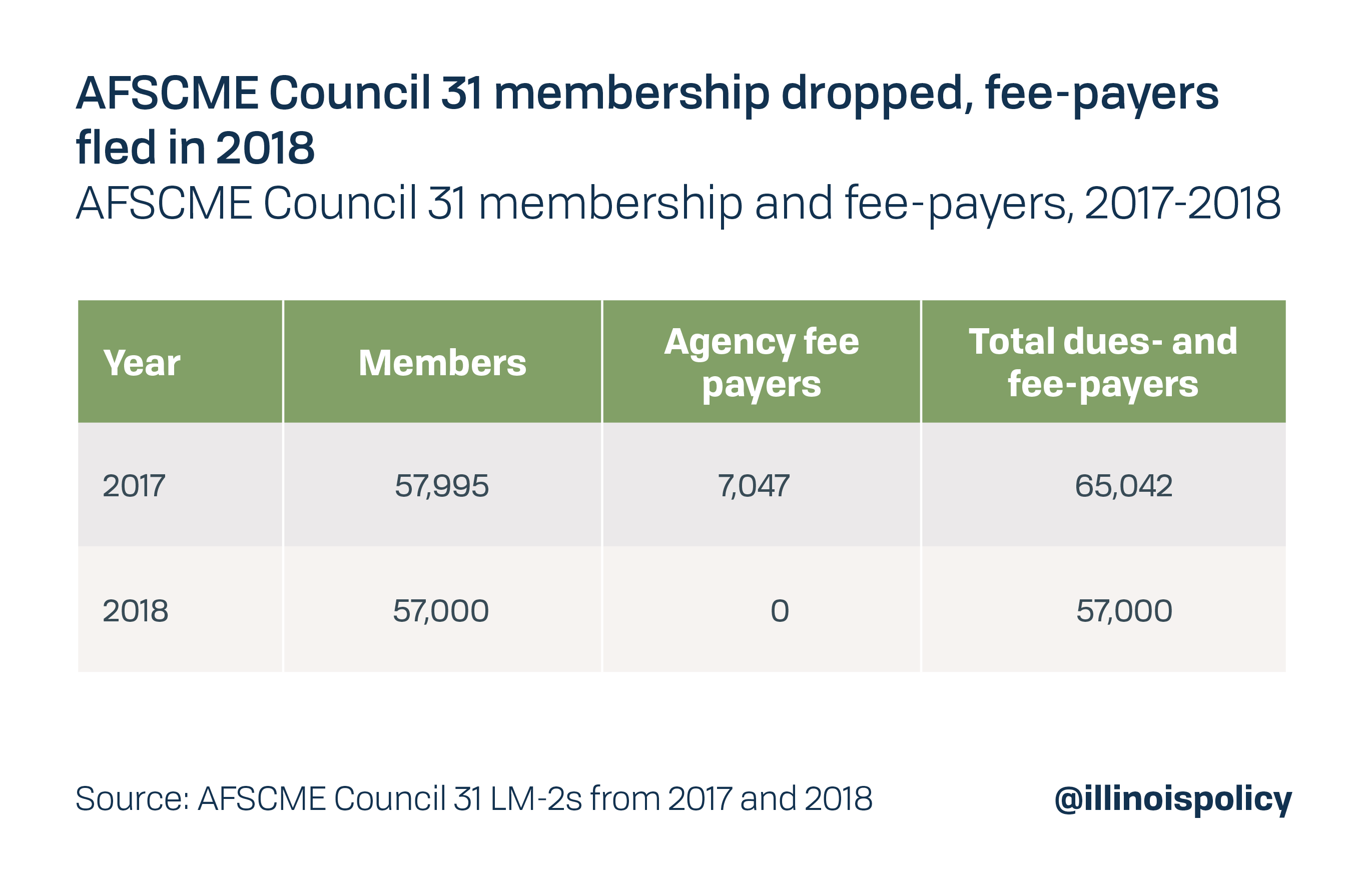 Council 31's most recent reporting contrasts with a claim made earlier this year by the national headquarters, which touted AFSCME had seen seven times more workers join the union than leave the union. That clearly isn't the case in Illinois.
Public employees can stop paying union dues for any reason, but common reasons include:
The union spends too much on politics and lobbying. For example, AFSCME Council 31 gave over $1.3 million to political committees controlled by Illinois House Speaker Mike Madigan in the last five years alone, according to the Illinois State Board of Elections.
The union doesn't represent its members well. AFSCME Council 31 spends just 17 cents of every dollar on representing workers.
Opting out provides freedom to make choices the worker thinks are best. AFSCME Council 31 cannot punish nonmember workers who choose not to go on strike, for example.
Opting out lets workers keep more of their paycheck, which can go a long way in any family budget.
AFSCME-represented government workers at the state or local level who wish to join their colleagues in opting out of the union can do so and learn more at leaveafscme.com.