More than 90 local government leaders sign on to letter opposing progressive tax
Local government leaders across Illinois are asking their state lawmakers to stand up against House Speaker Mike Madigan's progressive tax push.
Illinois homeowners are burdened with crippling property taxes, and shouldered a record-breaking income tax increase just last year. Now, some lawmakers in Springfield are pushing for a progressive income tax that would expose Illinois' middle class to further tax hikes.
But dozens of local government officials across the state are saying "enough," and signing on to an open letter that states, in part:
"Representing local governments and communities throughout Illinois, we write this letter unified in strong opposition to a progressive income tax. We ask that you pledge not to support a constitutional change that would allow for this tax structure, and that you sign on to House Resolution 891 or Senate Resolution 1590 declaring such intentions this year and beyond. We oppose a progressive income tax."
The following members of the Illinois House of Representatives have refused to take a position on the progressive tax – they have yet to sign on to House Speaker Mike Madigan's House Resolution 1025 in support of a progressive tax, and have not pledged to oppose a progressive tax by signing on to House Resolution 891 or House Resolution 975: Bristow, Kelly Burke, Carroll, Connor, Crespo, D'Amico, Davis, DeLuca, Drury, Kifowit, Mussman, Phelps Finnie, Sente, Stuart and Yingling.­
Illinoisans can contact their state representative and tell him or her to oppose a progressive income tax here.
The following state senators have refused to sign on to Senate Resolution 1590, in opposition to a progressive tax: Aquino, Bennett, Bertino-Tarrant, Biss, Bush, Castro, Clayborne, Collins, John Cullerton, Thomas Cullerton, Cunningham, Haine, Harmon, Harris, Hastings, Holmes, Hunter, Hutchinson, Jones, Koehler, Landek, Lightford, Link, Manar, Martinez, McCann, McGuire, Morrison, Mulroe, Muñoz, Murphy, Raoul, Sandoval, Silverstein, Sims, Stadelman, Steans and Van Pelt.
Some lawmakers have claimed their non-commitment reflects voter sentiments. But a poll conducted by Illinois Policy found 42 percent of active likely voters in Illinois oppose a progressive tax, with 29 percent unsure or having no opinion, and 29 percent supporting.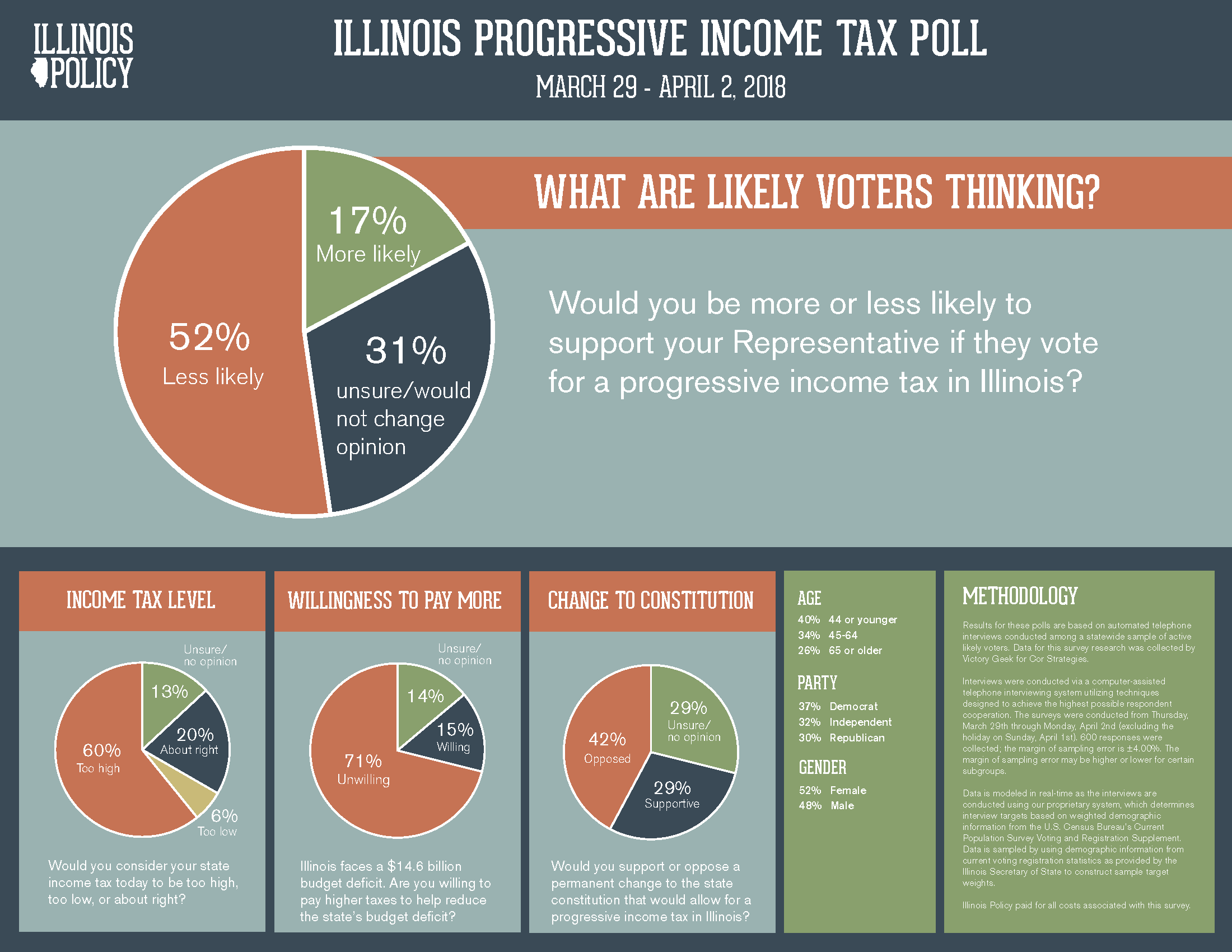 The letter below includes those local leaders who encourage their representatives to pledge opposition to a progressive income tax.
Sign the petition
Stop the progressive income tax
Sign the petition today to tell your lawmaker to oppose the progressive income tax.
Learn More >