No more Madigans, maybe, as 10-year term limits for legislative leaders passes Illinois House
Illinois state representatives almost unanimously voted to stop legislative leaders from again building a 36-year dynasty like former Illinois House Speaker Mike Madigan. The Illinois House passed a 10-year term limit on party leaders in both the Illinois House and Senate.
Former state Rep. Mike Madigan was the longest-serving statehouse legislative leader in U.S. history, serving as Illinois House speaker for 36 years. On April 22, Illinois House members passed a bill to prevent another Madigan by limiting legislative leadership to 10 years.
House Bill 642 passed with 115 "yes" votes and one abstention. Under this legislation, no person may serve more than 10 consecutive years in any of the following leadership roles: speaker of the House of Representatives, president of the Senate, minority leader of the House of Representatives, and minority leader of the Senate.
House Speaker Emanuel "Chris" Welch assumed the speakership with a pledge that he would hold the role no more than 10 years – now he's one step closer to codifying that pledge so no one else can hold onto decades-long rule. HB 642 now goes to the Illinois Senate for approval. If the Senate approves the measure, the bill will move to the governor's desk to be signed into law.
This legislation signals a departure from business as usual, as Welch's predecessor used his decades as House speaker to accumulate unprecedented power over every decision made in the Statehouse.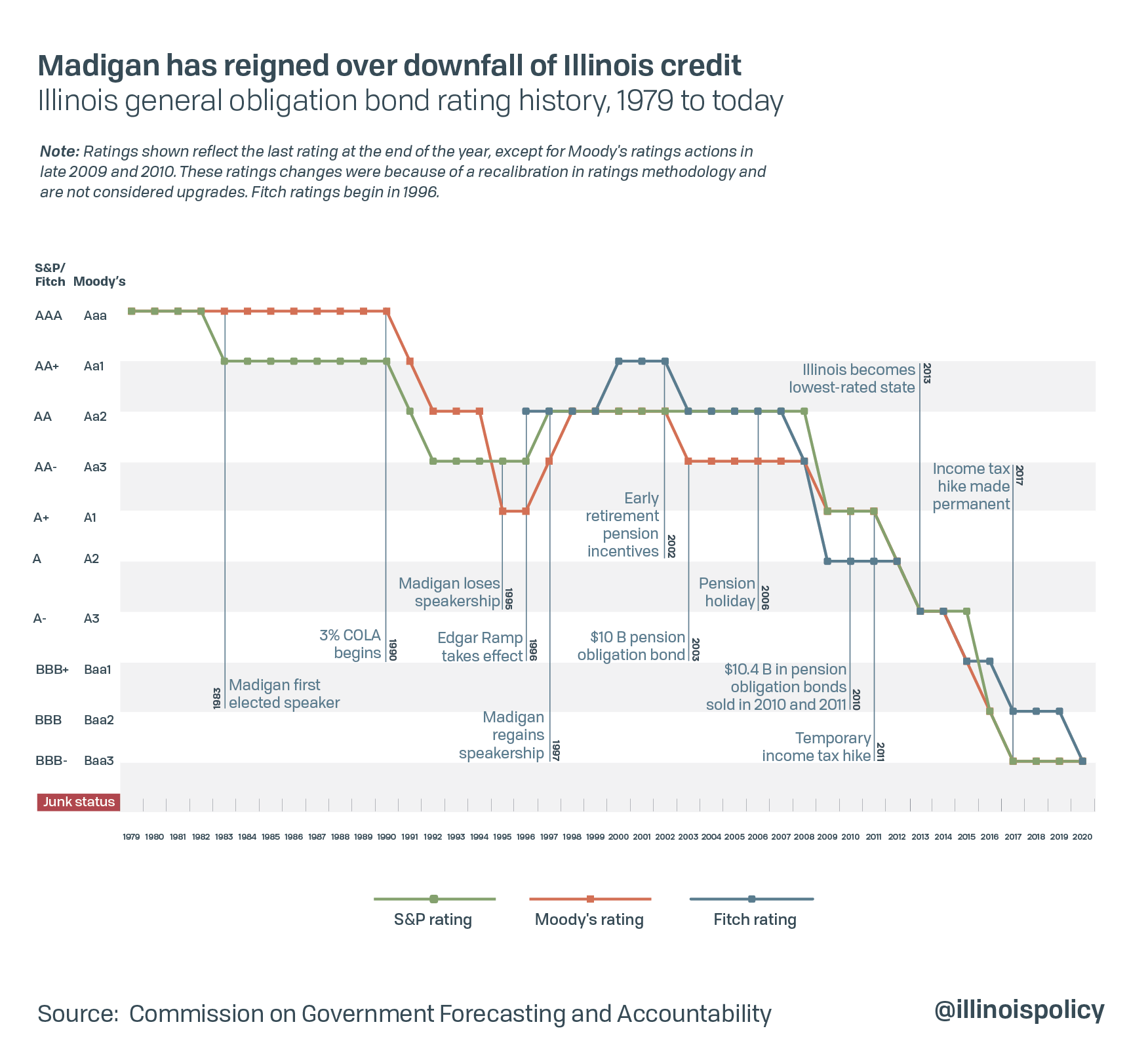 The fact that Madigan possessed so much power was costly for Illinois taxpayers, as the state's debt soared under his leadership. During Madigan's 36 years as speaker, Illinois' finances deteriorated from a perfect credit rating and just under $6 billion in unfunded pension debt to the lowest credit rating in the nation and over $144 billion in pension debt.
Placing so much power in the speakership also created the open secret that the path to getting anything done in Springfield meant securing Madigan's blessing.
Commonwealth Edison sought to bribe its way into Madigan's good graces by giving his political cronies over $1.3 million in no-work jobs and contracts, according to a deferred prosecution agreement implicating Madigan. Federal authorities were also investigating similar allegations regarding Madigan's relationships with AT&T, Walgreens and Rush University Medical Center.
Illinois saw 1,978 public corruption convictions since Madigan first became speaker, averaging over one per week. That is the most convictions per capita among the top 10 most populous states between 1983 and 2018, according to U.S. Department of Justice data.
Limiting legislative leaders' terms is a good step forward in addressing Illinois' public corruption problem. There's more work to be done.
Springfield lawmakers should also empower the legislative inspector general, improve financial disclosures for lawmakers, end lawmaker lobbying and stop the revolving door.