One-third of SEIU workers reject union membership
It could be because less than 22% of SEIU HCII's spending is on representing workers – what should be the core purpose of the union.
At least one-third of workers represented by the Service Employees International Union Healthcare Illinois-Indiana, or SEIU HCII, don't seem to think the union's services are worth their money.
The union's website claims it represents more than 91,000 workers in four states, but its most recent report to the U.S. Department of Labor revealed it has fewer than 60,000 members.
How can a union represent more workers than are members? State or local government workers don't have to be members of the union representing their workplace if they don't want to be members. Workers can choose not to be members when they are hired, or they can opt out of membership later.
In this case, SEIU HCII's spending practices give a clue as to why one-third of workers represented by the union don't want to be members.
SEIU HCII takes anywhere from $264 to $1,260 a year from its members' paychecks, according to its report with the U.S. Department of Labor. It collected over $34.5 million in dues from its members in 2022.
Yet just 22% of the union's spending is on representing workers, according to the same report.
And while the workers SEIU HCII represents may earn $17.25 an hour as personal assistants or $33.91 for a whole day as child care providers, the union's own top employees all earned six-figure salaries in 2022.
Then there are other questionable spending practices, such as the hundreds of thousands of dollars the union spent on hotels, airlines and food, all for unspecified purposes.
Whether it's SEIU HCII's failure to represent workers well or some other reason, one thing is clear: more than 31,000 of the workers it represents have rejected membership with the union.
Less than 22% of SEIU HCII's spending was on representation
Each spring SEIU HCII files a report called an LM-2 with the U.S. Department of Labor. In that report, SEIU HCII details how it obtained and spent money in the previous fiscal year.
The union's most recent report shows it spent very little last year on "representational activities," which the U.S. Department of Labor defines as including the negotiation of a collective bargaining agreement and the administration and enforcement of the resulting contract.
SEIU HCII's total reported spending in 2022 was $47 million dollars. Yet just over $10 million of that amount was on representing its members. That's less than 22 percent of its overall spending.
The rest was spent on politics, administration and other union leadership priorities.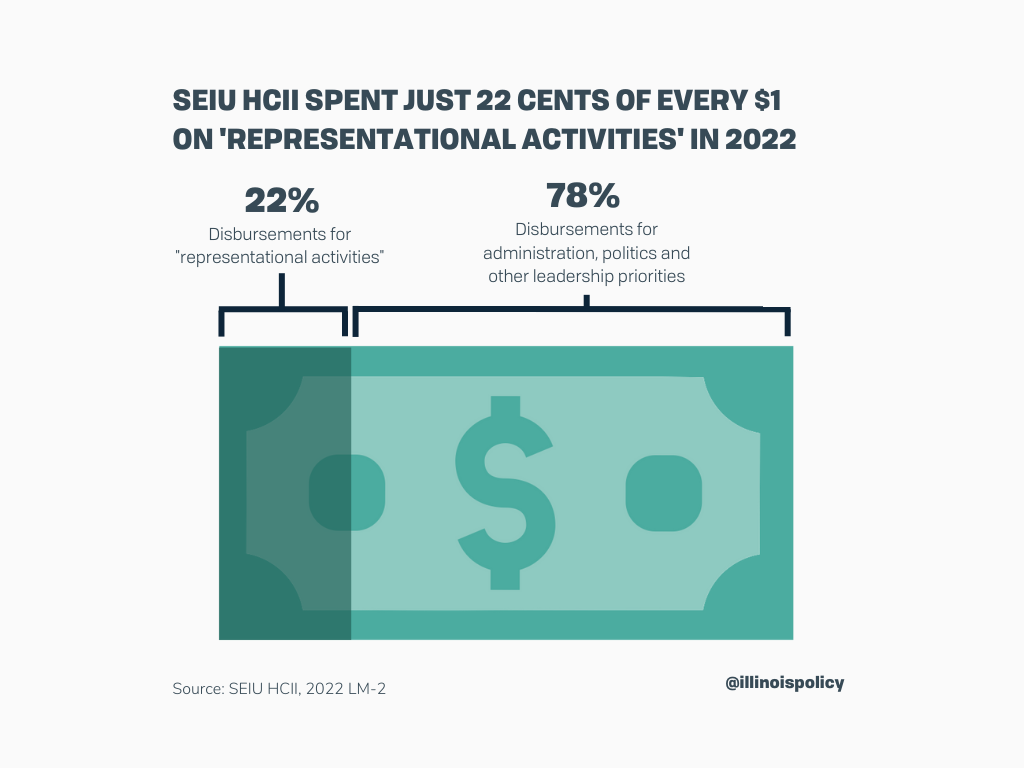 That's also just one-third of the $34.5 million it took from members in dues.
Yet representing members is supposed to be the core focus of a union. To put this in perspective, the Better Business Bureau's Wise Giving Alliance states at least 65% of a nonprofit's total expenses should be on program activities.
While the Wise Giving Alliance evaluates spending by charities, it stands to reason SEIU HCII's spending of less than 22% on representation – the purpose of a union – should be a cause for concern among members.
SEIU HCII's leaders took in six-figure salaries
SEIU HCII's employees are well compensated. The top 10 earners all made over $118,000 in 2022, with SEIU HCII President Gregory Kelley bringing in more than $204,000.
There is a stark contrast between the salaries of SEIU HCII leadership and the workers it represents.
For example, the union represents thousands of workers providing care through government-funded programs, such as personal assistants in Illinois' Home Services Program or child care providers in the Child Care Assistance Program.
Personal assistants receive $17.25 an hour as of Dec. 1, 2022, according to SEIU HCII's collective bargaining agreement with the state.
Child care providers receive a daily rate, per eligible child, dependent on the county and the age of a child. A child care provider in Cook County providing a full day of care for an eligible 3-year-old would receive $40.65 for the day. A provider in Peoria County would earn $36.59 for the same child, and a provider in La Salle County would earn $33.91. If the care is less than five full hours, providers receive only a part-day rate.
The most a child care provider can receive is a daily rate of $47.96 for an eligible child under 2 years of age in Cook County.
Personal assistants and child care providers are then pressured by SEIU HCII to be members, handing over at least $264 a year in dues.
Child care provider and former SEIU HCII member Janice Singleton has explained, "I am paid by the state between $38 and $41 per child per day. That comes out to less than $4 per hour most days since I will care for children sometimes up to 11 hours. After the day care expenses, taxes and union dues, some days I am not even making minimum wage."
SEIU HCII spent money in questionable ways
SEIU spent over $317,000 on airlines, car rentals, hotels, catering and restaurants. Some of that was itemized for purposes such as "campaign events" or "member events."
But the union reported no purpose for over $217,000 of this spending, meaning union members can only guess how the union spent most of that money.
For example, SEIU HCII spent over $75,000 on airlines, for no specified reasons.
SEIU HCII members unhappy with the union can opt out of membership and stop paying dues
State and local government workers may not agree with the union's spending practices, or they may feel the union doesn't represent them well. Whatever the reason, they don't have to be union members to keep their jobs.
As former SEIU HCII member Karena Cozad put it, "There's no benefit to [being in the union.] As far as I'm concerned, union [leaders] seem to be out for themselves."
By opting out of union membership, workers can stop paying dues to the union yet retain all benefits that are provided in the collective bargaining agreement with their government employer. That includes personal assistants and child care providers who are paid by the state.
For more information on how to opt out, visit LeaveSEIU.com.