Opting out of AFSCME membership: FAQs on fair share payers
AFSCME Executive Director Roberta Lynch announced Feb. 23 that union members voted to authorize a state worker strike. But state workers have another option. By becoming a fair share payer, state workers can report to work during a strike without facing union punishment. Here's what state workers need to know about fair share status.
The American Federation of State, County and Municipal Employees members have given the union authority to demand that Illinois state workers go on strike.
But going on strike might not be in the best interest of all 35,000 employees the union represents. Some can't afford it. The state estimates that a striking worker could lose $8,000 in lost wages, pension and health insurance contributions. And some may disagree with the union's political agenda and disagree with a strike.
If state workers want to cross the picket line and go to work, the only guaranteed way to avoid union punishment is to become a fair share payer. Here are answers to some frequently asked questions about fair share status.
Q: Will I maintain my salary and benefits if I become a fair share payer?
A: Yes. The union still represents fair share payers and therefore fair share payers are entitled to all rights secured in union-negotiated contracts.
The union must represent nonmembers fairly and without discrimination in all matters covered in the contract: collective bargaining, contract administration and matters affecting wages, hours and conditions of employment.
In other words, fair share payers would still be entitled to any of the following benefits, among others, granted under the AFSCME contract or under state law:
Salary and raises
Health insurance
Pension
Seniority
Leaves of absence (including sick leave)
Vacation days, holidays
Overtime pay
Representation in a grievance process
What's more, fair share payers are not subject to any union rules or discipline.
Q: What will I lose if I become a fair share payer?
A: Fair share payers are not entitled to any perks guaranteed to members in the AFSCME constitution/bylaws or membership agreement. Examples may include:
Voting (on ratification of contract, strike authorization, etc.)
Holding union office or representing the union as a delegate to the convention
Utilizing union-negotiated discounts (for things such as additional life insurance, health clubs, tickets to events, etc.)
Maintaining any liability insurance the union provides as opposed to the state
Receiving the AFSCME magazine/newsletter
Attending AFSCME events (meetings, picnics, Christmas party, etc.)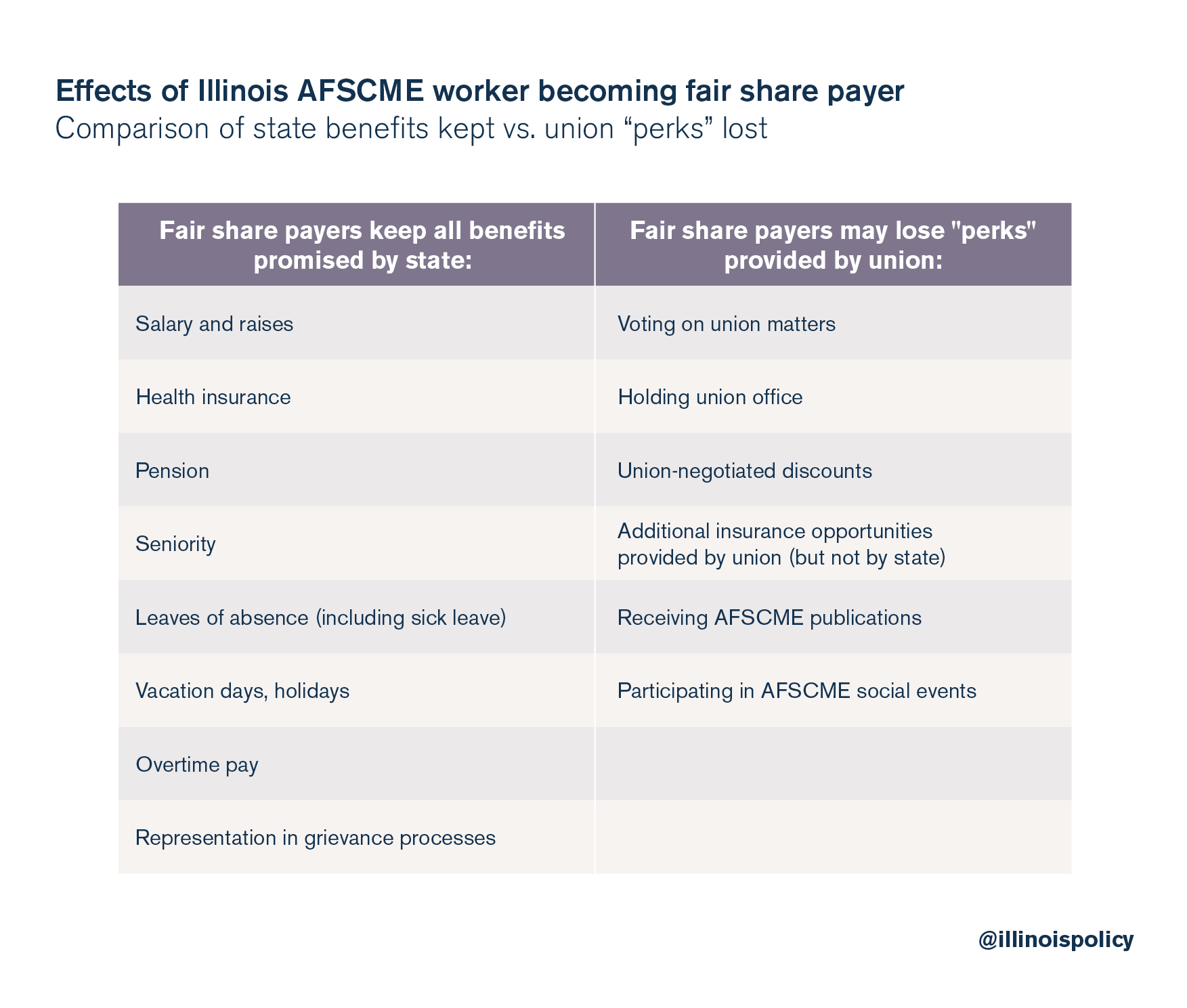 Q: Will I still pay dues?
A: Yes: A fair share payer pays a fee that is supposed to represent his "fair share" of what it costs AFSCME to represent him in negotiations and other matters with the state.
The "fair share" fee cannot be used for political contributions.
Under both the Illinois Public Labor Relations Act and the AFSCME contract with the state, a fair share payer's fee will not exceed the amount of dues required of members.
Q: What happens if I cross the picket line as a fair share payer?
A: Fair share payers have more freedom than union members in choosing to go to work during a strike.
The union has no disciplinary authority over fair share payers, so it cannot penalize them for working during a strike.
Q: What happens if I cross the picket line as a union member?
A: Unions can penalize members who do not honor the strike through fines or other penalties.
Q: What happens if I go on strike as a fair share payer?
A: Fair share payers who go on strike will be subject to the same potential repercussions as members who strike.
The state has estimated that a striking worker would lose at least $8,000 a month in lost wages, additional health insurance contributions and state pension contributions.
Under Illinois law, the state can replace striking workers. Depending on the type of strike, employees might not be immediately reinstated to their old jobs when the strike ends.
Q: How do I become a fair share payer?
A: The process is straightforward: An employee can become a fair share payer by sending a letter to AFSCME and the employee's agency resigning the employee's union membership. The state's website assists any interested employees with the process:
Print out this letter. It informs the union you are opting out of membership and changing your status to "fair share payer." Fill in your personal information (agency, facility, contact information) and send it to AFSCME. We suggest sending with a certified mail receipt.
From there, follow the prompts to inform your agency you have changed your status from union member to fair share payer.