Over 22,000 Illinois school employees stop handing their pay to a union
Educators across Illinois are exercising their rights, with over 22,000 fewer school employees sending dues or fees to teachers unions than in 2017.
Since being given a choice by the U.S. Supreme Court's landmark decision in Janus v. AFSCME, over 22,000 teachers and other public education workers across Illinois have exercised their right not to join or pay a union.
These numbers come from the reports the teachers unions themselves filed with the U.S. Department of Labor.
The Illinois Federation of Teachers – the state affiliate of the Chicago Teachers Union – reported it had a total of 101,046 teachers and other public employees paying dues or fees in 2017, the last full year of reporting before the Janus decision.
In its latest filing, it reported just 82,453 members – representing a loss of 18,593 people paying dues or fees to the union.
The Illinois Education Association has also seen a drop in membership since Janus, although more modest than that of IFT. It reported 140,971 public school employees paying dues or fees in 2017. Today, the number of employees paying dues to IEA stands at 137,519 – down 3,452 since the Janus decision.
In the year after Janus, IEA and IFT lost nearly 12,000 members and fee payers. As seen in the unions' most recent federal filings, that number now stands at over 22,000.
Why are teachers leaving their unions?
There are a number of reasons public education professionals have stopped paying money to unions, but typically the reasoning revolves around their belief teachers unions don't represent the best interests of teachers or students.
Naperville teacher Jeffry Bedore, for example, joined the Naperville Unit Education Association over 20 years ago. But after years of watching the union's priorities shift toward politics and away from the needs of teachers and students, he resigned his union membership the day of the Janus decision.
"That was the feeling: relief. It was like, 'I am out from under this. I don't have to play this game anymore,'" Bedore said. "I remember it vividly. The day the decision came down I sent an email to the union and to the district saying, 'That's it, I'm out.'"
Like Bedore, educators in other bargaining units often disagree with the union's political activities. For example, a 2019 trip by a group of Chicago Teachers Union members to Venezuela sparked outcry from union members. While not funded by CTU, the delegation traveled under the CTU banner, had their trip updates retweeted by CTU, and publicly praised the Venezuelan government, which has been accused in United Nations reports of grave human rights violations.
Others, like CPS teacher Olivia Waldron, are disappointed with union strike behavior or the way unions fought to keep teachers out of school buildings during the past school year.
"Going into the 2020-2021 school year, I saw the lack of humility, class and focus from union leadership. They were no longer advocating for teachers' essential labor rights but advocating more for a political agenda. And they most certainly were not concerned with the well-being of the students," Waldron said.
Still others, like Glenbard South educator Derrick Crenshaw, have been disappointed in the curriculum pushes made by teachers unions.
"In my mind a union's purpose is to negotiate salaries and curriculum, yet my union neglected the students' best interests with the AP push and became increasingly partisan from NEA initiatives," Crenshaw said.
Not all unions' actions and political activities are controversial, but all local bargaining units send members' money to state and national affiliates. Those affiliates go on to spend millions on politics and other leadership priorities, as documented in their federal reports.
In Illinois, the IFT spent just 23 cents of every $1 representing members.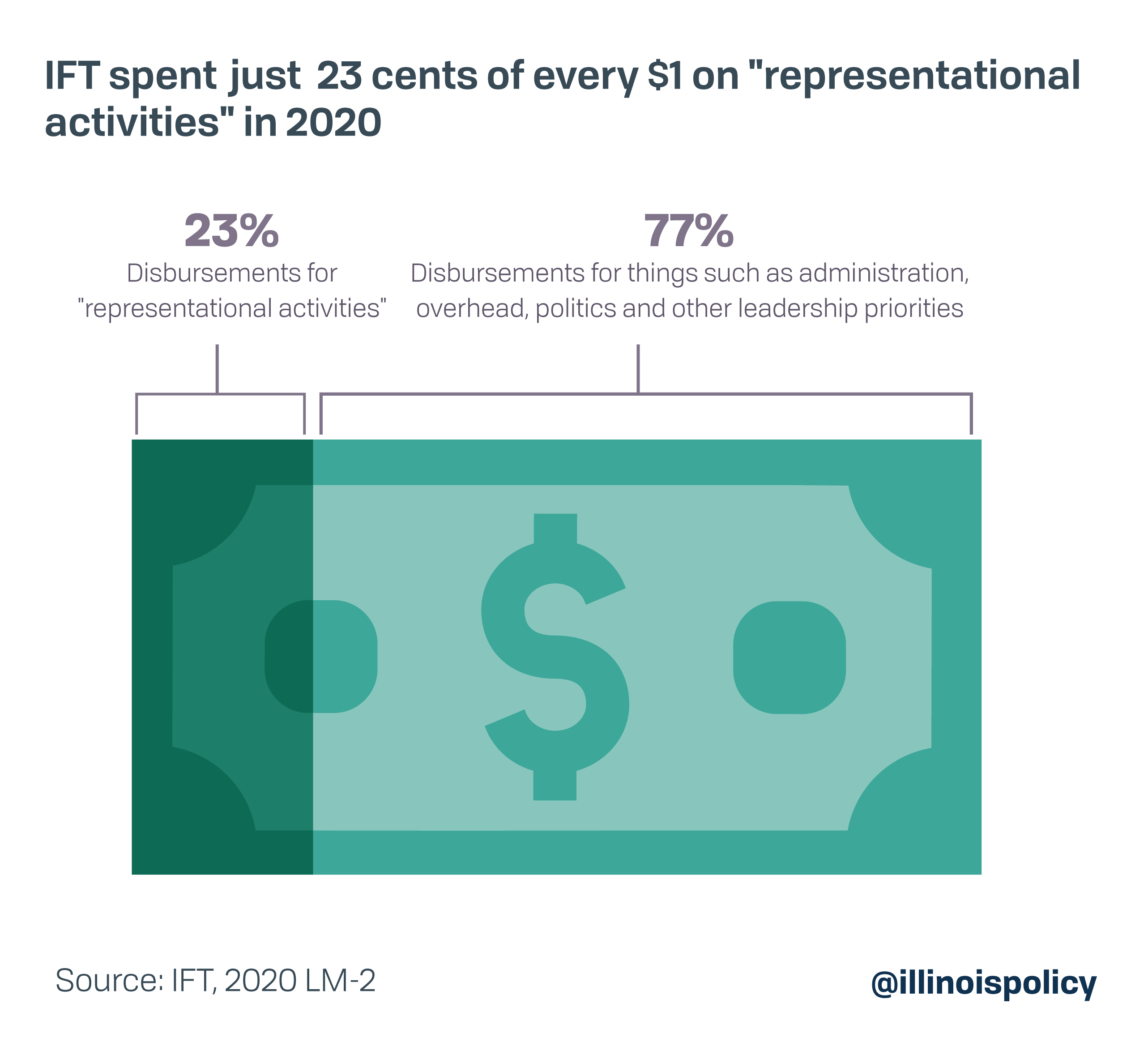 The IEA spent just 13 cents of each $1 on representation.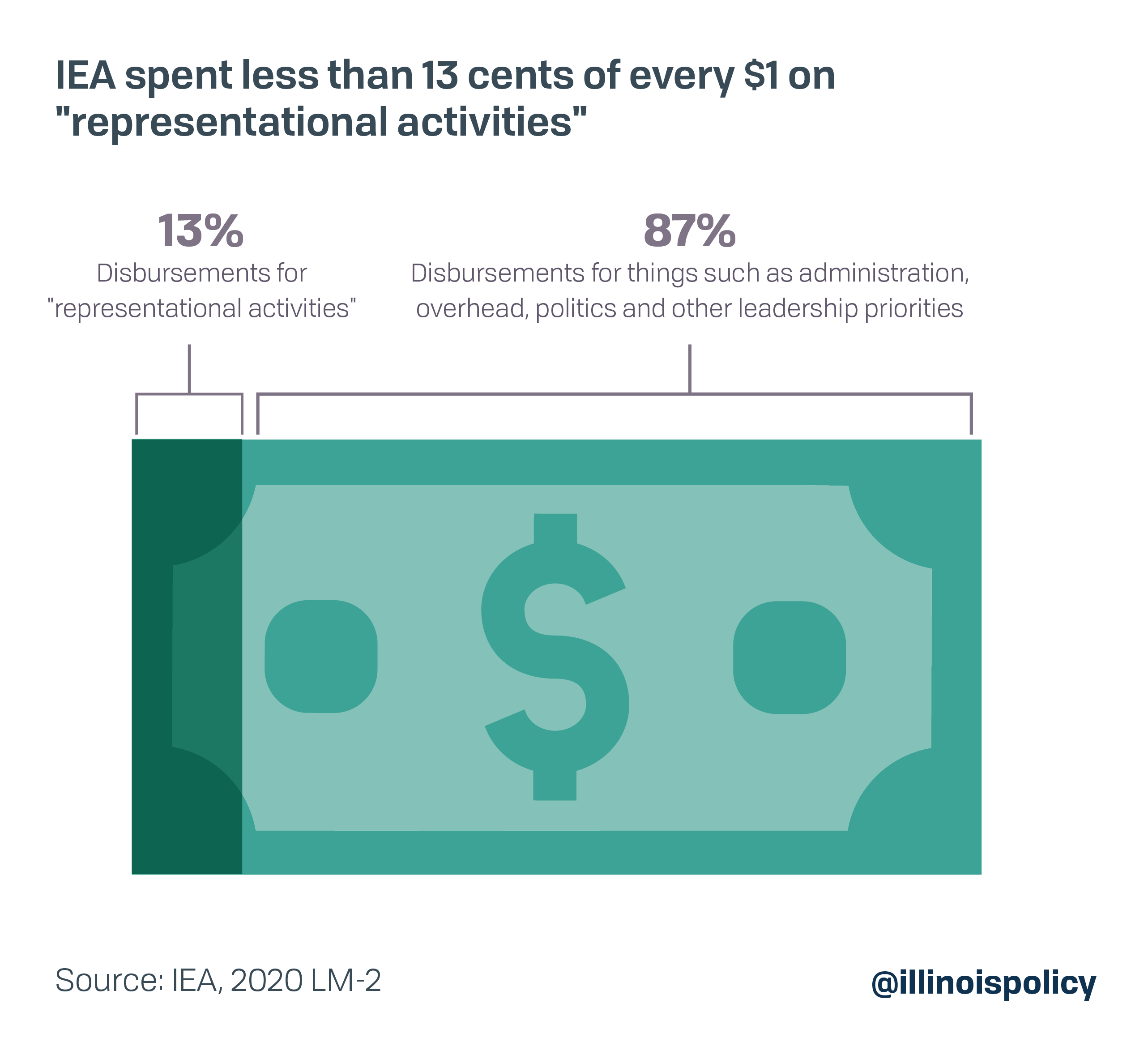 Whatever the reason, educators should not feel obligated to pay a union they don't feel represents them well.
Illinois educators who want more control over their money do have options: 
Public school employees can join a union alternative. For example, the Association of American Educators, which has over 25,000 members across the country, provides a $2 million liability insurance policy, attorney representation when needed and other perks – typically at a fraction of the price of union membership.
Public school employees can opt out of union membership. By opting out of union membership, public school employees stop paying dues to the union but retain all benefits that are provided in the collective bargaining agreement with the school district.
Opting out doesn't mean educators don't support their local bargaining unit. In fact, educators are free to send voluntary donations to their local union without being a member – thereby helping keep their support local.
Unfortunately, both IEA and IFT have attempted to restrict or distort information about educators' rights to stop paying union dues.
Educators interested in avoiding those barriers can visit leaveiea.com for more information on IEA, or leaveift.com for IFT.