Ep. 51: What's holding back Illinois' jobs recovery?
Ep. 51: What's holding back Illinois' jobs recovery?
Most of the nation has recovered from the pandemic economic downturn, but Illinois hasn't: the state is still missing nearly 89,000 jobs compared to February 2020. Bryce Hill joins the Policy Shop to talk about what's affecting Illinois' job market and hindering its labor force.
This week's Policy Shop is by Director of Fiscal and Economic Research Bryce Hill.
Illinois stands as one of the states with the most to gain – and lose – as the national economy continues to surpass job growth expectations. So what will it take to rise into recovery and avoid a major slide into a weaker economy?
Good news, bad news: The good news is the nation's continued overperformance has, for now, translated into a continued labor market recovery for Illinois. The bad news is strong job growth raises inflation expectations, making steeper Federal Reserve rate hikes more likely and lowering the odds the U.S. can tamp down inflation without inducing a recession.
Strong jobs growth at the national level is good for Illinois, because its labor market remains one of the least recovered in the nation. As of July, the state was still missing nearly 89,000 jobs compared to before the pandemic in early 2020. Illinois' unemployment rate of 4.4% is also third highest in the nation.
Revised U.S. Bureau of Economic Analysis data released Aug. 25 confirmed the nation's economy contracted for the second consecutive quarter in the second quarter of 2022. Consecutive quarters of economic decline are traditionally one of the strongest indicators of a recession.
Past performance: Illinoisans suffered more during the Great Recession of 2008 and for longer after the onset of the COVID-19 pandemic than most other Americans. State residents are poised to be particularly vulnerable in the event of an economic downturn today.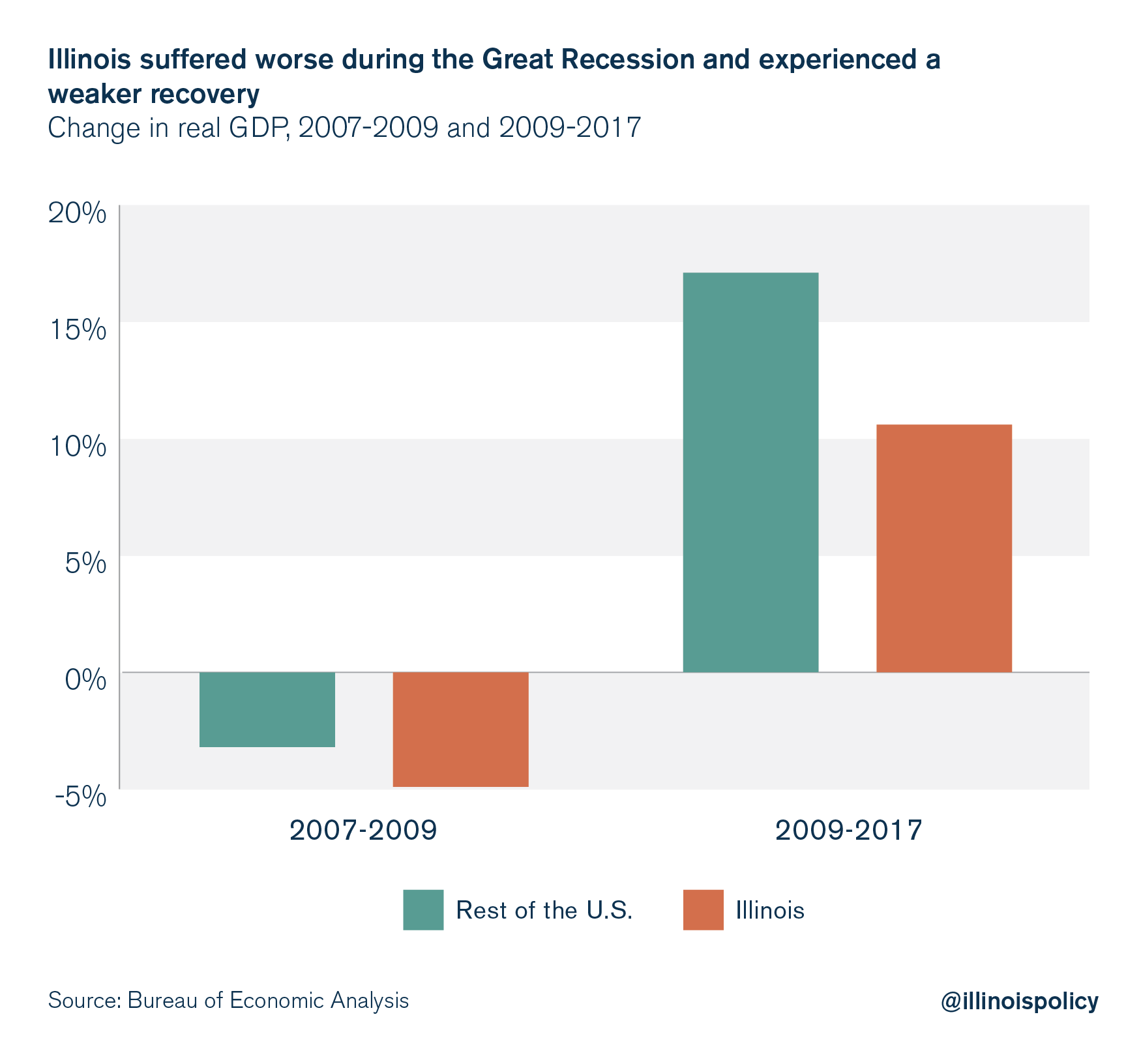 The Great Recession was particularly bad for Illinois, because the state's economy suffered a worse downturn than was experienced by the rest of the nation. From 2007 to 2009, Illinois' economy shrank by nearly 5% compared to a 3.2% drop in the rest of the nation.
Illinois has also experienced a much slower expansion in the time since then. From 2009 to 2017, Illinois' economy grew by 10.6% while the rest of the nation grew by 17.1%.
Rethinking the approach: On top of recent policies that have exacerbated the threat of recession, Illinois governments have less flexibility in their budgets because spending on vital services has largely been crowded out by pension obligations. The state is also facing a $1.8 billion unemployment trust fund deficit. How is a deficit going to aid Illinoisans who lose their jobs?  And who will be on the hook for the higher taxes that will be needed to supply the funds?
The results could be catastrophic for Illinois, whose businesses and residents are leaving at a higher rate than nearly any other state in the country. Three major corporations – Boeing, Caterpillar and Citadel – in the past few months all announced they would be relocating company headquarters out of Illinois. Iconic Chicago street food chain Portillo's declined to expand in Illinois, opting for states that are growing and friendlier to business. A record exodus driving population decline threatens to prevent the state's economy from ever returning to pre-pandemic employment levels.
Rebuild: Illinois needs to do as much as it can today to ease the coming pain of the next downturn. That means reining in the cost of government to build a healthy rainy-day fund and not racking up billions of dollars in unpaid bills.
The first step to ensure Illinoisans don't endure a particularly painful future economic downturn will be for voters to take a hard look at Amendment 1 on the Nov. 8 ballot. Should Amendment 1 pass, Illinois' $313 billion in pension debt would continue to balloon as state and local taxes, which are already among the highest in the nation, rise in an attempt to keep up with growing costs. An Illinois Policy Institute analysis found property taxes would rise $2,149 or more during the next four years should Amendment 1 pass, as taxpayers are forced to fund greater government union demands. Spending on vital programs would continue to fall. Illinois' housing and labor markets are already suffering as high taxes and reduced services make finding a job and living in the state tenuous. These problems would be exacerbated should the U.S. enter a prolonged recession.
State lawmakers must reform pensions as soon as possible so the state can continue providing necessary government services. It also means streamlining government to eliminate waste. Tax dollars should go toward providing services and public investments that stimulate the economy and make citizens more productive, not propping up bloated bureaucracy.
Trimming government costs doesn't mean cutting necessary services to the bone. It means efficient government that improves communities and provides some relief when citizens need it most. If Illinois doesn't take steps to do this today, its residents will be far worse off when the next recession hits.