Ep. 54: Is the 'teacher shortage' a myth in Illinois?
Ep. 54: Is the 'teacher shortage' a myth in Illinois?
Nationwide, there is a broad, far-reaching narrative that there are not enough teachers and that the teacher shortage is a huge problem to be solved. What is the truth about Illinois? While some districts are struggling, the data from Illinois State Board of Elections show over the last decade, Illinois has 45,000 more teachers but 180,000 fewer students in public schools. Mailee Smith joins the Policy Shop to break down what may be happening.
If you read the news, you've likely come across stories covering "the teacher shortage."
How does that play out on a state level in Illinois?
Compared to a decade ago, Illinois has more teachers – but fewer students. That's according to the Illinois State Board of Education's own data.
So what does this mean about the "teacher shortage" in Illinois? There are certainly individual districts and schools that are facing hiring troubles. We've heard from teachers and administrators who have said as much, and we'll be digging into the data more to figure out where the discrepancies are.
But by and large, the student-to-teacher ratio has improved, at least if you look at the state as a whole. Look at the 2021 data compared with the 2011 data: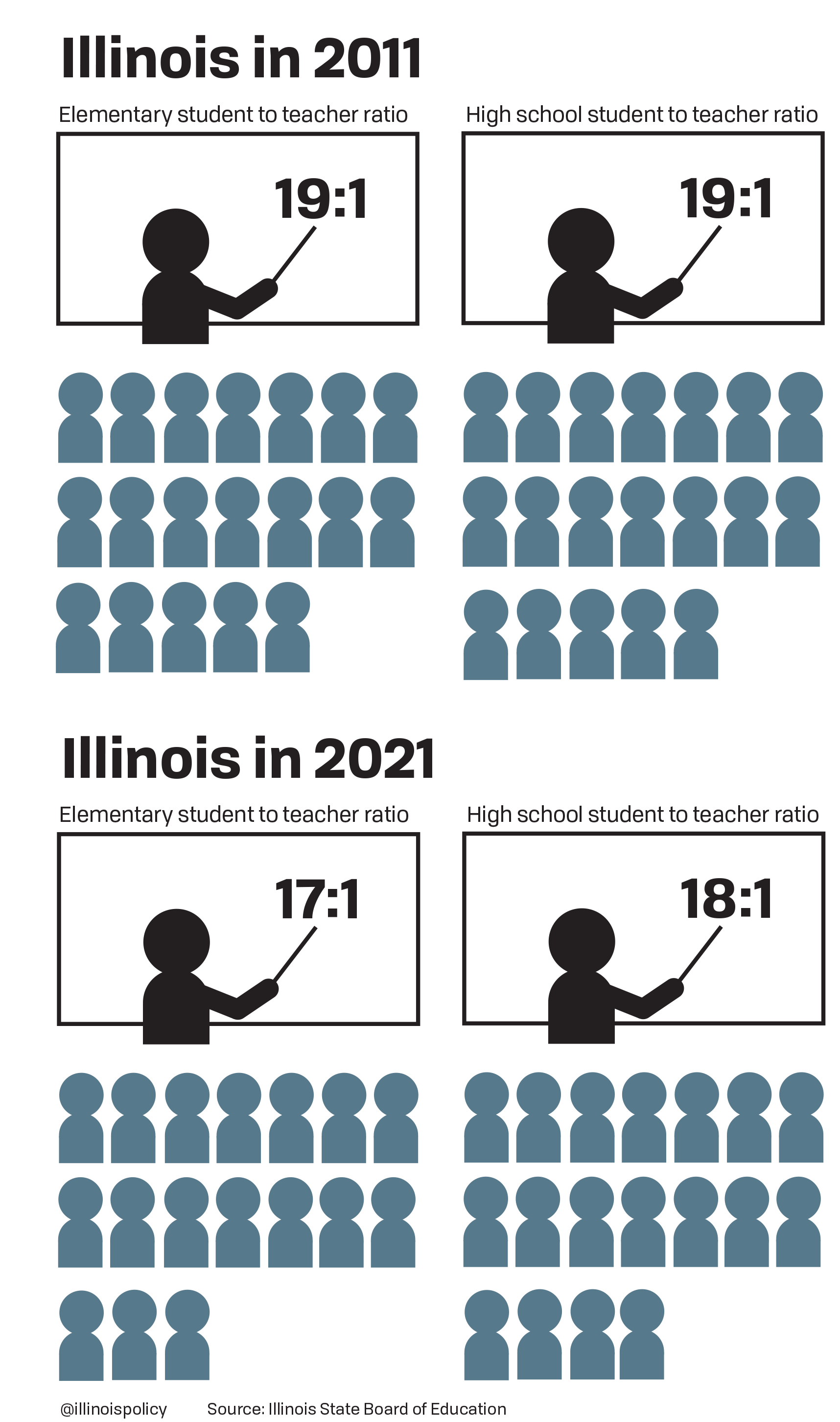 Public school enrollment in Illinois has decreased by nearly 9% in the past decade with just under 1.9 million students enrolled during the 2020-2021 school year. That represents a loss of nearly 180,000 since 2011-2012. Nearly 70,000 of those students have left the public school system since the COVID-19 pandemic.
The number of teachers in the state has simultaneously been rising during this 10-year period. Illinois had over 4,500 more teachers in 2020-2021, the most recent year with fully available data, than in the 2011-2012 school year. Teacher numbers have climbed by 3.5% while the number of students has dipped by nearly 9%.
Chicago: One look at Chicago Public Schools and you know there are problems in our state's education system. CPS alone has lost nearly 25,000 students since the start of the pandemic. The two-year decline in enrollment reached 6.5% – well above the 4.4% national average for districts that remained mostly remote during and after the COVID-19 pandemic.
Crain's Chicago Business reported: "Over the past two years, the district saw a 15% increase in transfers to other school districts, a 25% rise in departures for private schools, and an almost 200% jump in students homeschooled by their families – though the number of homeschoolers remains less than 5% of the district's enrollment."
Funds are up: Yet despite the 10-year loss in student population, state and local funding for CPS ballooned by nearly $2 billion from 2011 to 2021. In the most recent fiscal year for the 2022-2023 school year, CPS state and local funding increased to over $7 billion, representing an over 55% increase since 2012. But the increase in funding isn't leading to better academic outcomes for kids.
District proficiency has steadily dwindled during the past decade despite more than a 40% increase in state and local funding. This steady drop in CPS students' proficiency rates is concerning. In 2020-2021, the last school year for which student test score data is available, only 21% of students in third through eighth grades scored as proficient in reading and 16% in math. That's 70% fewer students scoring at proficiency levels in reading, and nearly 80% fewer in math, since the 2011-2012 school year.
So why is the "teacher shortage" narrative penetrating? Teachers' unions like to generalize, pushing the "teacher shortage" narrative broadly to gain power. The Illinois Education Association claimed Aug. 28, 2022, the "teacher and education employee shortage [is] getting worse."
Are there vacancies? Surely. There are currently 5,301 open positions in the state, according to ISBE. Nearly 60% of those vacancies are paraprofessionals and school support personnel. One-fifth of those empty positions are in Chicago Public Schools, which has struggled with enrollment in the past decade and where one-third of their school buildings are less than half full. The Chicago Teachers Union seems to only exacerbate the issue of vacancies by refusing to shutter under-enrolled and subsequently low-performing schools.
Teachers' unions remain bent on pushing the narrative of a teacher shortage broadly, but it seems odd to claim a shortage across the board when there are more teachers employed in Illinois public schools right now with fewer students to teach than a decade ago.
Amendment 1: As we look to improve our students' educations and safeguard their mental health, we must consider the power of teachers' unions, which forced so many Illinois students out of classrooms and activities, to the detriment of their academic progress and well-being. Unfortunately, Amendment 1 on the ballot this fall would tilt the table even farther in that direction.
On Nov. 8, voters in Illinois will have a chance to stand up to the misleading claims of teachers' unions, which harm district schools. Amendment 1 is the first thing on the ballot this November. It would give Illinois teachers union bosses the nation's most extreme government union powers.
But many students and parents already voted on teachers' union antics, well ahead of the Nov. 8 election. They chose to leave the public education system.