The Policy Shop: The Chicago Teachers Union's political empire
The Policy Shop: The Chicago Teachers Union's political empire
This week's The Policy Shop is by Mailee Smith, staff attorney and senior director of labor policy at the Illinois Policy Institute
How to build a political machine: If our students can learn anything from the Chicago Teachers Union, it is how to use money and influence over time to amass power. The upcoming Chicago mayoral election is the latest example of CTU's attempt to get whatever it wants.
Chicago Mayor Lori Lightfoot predicted in 2021 that the Chicago Teachers Union doesn't just want to extend its reach into running Chicago Public Schools.
"I think, ultimately, they'd like to take over not only Chicago Public Schools, but take over running the city government," Lightfoot told The New York Times.
Now the union's extravagant funding of Brandon Johnson's mayoral campaign is making her prediction look like it could come true. CTU and its affiliates have put over $2.3 million into Johnson's mayoral campaign.
One of the most prominent policy reforms Johnson has put forth is a "tax-the-rich" revenue plan for the city of Chicago Johnson introduced on Jan. 23, calling for $800 million in new taxes on those who come from the suburbs and elsewhere to work and play. He also targets those in the city he deems "wealthy," but that the details of his plan show are actually middle-class workers. Johnson is a Cook County Board commissioner, a former Chicago Public Schools teacher and legislative coordinator for CTU.
Johnson isn't the only politician CTU funds. More on the money below.
Step 1: Money and influence. It's important to note who's throwing money around in city and state-level politics. Some of the deepest pockets belong to the nation's most militant teachers union – the CTU. Once the money is funneled to the right places, it's time to prop up your candidates for election. Records show contributions to candidate committees since 2010 include:
Over $2.5 million to Illinois Senate and House candidates (including more than $1.2 million to 89 out of 175 current lawmakers in the Illinois General Assembly)
Over $505,000 to current Chicago aldermanic candidates (as well as funds to the majority of sitting aldermen)
That doesn't include funds to other election committees – such as the Democratic Party of Illinois – that in turn use contributions to fund candidates. That means CTU political contributions fund far more candidates than it appears by using these pass-through committees.
Government unions are a major political player in the state. Between 2019-2020, the majority of state lawmakers – nearly 88% – received money from government unions. More than one-third of the General Assembly received more than 20% of their campaign funds from unions.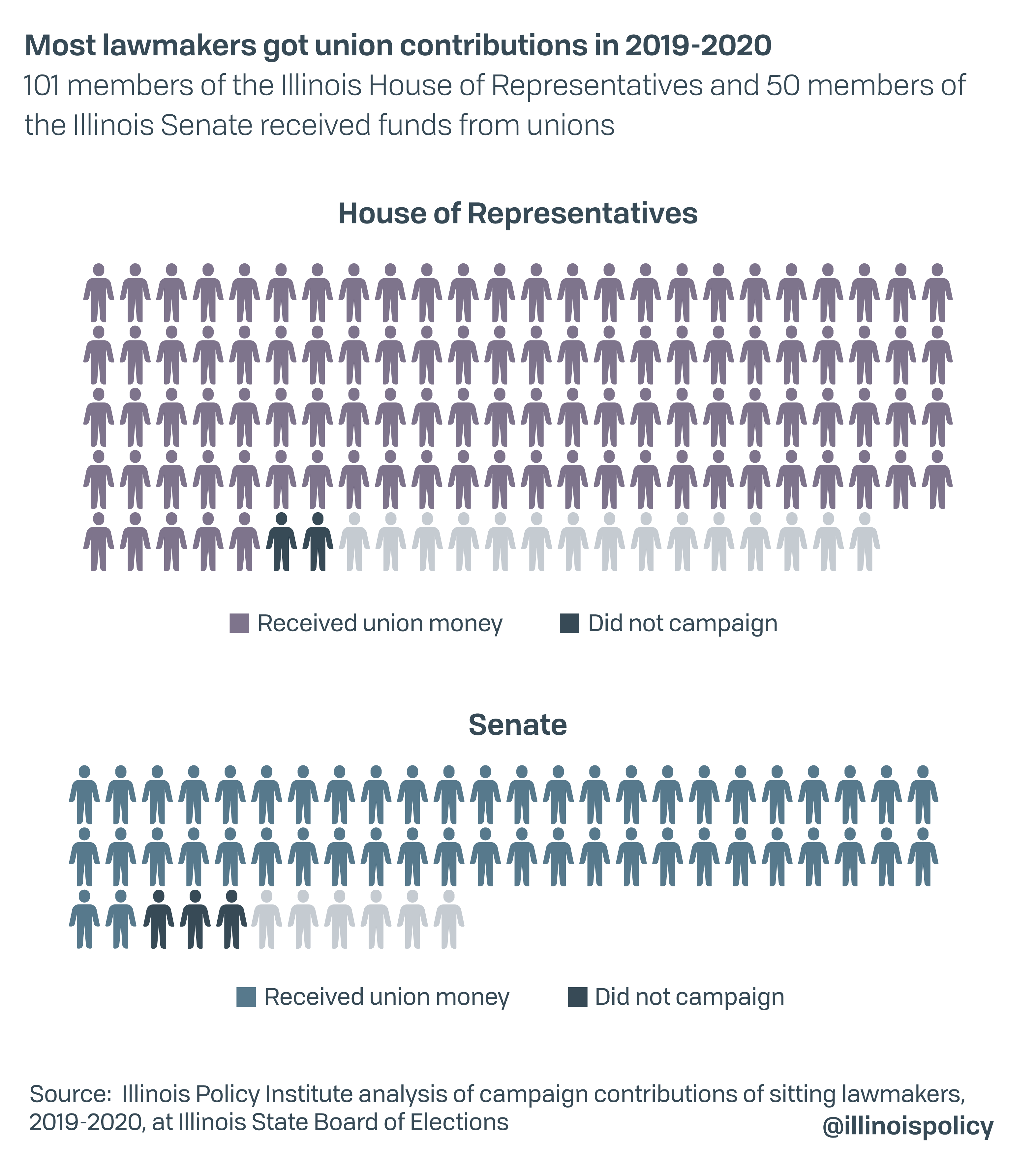 But are they giving to both sides, you ask? No. See below.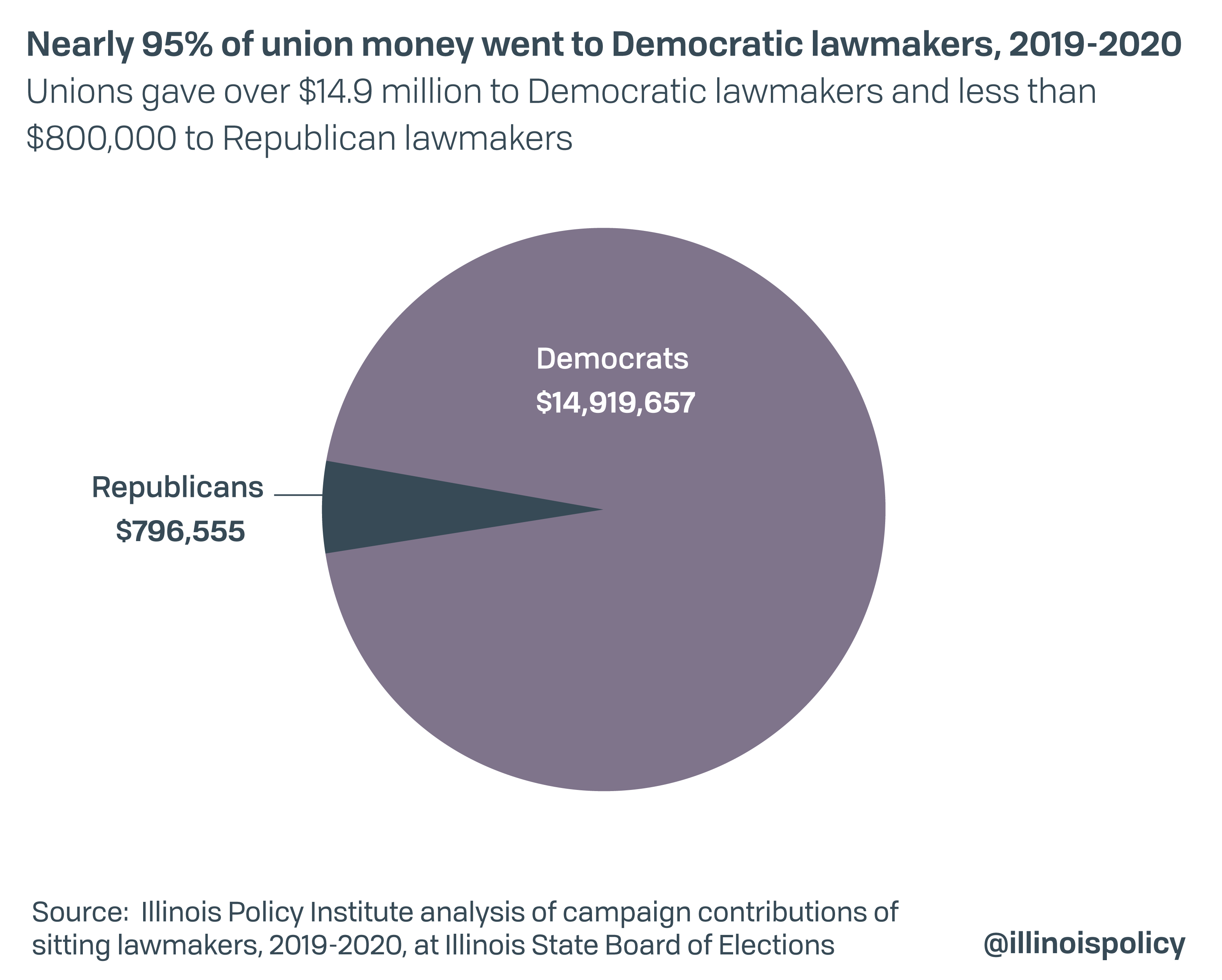 With the average expense in the 2019 aldermanic race sitting at just over $1,000, CTU seems to work hard to ensure the candidates it prefers win. See the list of aldermanic candidates receiving funds from CTU. As of Jan. 18, the union had funded 34 of the current 50 aldermen. That's over two out of three City Council members.
Step 2: Power. Government unions in Illinois have tremendous power. Most are allowed to go on strike and can bargain over virtually anything. It creates an uneven playing field, with unions able to demand costly provisions in their contracts and threaten to strike – denying Illinoisans needed services – to get what they want. Unions' monetary power over lawmakers cannot be precisely determined – in part because unions funnel money to candidates in multiple ways – but the union block of contributions appears to be unmatched in Illinois.
In 2021, this influence helped unions kill bipartisan legislation that otherwise carried popular support.
For example, the Classrooms First Act, or House Bill 7, sponsored by state Rep. Rita Mayfield, D-Waukegan, would have commissioned a study to review excessive school district administrative costs and recommended certain districts for consolidation. Not one school would have been closed, but Illinois could have saved $716 million in bureaucratic costs at the district level. That money could have been sent straight to classrooms instead of supporting multiple and duplicate high salaries for administrators who aren't in classrooms.
The measure appeared to have popular support, and it passed out of committee unanimously. But the Illinois Federation of Teachers – CTU's state-level parent affiliate – and Illinois Education Association published materials opposing the bill, and HB 7 failed in a 55-42 floor vote.
Step 3: Build the empire. As the Classrooms First Act showed, this isn't just CTU's game. It's playing out across different unions here in Illinois. It's why government unions get whatever they want. Evidence of unions' financial contributions to sitting lawmakers, and the relative weight of those contributions in comparison to funding from other entities, cements unions as a lobbying powerhouse in Illinois.
Not only do current labor laws favor unions over residents, but clearly government unions use their wallets to ensure their power to advance their interests ahead of the interests of others.
Government unions use politics to get power. And the bosses of these unions use that power to secure control and enrich themselves. In the case of CTU and its affiliates, it turns out it's not all about the kids.