The Policy Shop: The one group trying to kill Illinois' sole school choice program
This week's The Policy Shop is from Mailee Smith, senior director of labor policy and staff attorney at the Illinois Policy Institute
The start of spring reminds us two things are ending: the school year and the spring legislative session. That means time is running out to save Invest in Kids – the tax credit scholarship program for low-income families that could help improve the academic declines facing Illinois and the achievement gaps between demographic groups. If lawmakers do nothing, the program expires at the end of the calendar year. (Though spring legislative session is about to end, there's always veto session in the fall … fingers crossed.)
Everybody likes it! Our latest statewide poll, conducted in partnership with Echelon Insights, found 62% supported school choice.
School choice is popular because it's good for kids and good for families. Thousands of parents, kids and educators support protecting school choice and giving more options for students' educations.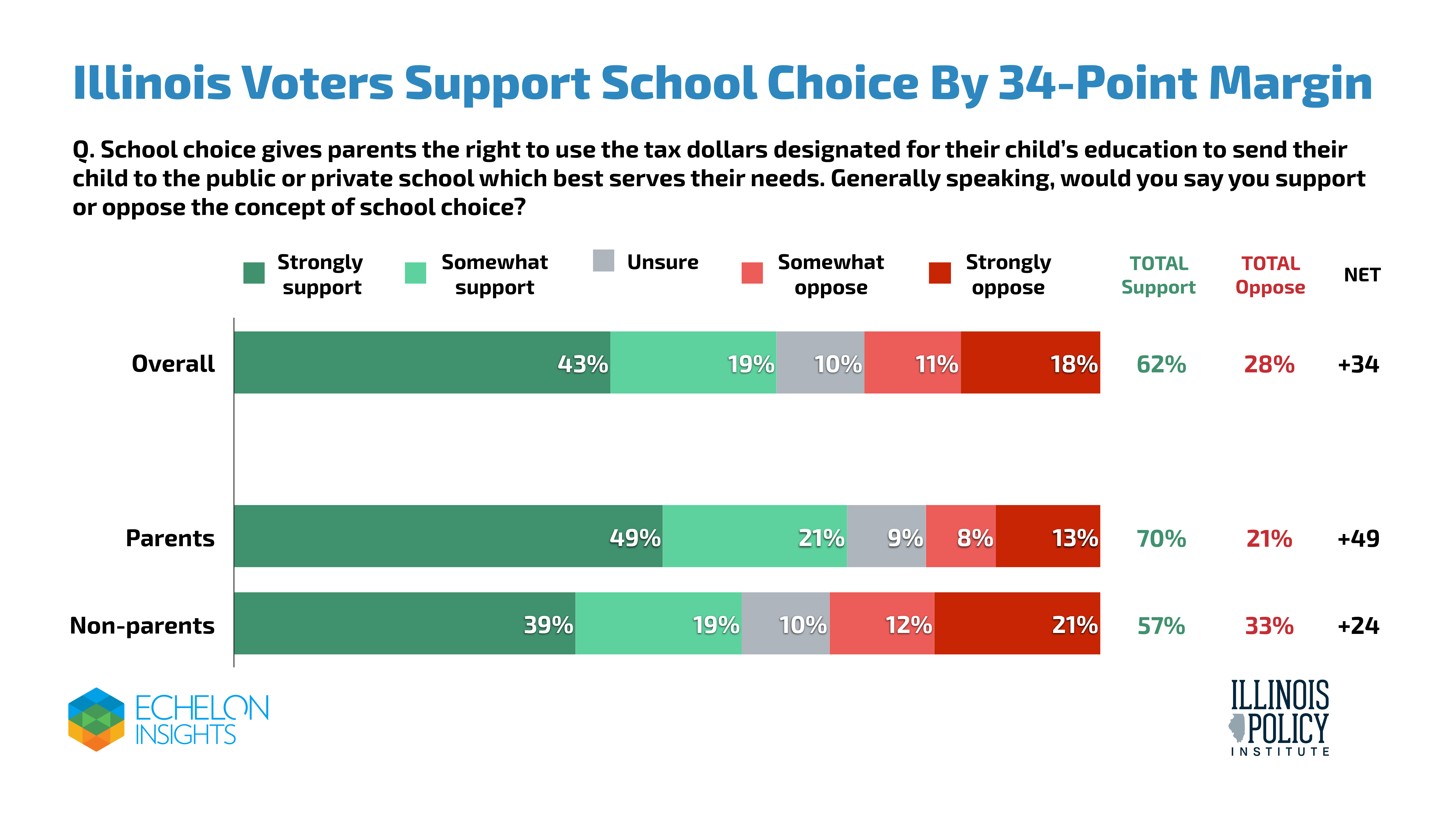 But in Illinois, the state's only school choice program is Invest in Kids, which gives low-income students access to scholarships so they can pursue the education that best fits their needs. It is coming to an end, unless lawmakers save it.
Nearly 60% of Illinoisans support the Invest in Kids program specifically.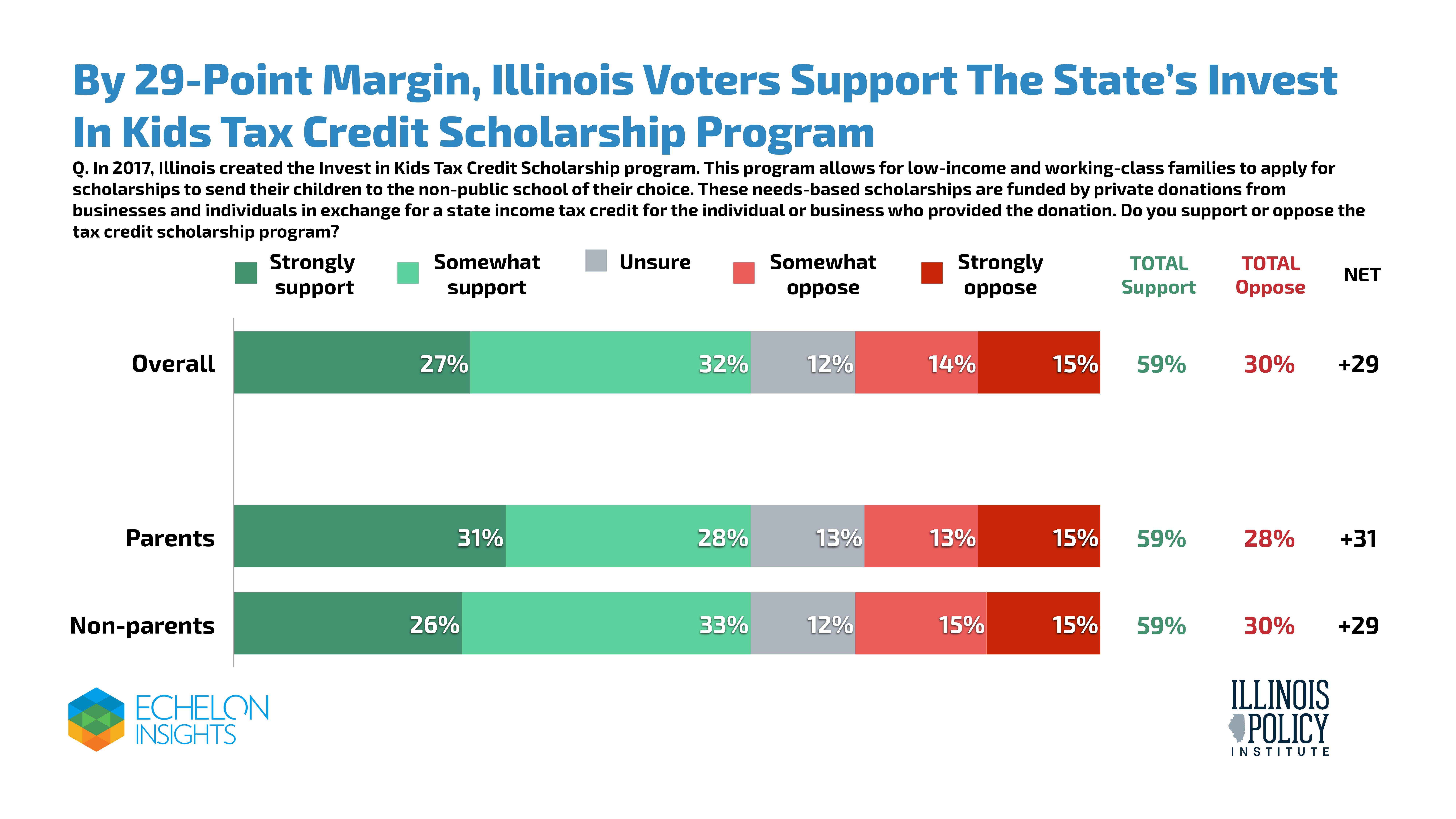 Even the governor! Gov. J.B. Pritzker also supports the Invest in Kids scholarship program, according to a Chicago Sun-Times candidate questionnaire. The program has awarded more than 37,000 scholarships to low-income families, worth more than $280 million since it started in 2018. The grants are funded by donations, with donors receiving a state income tax credit equal to 75% of their contribution.
Pritzker made a call to kill the program when he ran for governor in 2018. Since having time to see it in action, he now supports the program.
Well, almost everybody likes it … The Chicago Teachers Union wants to eliminate Invest in Kids. Opponents to the scholarship program argue more money for kids to go to private schools undermines funding for public schools. That's simply not true. Public schools are funded by property taxes and payments from the state and federal government. Invest in Kids is funded through donations, with only a tiny fraction of potential revenue lost to the income tax credits.
"[Teachers' unions] support elimination of the Invest in Kids program. It is set to sunset … and we will call for the elimination of the program even sooner," said Cynthia Riseman Lund from the Illinois Federation of Teachers, of which CTU is a part.
If CTU and its allies succeed and pressure lawmakers to let the program die, thousands of disadvantaged Illinois students and their families would be left scrambling for ways to stay in their schools. Or they might have to leave their private schools and return to the education environments their parents sacrificed to help them leave.
What about it? In 2023, lawmakers have a chance to make Invest in Kids permanent. If they don't at least extend it, it expires. A coalition that includes Empower Illinois, the Catholic Conference of Illinois, Agudath Israel of Illinois and others wants to move Invest in Kids forward, either eliminating or extending the sunset date. The best pathway for a legislative fix is to include it in a larger bill, such as the state budget implementation bill, so it cannot be killed directly as a standalone bill. The biggest hurdle for Republicans will be to vote for that package to extend the sunset, knowing there will be items in there to which they object. Meanwhile, the teachers' unions are pushing for a standalone bill so they can kill the program.
So, the question is: Do lawmakers listen to a large majority of voters and all those low-income children benefitting from a better educational fit, or do they listen to the CTU?