Political cowardice on workers' compensation is destroying blue-collar jobs
Illinois is home to the highest workers' compensation costs in the region, and the weakest manufacturing recovery. New research details pain points and ways to fix the system while protecting worker safety.
It's been over a year since Hoist Liftruck cut the ribbon at a brand-new facility in East Chicago, Indiana.
Hoist Liftruck Manufacturing LLC is one of the nation's largest forklift manufacturers. The company used to make those machines in Illinois, but no longer. Hoist employs about 300 workers at the new Indiana facility and plans to hire 250 more by the end of the year. The average pay for one of those jobs is $55,000.
Bill Roberts is one of many Hoist assembly workers who crossed the state border.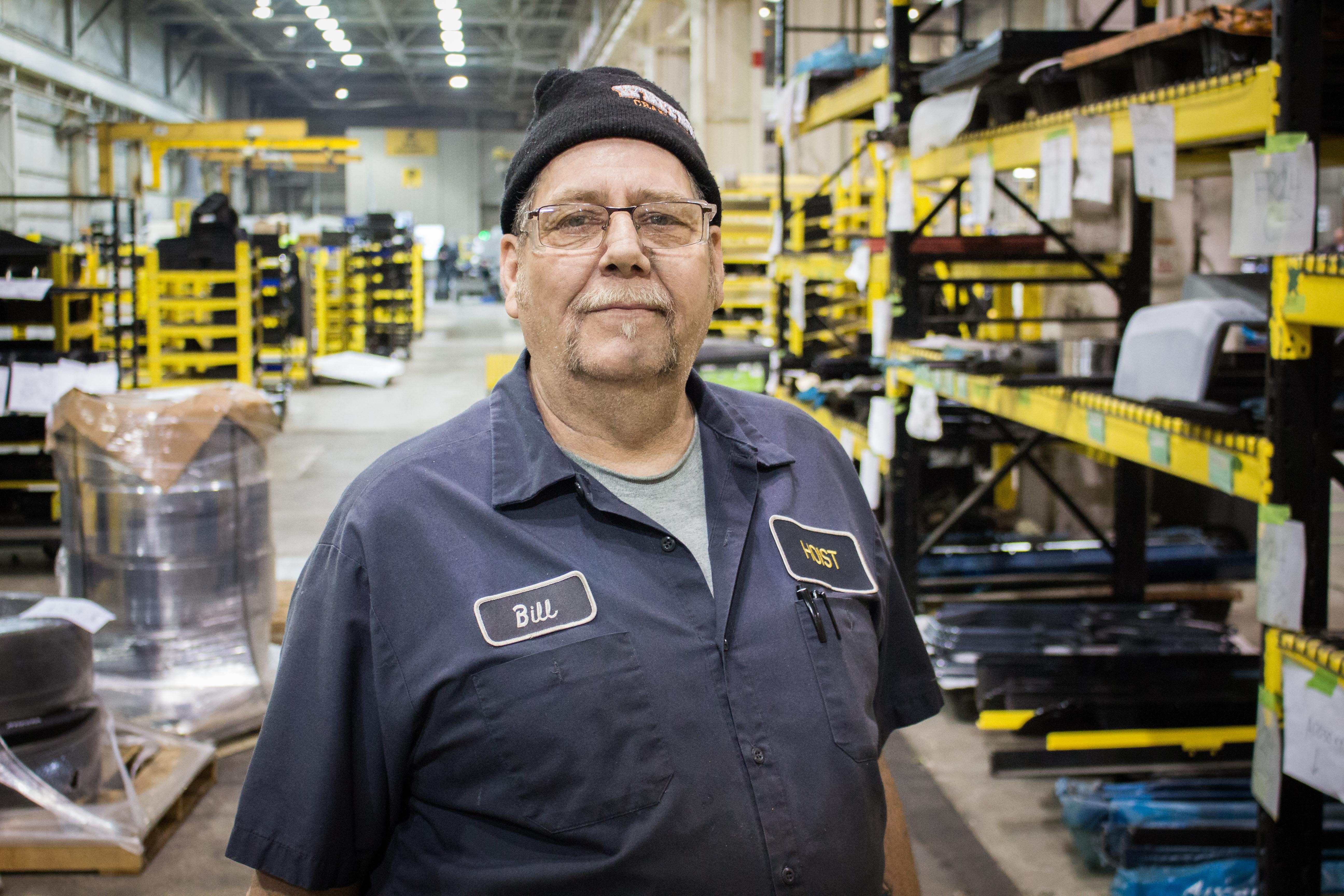 "Would I go back to Illinois? Nope. I like it here, I really do," Roberts said. "I should have moved here 30 years ago. I probably would be a rich man now."
Roberts recently bought his first home in Indiana and plans to retire there.
Moving a massive manufacturing operation is no easy task. So what forced Hoist's hand? Poor public policy. Without Illinois' highest-in-the-region workers' compensation costs and the highest property taxes in the nation, CEO Marty Flaska said he never would have considered moving.
Hoist has already saved over $1 million in workers' compensation costs since the move, according to Flaska.
Fake reforms
Debate over workers' compensation has been raging in the Illinois Statehouse for over a year. Illinois is home to the weakest manufacturing recovery in the region.
But political allies of the powerful trial lawyers lobby claim nothing needs changing. After all, Illinois already solved the problem when lawmakers passed workers' compensation reforms in 2011.
Illinoisans who want good job opportunities in industries such as manufacturing and transportation should not fall for this myth. Two new reports expose the weakness of those 2011 reforms.
The first comes from the Workers Compensation Research Institute. This report shows the 2011 workers' compensation reforms had a small impact on reducing costs per workers' compensation claim, but Illinois remains the highest-cost state among the 18 states studied.
Second, data released by the state of Oregon reveal Illinois' workers' compensation costs still remain uncompetitive as of 2016. The report shows Illinois businesses are paying the highest workers' compensation costs in the Midwest and among surrounding states.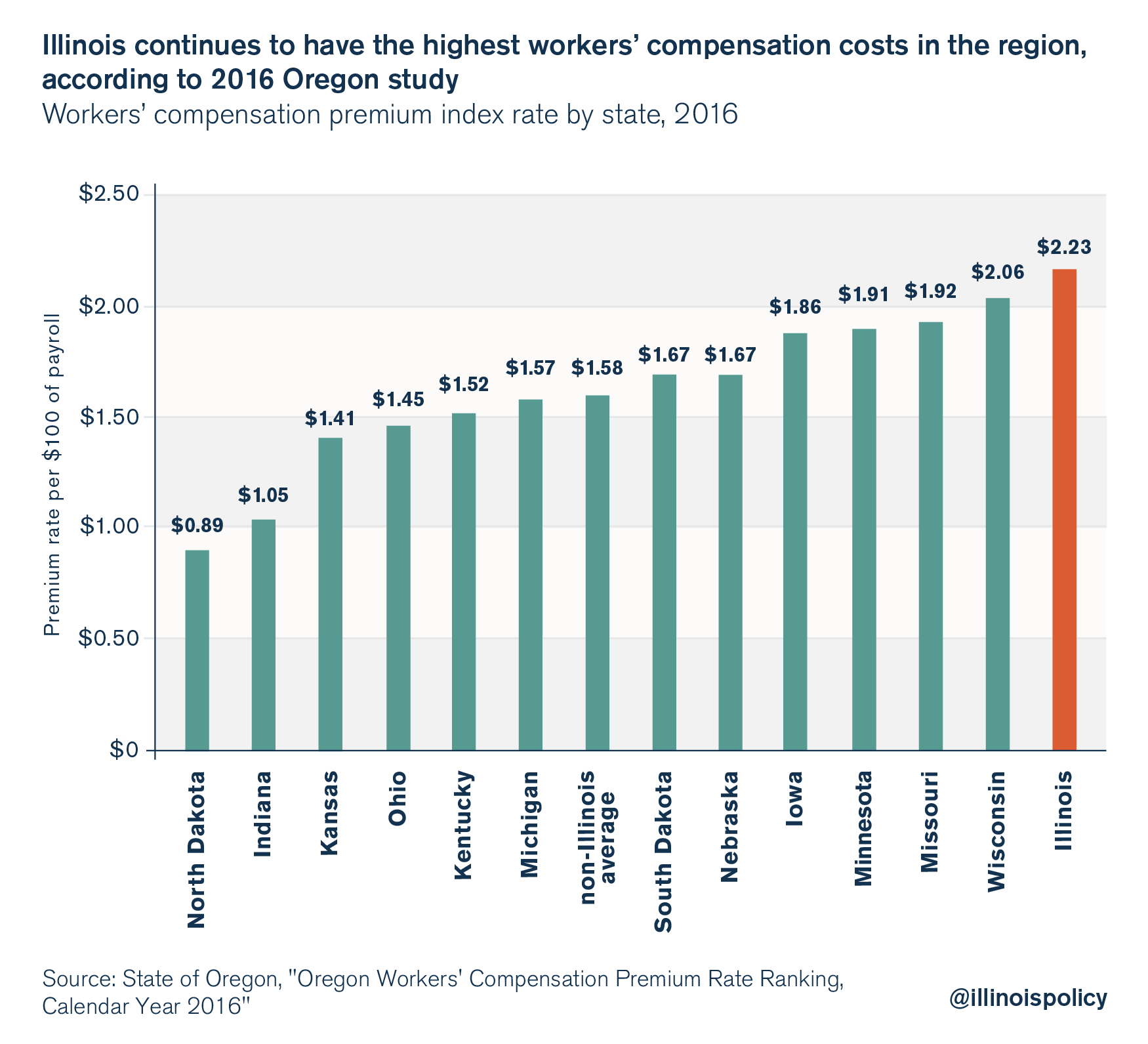 This report is especially interesting because it breaks down the costs of workers' compensation by worker classification. In short, it shows how blue-collar industries in Illinois are being crushed by high costs.
Take steel and iron workers, for example. Illinois employers pay an average of nearly $12 per $100 of payroll in workers' compensation costs for these employees. That's 60 percent above the average of Midwestern and surrounding states. It's an astonishing 176 percent higher than Indiana's rate.
Workers' compensation costs are crushing Illinois' blue-collar economy
Hoist is not alone in its struggle to pay these inflated costs.
Located just outside of Ford Heights, one of the poorest areas in Illinois, Jay Armstrong has been running a small manufacturing business since 2001. TriALco provides nearly 60 jobs for the surrounding community in south Cook County, making alloys for other manufacturers.
But TriALco's future in Illinois is in jeopardy. Armstrong puts the odds at 50-50 that he moves his manufacturing business to Indiana. And those odds get worse each year.
"We are ready to do an expansion," Armstrong said. "But our owner is questioning us: How could we expand in the state of Illinois when it would be about $400,000 to $500,000 cheaper per year to move to Indiana?"
And it's not just manufacturing feeling the pain. It's transportation too. Curtis Hawkins runs a small trucking business in East Peoria, Illinois. In 2016, he said he was paying $21,000 in workers' compensation costs on less than $100,000 of payroll.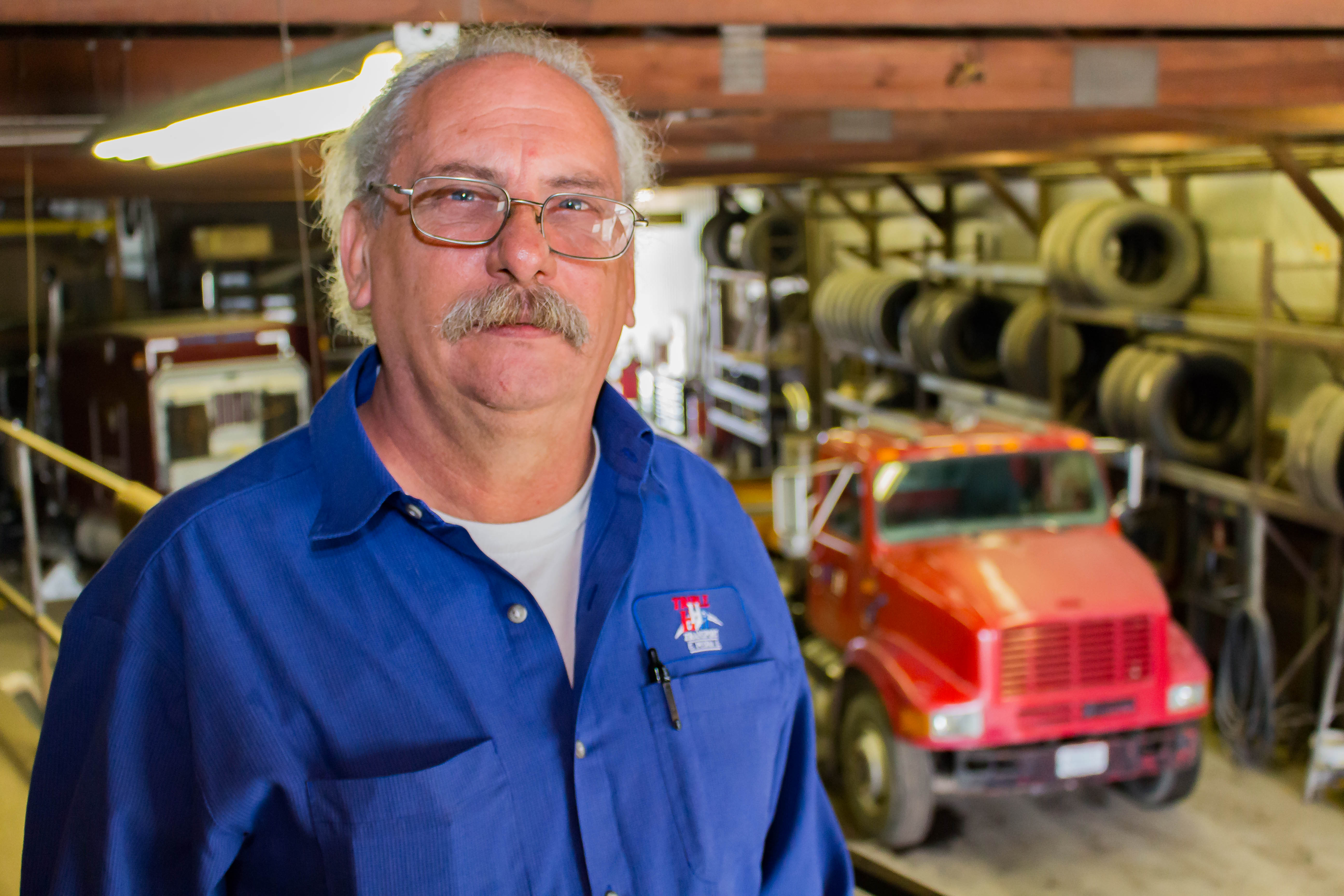 "It scares you to hire people," he said. "It makes the day-to-day struggle a lot harder. … Can you imagine someone coming here opening up a business with 15 employees? They'd have to send their workers out of the state. If it wasn't for my grandkids I'd be getting an office in another state, too."
Matt Schrimpf is the fourth-generation president of Piasa Motor Fuels, located on the Missouri-Illinois border in Alton, Illinois. His great-grandfather started the company in 1932.
But Schrimpf said his business is losing local work to companies from Missouri and Indiana. And workers' compensation is playing a major role. In fact, those high costs are putting more than a dozen union jobs in jeopardy.
Schrimpf estimates Piasa's trucking business would save more than $25,000 a year in workers' compensation costs alone by moving 17 trucking jobs to Missouri. A move to Indiana would save $66,000 a year.
"You're in disbelief," Schrimpf said of seeing the cost comparisons for the first time. "It's so much better."
"I don't have a hurt workforce, we're just a victim of a high-priced system."
The Oregon study backs up the struggles Hawkins and Schrimpf are facing firsthand.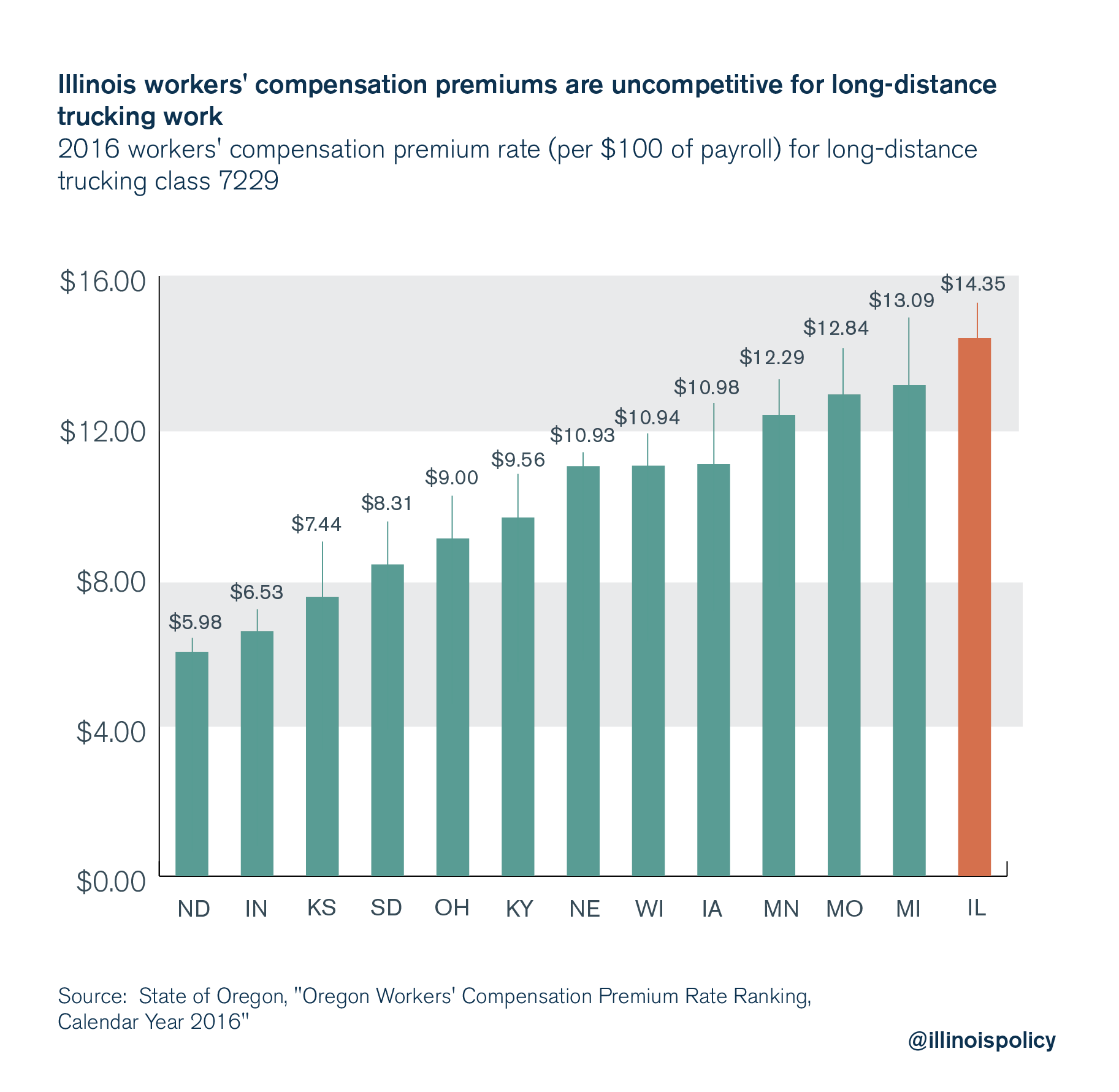 The average workers' compensation insurance premium rate in Illinois for long-distance trucking is more than $14 per $100 of payroll. That's nearly 50 percent higher than the average rate among Midwestern and surrounding states. And it's more than double the rate employers pay in Indiana.
There are many commonsense reforms that lawmakers should pursue to fix this overpriced system, giving millions of Illinoisans the benefits of strong blue-collar jobs growth while protecting worker safety.
The 4 main workers' compensation cost drivers that must be reformed
Workers' compensation costs are much higher in Illinois than in other states. But why?
Trial lawyers in Illinois say it's due to profiteering by insurance companies. But that math doesn't add up. For years, insurers in Illinois have had a lower profit rate than the national average.
The real problem with the system is that the interests of workers and businesses take a back seat to those of trial lawyers and doctors who profit off the system.
Here are four major cost drivers that make workers' compensation so expensive in Illinois:
No. 1: The system is a cash cow for trial lawyers
Illinois' wage replacement rates, which govern the size of settlements, are some of the highest in the nation. Lawyers profit both from the size of those settlements and the generous formula that calculates their share of the prize.
No. 2: Medical benefits are way too expensive
Most states tie their medical fees under workers' compensation to Medicare. But in Illinois, special interests set prices. As a result, major surgery in Illinois is three times more expensive than the same surgeries under Medicare. Pain management injections are twice as expensive. This is way out of line with other states.
No. 3: Doctors have a financial incentive to overprescribe dangerous drugs 
Illinois allows doctors to not only prescribe painkillers out of their offices, but to sell them directly to injured workers at big markups. When doctors are allowed to do this, they prescribe three times as many opioids as they would otherwise. And workers are off the job for 85 percent longer. This drives up the cost of workers' compensation insurance. It's also a major worker health issue.
No. 4: Many workers have a financial incentive to stay off work
There are some workers' compensation cases in which Illinois workers can make more money off the job than on the job. That gives a strong incentive to play up an injury in the first place, and then extend it as long as possible.
Taking action
If Illinois wants more manufacturing jobs, state lawmakers need to address these cost drivers. Tweaks around the edges won't cut it anymore, much less claiming the 2011 reforms were enough and doing nothing at all.
Illinois' weak manufacturing recovery means fewer opportunities for Illinoisans to earn a decent wage for hard work, while new and better opportunities are emerging just beyond Illinois' borders.
But it doesn't have to be this way. Illinoisans deserve a shot at the middle class. They deserve strong blue-collar industries. And they deserve fairness in their workers' compensation system.