Illinois' worst-in-the-nation credit rating comes from decades of corruption and $140 billion in pension debt
PRESS RELEASE from the
ILLINOIS POLICY INSTITUTE
MEDIA CONTACT: Rachel Wittel (312) 607-4977
Illinois pension debt has grown 753% under Madigan's leadership 
Illinois' worst-in-the-nation credit rating comes from decades of corruption and $140 billion in pension debt
CHICAGO (Aug. 27, 2020) – Before House Speaker Mike Madigan assumed power, Illinois had a perfect credit rating and just $4.5 billion in unfunded pension debt. Under his leadership, pension debt has grown an inflation-adjusted 753% up to nearly $140 billion today, according to an Illinois Policy Institute analysis.
That debt now eats $31 of every $100 taxpayers send to the state, excluding federal sources, and Illinois' credit rating has plummeted. Illinois holds the nation's lowest credit rating from all three major ratings agencies – just one notch above junk status and the lowest of any state in U.S. history.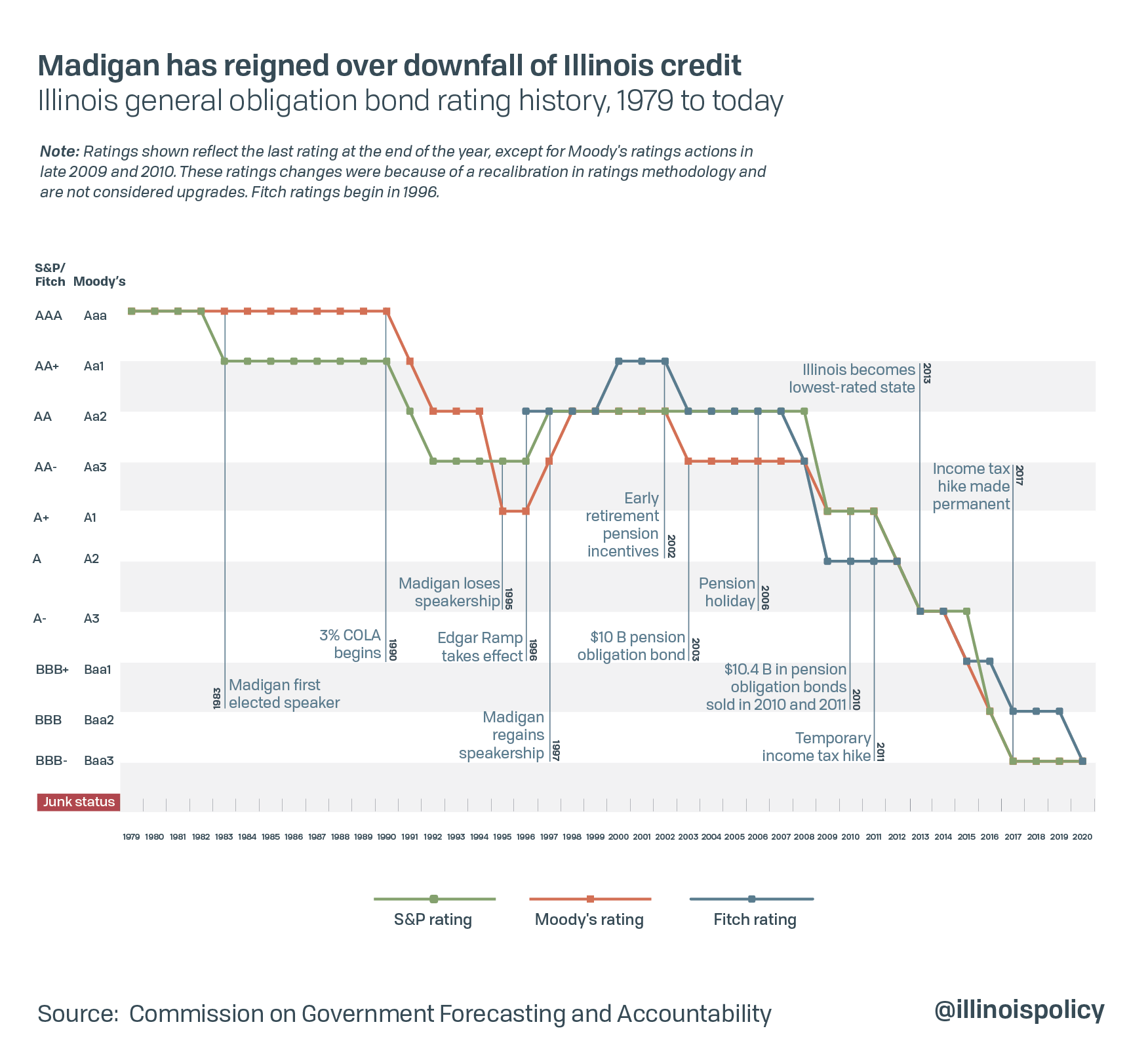 Madigan's fiscal legacy:
Pension contributions accounted for less than 4% of Illinois' general funds budget from 1990 through 1997. They've grown to consume more than 25% of the budget in recent years under the Edgar Ramp.
Pensions have crowded out public services such as education and programs for the disadvantaged for decades. Since 2000, pension costs have spiked by more than 500% after adjusting for inflation, while all other spending has fallen by nearly one-third.
Illinois ranks as at least the sixth-highest taxed state, the second-most indebted and the second-most corrupt.
Illinois Policy Institute research found corruption costs Illinois' economy an estimated $556 million per year and nearly $10.6 billion from 2000 to 2018.
Adam Schuster, senior budget and tax research director at the nonpartisan Illinois Policy Institute, offered the following statement:  
"Speaker Madigan's decades of political power and near-monopoly control of the state legislature have left Illinois drowning in debt and its citizens fleeing to other states. From Illinois' pension crisis and institutionalized budget mismanagement to its culture of corruption, Madigan is largely responsible for some of the state's greatest policy failures.
"While ending Madigan's reign won't solve these problems alone, his eventual departure from office could be a catalyst for lasting change. Through true pension reform, Illinois leaders have a chance to not only fix Madigan's worst policy failure, but to alleviate the suffering of thousands of Illinoisans financially struggling to survive one of the worst economic downturns of our lifetime."
To read the full report, "Madigan's fiscal legacy: How the longest-serving state House speaker built Illinois' mountain of debt," visit: illin.is/MadiganLegacy.
For bookings or interviews, contact media@illinoispolicy.org or (312) 607-4977.