Chicago drivers face third gas tax increase in 18 months
PRESS RELEASE from the
ILLINOIS POLICY INSTITUTE
MEDIA CONTACT: Melanie Krakauer (312) 607-4977
CHICAGO (Dec. 16, 2020) – Chicago drivers will see gas prices jump for the third time in 18 months when Mayor Lori Lightfoot's budget takes effect Jan. 1.
The budget approved by the City Council included a 3-cent gas tax increase. Illinois Policy Institute analysis reveals about 36% of Chicago's gas prices will go to taxes and fees. On an average price of $2.53 per gallon, that's 91 cents in taxes – or a total of $13.62 in taxes if drivers fill up a 15-gallon tank.
Altogether, Chicago drivers will now pay $100 more per year for gas compared to the first half of 2019.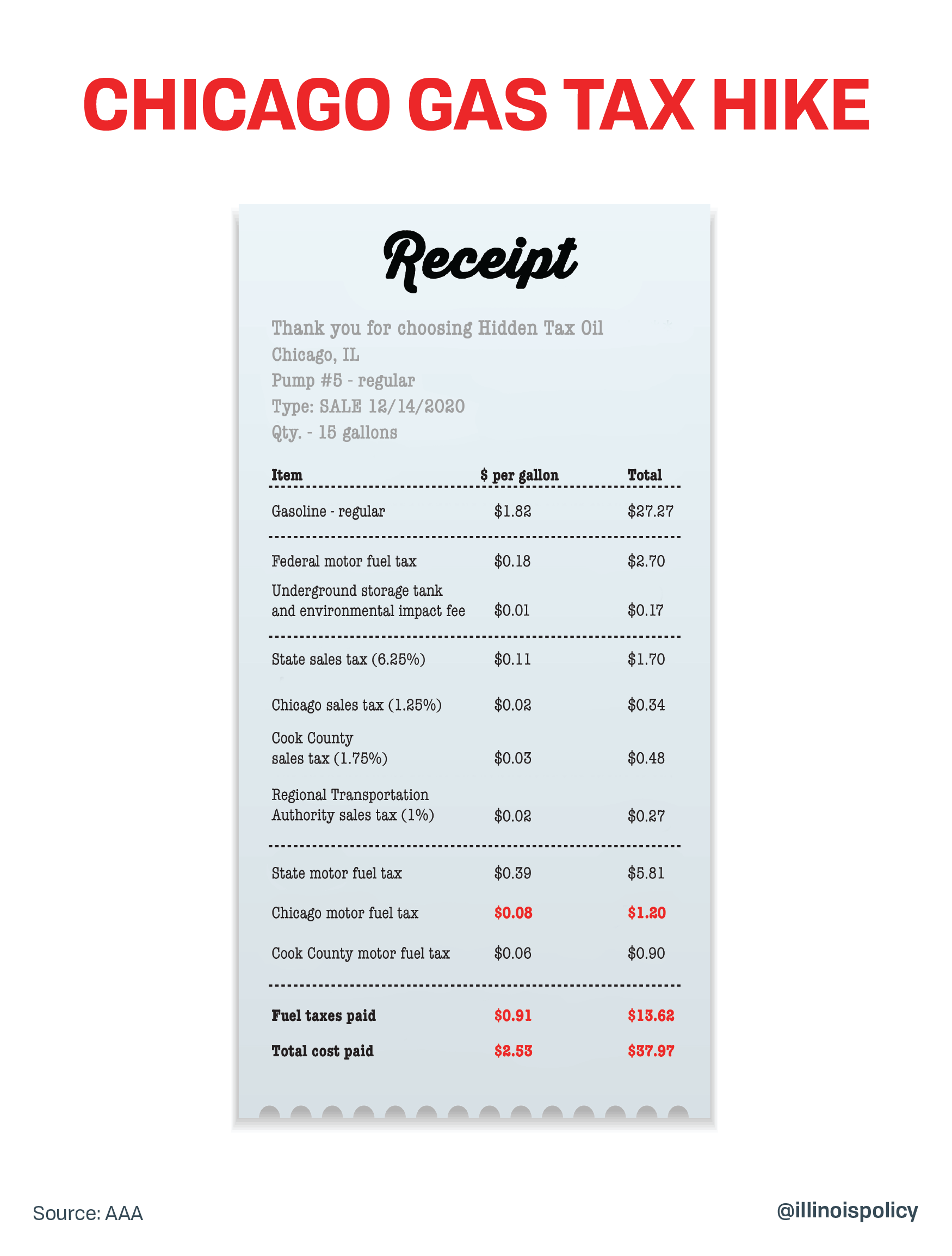 Gas tax background:
Beginning Jan. 1, the total gas tax in Chicago will be 8 cents per gallon. Drivers also pay a 6-cent Cook County gas tax, a federal gas tax and state and local sales taxes on every gallon.
Chicagoans see the state's highest average cost of gas per gallon. Illinoisans face the nation's third highest overall state and local gas taxes.
Illinois state government doubled the state gas tax to 38 cents from 19 cents on July 1, 2019. Then on July 1, 2020, the state gas tax automatically increased by 0.7-cents as part of a new annual hike.
Chicago is the only municipality with specific authorization from the state to levy a gas excise tax, but other cities with home rule powers can have local gas taxes as high as 8 cents a gallon. The newest gas tax hike is intended to generate $10 million in revenue for the city.
Adam Schuster, senior director of budget and tax research at the nonpartisan Illinois Policy Institute, provided the following statement:
"Raising the gas tax will not solve Chicago's budget problems. Worse, this regressive tax will hit taxpayers at a time when they can least afford it.
"The real problem stems from Chicago's pension debt, with payments set to increase by $1 billion during Mayor Lightfoot's first term. Unsustainable and rising pension contributions mean Chicago will continue to face significant budget deficits every year unless structural changes are made. Instead of hiking taxes, Chicago's leaders should be focused on asking state lawmakers to initiate constitutional pension reform that would allow for changes to unaccrued benefits, allowing retirees to keep benefits they've already earned while freeing up scarce resources for essential city services."
To read more about the Chicago gas tax, visit: illin.is/chicagogas.