4.7 million voting-age Illinoisans had no choice in their state representative in an average election year, showing need for more competitive Statehouse races
PRESS RELEASE from the
ILLINOIS POLICY INSTITUTE
CONTACT: Melanie Krakauer (312) 607-4977
Roughly half of all Illinois House races were uncontested under most recent political maps 
4.7 million voting-age Illinoisans had no choice in their state representative in an average election year, showing need for more competitive Statehouse races
CHICAGO (July 8, 2021) – As the debate heats up nationally over election laws and voter suppression, new research shows Illinois' gerrymandered maps have contributed to reduced voter participation.
Illinois Policy Institute analysis finds roughly half of all House races were uncontested over the past decade of the most recent legislative maps. Voter participation was on average 7 percentage points lower in Illinois legislative House districts that only had one candidate on the ballot.
That means 4.7 million voting-age Illinoisans who lived in those districts had no choice in their state representative in an average election year, according to Illinois State Board of Elections data. Experts found there could have been 1.7 million more votes cast for state representatives if every state House race had been competitive during the most recent legislative maps – which were signed into law in 2011.
In order to encourage voter participation, the Institute's solution set includes enacting legislation that would allow for independently drawn maps and encouraging more candidates to run for office, particularly in areas that have historically faced uncontested elections. The result would be a state government that truly represents the interests of its residents.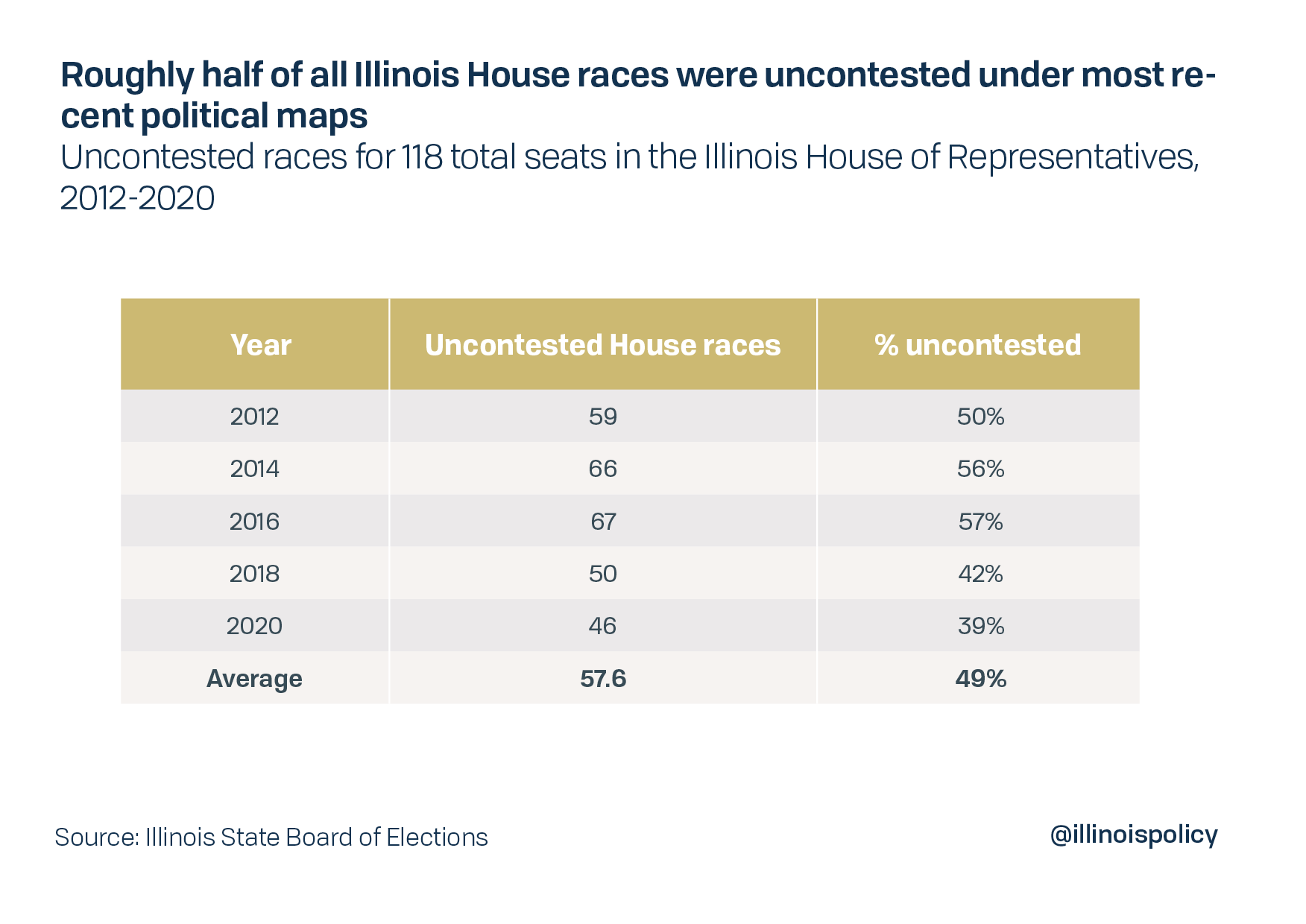 Highlights of the report show:
In the 2020 election cycle, 39% of Illinois House of Representatives races and 45% of Illinois state Senate races had just one candidate. Altogether, nearly 3.9 million voting age adults and nearly 5 million Illinoisans total – about the size of Cook County – lived in districts where there was only one option for a state representative on the ballot in 2020.
From 2011-2020, the majority of uncontested legislative races were in the Chicago metropolitan area.
Low voter participation rates tend to occur in low-income areas, which leads to less influence in Statehouse and policy decisions. Low voter participation makes lawmakers more susceptible to the influence of lobbyists rather than prioritizing the service of ordinary voters.
Adam Schuster, senior director of budget and tax research at the nonpartisan Illinois Policy Institute, provided the following statement:
"Voters deserve choices on their ballots, especially in Statehouse races, which affect so much of their everyday lives. Illinois' current system draws districts to favor one political party or another, which leads to a lack of challengers.
"Research shows more competitive elections are linked to less corruption. Our state risks another lost decade of unfair elections, unaccountable lawmakers and rampant corruption after Gov. J.B. Pritzker broke his promise by signing gerrymandered maps. Given a lack of independently drawn maps, it is time to educate interested citizens on how to counteract the voter suppression caused by rigged maps by running for office themselves."
Orphe Divounguy, chief economist for the Illinois Policy Institute at the nonpartisan Illinois Policy Institute, provided the following statement:
"We see that voter participation is higher when there are clearly differentiated options on a ballot. High voter engagement is often viewed as a sign of a healthy democracy. Conversely, a lack of choices on the ballot can result in fewer voters exercising their basic rights. This, in turn, tends to skew policy in favor of special interest groups over everyday voters.
"Fixing this problem should be a nonpartisan priority as Illinois rolls out its next legislative districts."
To read more about how uncompetitive elections affects Illinois voters, visit bitly.com/voterparticipation.
For bookings or interviews, contact media@illinoispolicy.org or (312) 607-4977.