Pritzker budget spends more on everything, but education is left behind
Illinois' fiscal year 2021 budget is larger than 2020's, yet spending on education lost ground without an adjustment for inflation.
Despite the COVID-19 lockdown wrecking state finances, Illinois plans to spend $2.4 billion more compared to fiscal year 2020. But Illinois students and teachers lost out: budgets are flat for both K-12 schools and state universities.
After inflation eats into that money, that means a cut in education spending.
An analysis from Republican state senate staff obtained by the Illinois Policy Institute explains the budget provides "the bare minimum" of $7.2 billion under the state's funding formula, through which money is provided to local schools. All school districts will receive the same amount from the state as last year.
Total state K-12 spending, including grants outside of the funding formula and the budget for the Illinois State Board of Education, will increase by just $12.79 million or 0.14%.
Similarly, total general revenue funding for state universities will be held constant with the prior budget at $1.16 billion.
In total, spending on education makes up about 24.7% of this year's state budget.
In years when education spending does increase, much of it is actually going toward pensions and not into classrooms. From 2000 through 2020, spending on teacher pensions increased by 200%, while spending in the classroom rose just 20% for K-12 schools.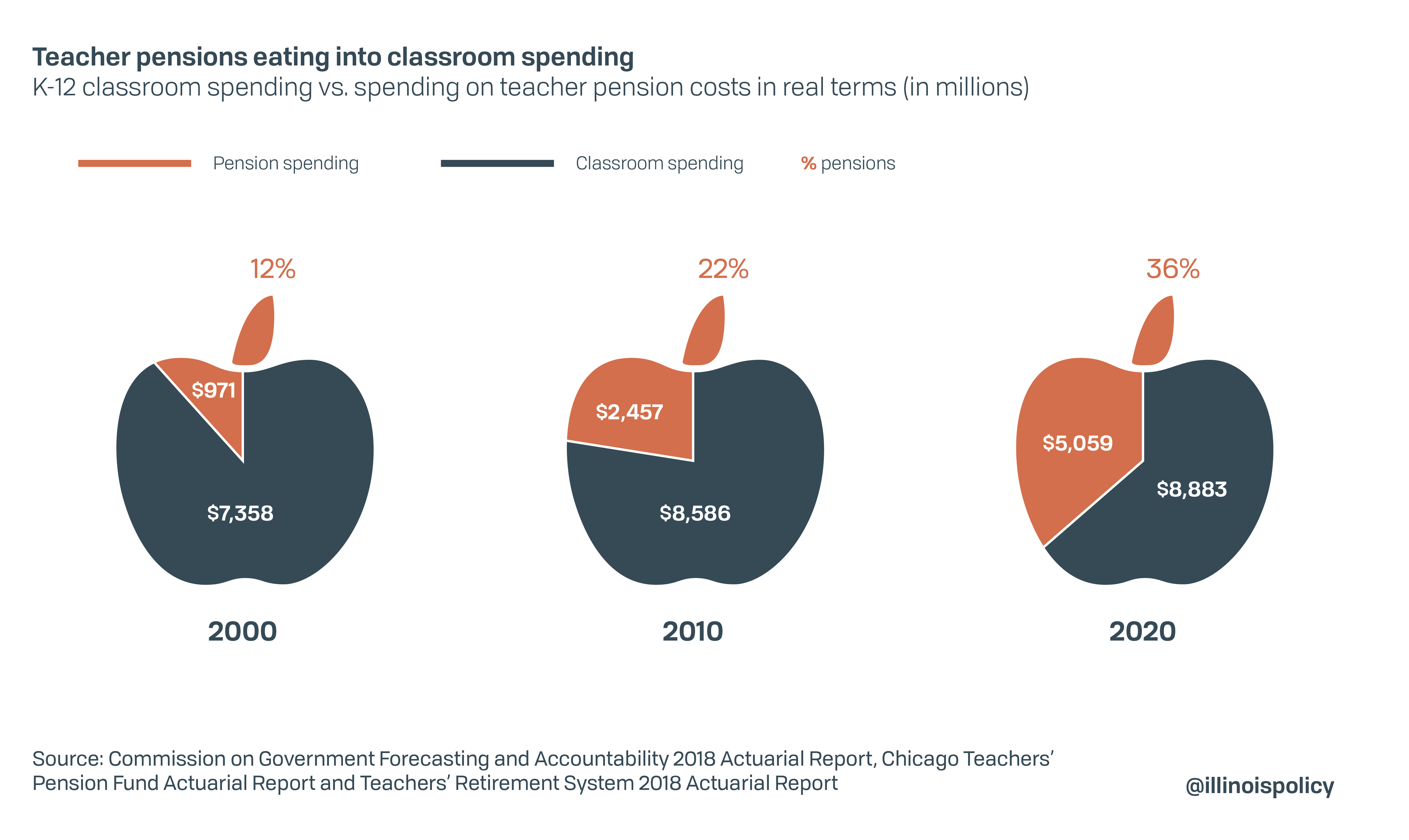 Illinoisans spend more than their neighbors on education for worse outcomes. Neighboring states such as Wisconsin, Iowa and Indiana spend between $2,400 and $4,000 less per student – and all three states maintain better scores in K-12 math and reading proficiency, according to the National Assessment of Education Progress. Unlike those states, Illinois sees more money budgeted for education spent on administrative costs, diverting even more funds from the students.
Government budgets reveal the priorities of elected officials. By letting education funding drop while increasing their own pay by $1,800 and preserving unaffordable pension benefits, Springfield is sending a clear and disturbing signal to taxpayers about what they value most.