Pritzker calls for $700M in service cuts, silent on pension reform
Illinois' current budget started out at a deficit, hoped for a tax increase that was rejected and counted on a federal bail-out that never came. Gov. J.B. Pritzker's best fix is pension reform.
Illinois Gov. J.B. Pritzker is looking for $700 million in budget cuts as a budget deficit of $3.9 billion looms.
Pritzker said Dec. 15 he is looking at closing prisons and cutting public safety, unpaid furlough days for state workers, delaying a promised raise for community care workers, freezing or cutting 5% from economic grants, halting vehicle purchases and a litany of other cuts. He is negotiating $75 million in personnel cuts with AFSCME Council 31 and other state employee unions.
"I promised to be a governor who balances the budget and begins paying down the bills that my predecessor left behind," he said. "And despite all the current challenges, I am confident we will continue our ascent to economic strength and fiscal stability."
Pritzker also just borrowed another $2 billion from the Municipal Liquidity Facility, the Federal Reserve's lender of last resort. Pritzker in June borrowed $1.2 billion from the same source at nearly 4% interest and with a one-year repayment schedule, becoming the first state to do so after Illinois failed to sell the bonds on the open market. Illinois' credit rating is the nation's lowest, at just a notch above junk status.
Pritzker's negotiation seeking $75 million from AFSCME and other unions comes eight months after he choose not to delay $261 million in raises for the union's workers amid soaring unemployment as his COVID-19 mandates shut down the Illinois economy. Other Democratic governors at the time were seeking concessions or furloughing their state workers to deal with revenue declines.
Pritzker said about half of the deficit is thanks to COVID-19 damage to state revenue, but he blamed the other half on voters' rejection Nov. 3 of his "fair tax."
"The best way to fix our structural problems is to fix our unfair tax system," Pritzker said.
In reality, the best way to fix the state's structural problems is not by taxing residents more, but to reform its largest cost driver – the one that continues to grow regardless of how much of the state budget it eats: government worker pensions.
Pensions will consume $11.6 billion in fiscal year 2021, or 28.5% of the state budget. Still, Illinois has the nation's worst pension debt at  $144.4 billion in 2020 by its own accounting, but possibly more like $261 billion by estimates using more realistic assumptions about investment returns.
Illinois spends more than any other state on pensions and only has about 40% of what it needs to meet its obligations. Illinois would either need to spend more than half of the state budget on pensions or raise taxes on the median income family by over $1,800 a year to eliminate its pension debt.
The more pension spending grows, the more other state services suffer.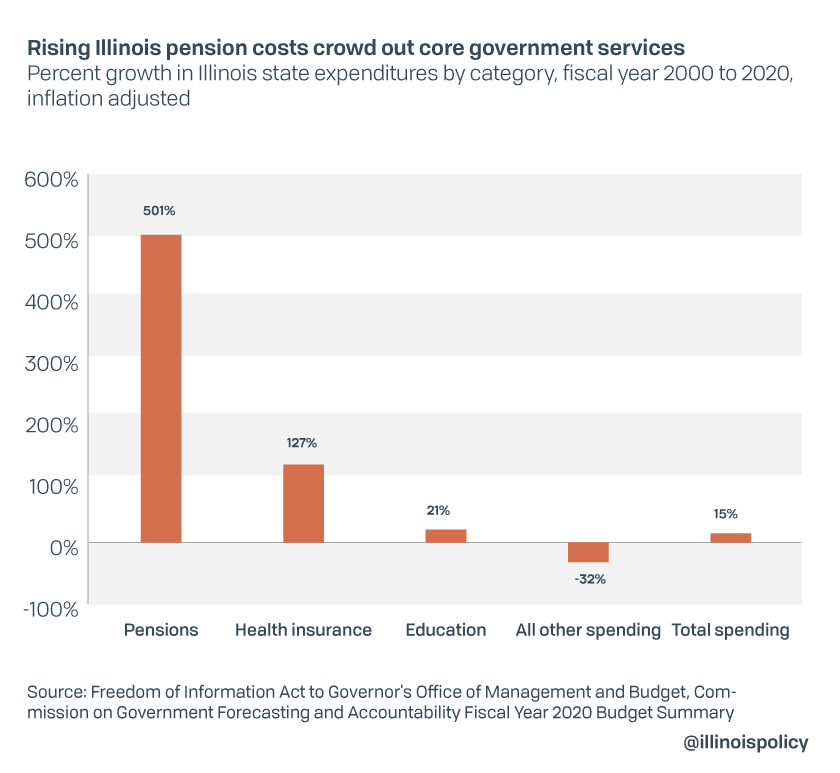 Between 2000 and 2020, state pension spending grew 501% while spending on core services including child protection, state police and college money for poor students dropped by nearly one-third. Pension spending continues to crowd out services taxpayers expect for their money.
Pritzker's best solution is amending the Illinois Constitution to allow the growth of future pension costs to be brought under control. If pensions grew at the rate of inflation rather than at a compounding rate of 3% annually, the state pension systems could eventually be fully funded, retirements could be safeguarded and core services could be saved.
Pritzker in February will present his ideas for balancing the fiscal year 2022 budget. He starts with little room to maneuver because 28.5% of it is locked into government pensions.
Pension reform is much less painful than more cuts. It will also let Pritzker stop blaming voters for being unwilling to trust Springfield with more of their money.