Pritzker warns Illinois state agencies to brace for 'significant' budget cuts
Illinois Gov. J.B. Pritzker advised state agencies to prepare for budget cuts next fiscal year, despite approving $4.7 billion in tax and fee hikes in his first year alone.
A new memo from Gov. J.B. Pritzker's office warning Illinois state agencies of future budget cuts is the latest challenge underscoring the severity of the state's pension crisis.
The memo instructs state agencies to include in their budget requests for the next fiscal year a scenario that anticipates a 6.5% across-the-board cut to their agency budgets. It also advised to explore ways to cut commissions and boards under each agency's purview by 10% and requested "at least two significant efficiency and savings ideas" from each agency.
The memo comes three months after Pritzker praised state lawmakers' passage of a "real balanced budget" that topped $40 billion. The Illinois Policy Institute's analysis at the time found the budget for fiscal year 2020 to be as much as $1.3 billion out of balance.
Pritzker and state lawmakers passed 20 new or higher taxes and fees that will take $4.7 billion more from Illinoisans. But Illinois' continued – and worsening – budgetary challenges again demonstrate that no number of tax increases will be sufficient to address the state's primary fiscal problem: unaffordable growth in public pension costs.
Under the progressive tax system Pritzker would like Illinois to adopt, lawmakers' ability to hike taxes and put off meaningful reforms would only increase – as it did in Connecticut, while also damaging that state's economy.
A new report from the Illinois Policy Institute shows the degree to which pension costs are eating away at core government services in Illinois. During the past 20 years total pension spending has increased 501%. To make room for those costs, the state has slashed "other spending," a category that includes core services such as child protection, state police and college money for poor students, by nearly one-third over that time.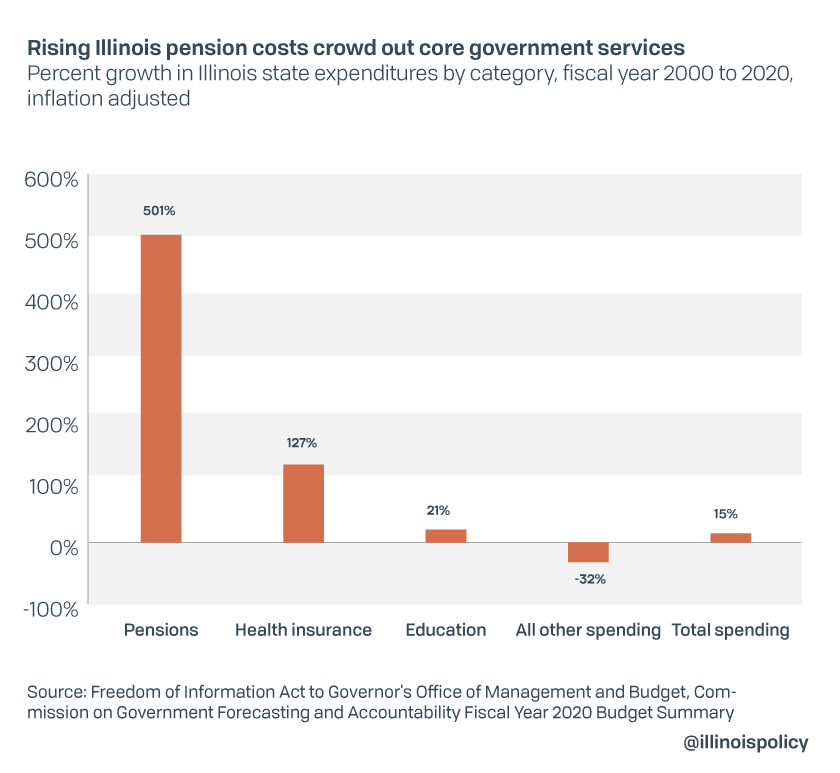 Total pension spending currently consumes more than 25% of state general revenues in Illinois, yet the systems' combined pension debt stands at nearly $137 billion by the state's accounting, but could be $250 billion if analyst projections are correct.
At the local level, pensions are the leading cause of Illinois' high property taxes, causing them to skyrocket from around the national average in 1996 to the second highest in the nation today. The resulting budgetary pressures have forced local governments to cut today's public services to pay for yesterday's government, in the form of pensions.
The Pritzker administration's memo reinforces the case that Illinoisans deserve the opportunity to vote on an amendment to the state constitution that would enable common sense pension reform.