Privacy law prevents Illinoisans from using Google app's selfie art feature
A new feature on Google's Arts & Culture app is not available to Illinois users because of the state's strict biometric privacy law.
Do you have a smile like Mona Lisa's? A new feature on Google's Arts & Culture app can show you. But not if you live in Illinois.
Google's Arts & Culture app can now ask users, "Is your portrait in a museum?" Curious app users can upload selfies, and the feature will match their photos with paintings in museums across the world.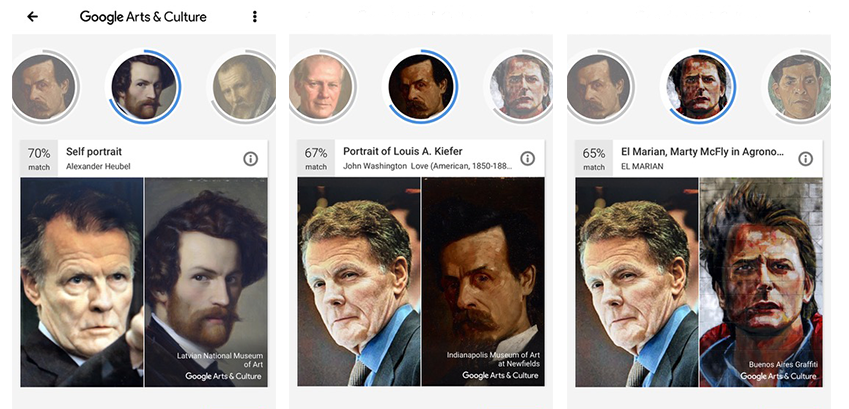 But the feature does not appear in apps for Illinois-based users, most likely because of the state's restrictive privacy law, according to the Chicago Tribune.
Illinois' biometric information privacy law
Illinois' Biometric Information Privacy Act, or BIPA, was enacted in 2008 to safeguard biologically derived, or biometric, information, such as fingerprints, facial images and iris scans. It is the most stringent law of any state regarding the consent, notice and disclosure procedures private entities must follow when collecting, storing or using people's biometric information. The BIPA gives private parties the right to sue for violations of the act and to collect the greater of $1,000 or actual damages for each violation negligently committed, and the greater of $5,000 or actual damages for each violation recklessly or intentionally committed. Plaintiffs can also collect attorneys' fees and costs under the BIPA.
The Tribune has reported that the new portrait feature does not appear in Texas either, which also has a biometric information privacy law. The new feature appears to be available in Washington state, however, according to The Wall Street Journal. In 2017, Washington became the third state to pass a biometric privacy law. Unlike Illinois' law, only the state attorneys general can enforce Texas' and Washington's statutes. Individual residents can't sue under them, as they can in Illinois.
Tech companies, employers sued under Illinois' biometric privacy law
Although, according to the Tribune, Google declined to comment on why the selfie feature is not available in Illinois, it would make sense if the company were wary of lawsuits by Illinois app users. In fact, the company has already been sued under Illinois' BIPA over facial templates created through Google's photo storage and sharing service, Google Photos.
And Google isn't alone.
Since 2015, Illinois consumers have sued under the BIPA for alleged violations by companies that use facial-recognition technology, such as Facebook, Shutterfly, Snapchat, Take-Two Interactive Software, Wow Bao and others, as well as companies that have used fingerprint scans, such as L.A. Tan.
In 2017, scores of employers were hit with class-action lawsuits by Illinois employees for alleged violations of the BIPA, mostly in connection with the use of fingerprint-operated time-tracking machines. Since July 2017, more than 30 class-action lawsuits against employers have been filed in Illinois under the BIPA. Employers that have faced BIPA lawsuits range from Speedway LLC, a gas station and convenience store chain, to Paramount of Oak Park Rehabilitation & Nursing Center LLC, a nursing home, to American Airlines and United Airlines.
Fallout from Illinois' biometric privacy litigation
Employees, consumers and others have every reason to be concerned about the privacy and security of their biometric information. As the General Assembly noted, "Biometrics … are biologically unique to the individual; therefore, once compromised, the individual has no recourse, is at heightened risk for identity theft, and is likely to withdraw from biometric-facilitated transactions."
But it remains to be seen what effect the proliferation of BIPA litigation will have on technological innovation and employment in the Prairie State. Most of the consumer and employer BIPA cases are still working their way through the courts, and it is not yet clear exactly what kinds of harm will suffice to allow a plaintiff to recover monetary damages under the statute.
The selfie feature of the Google Arts & Culture app is just one example of a technological advance that can provide consumers with entertainment – and Illinois' restrictive law is likely keeping it away from Illinois consumers.
Other innovations have the potential to make life easier and more convenient, and Illinois' law appears to be keeping some of those away from Illinoisans as well. Nest, for example, has developed a smart doorbell that uses technology to recognize familiar faces – which could let a homeowner know that her child has returned safely from school. But as the Tribune pointed out, they will not be available in Illinois.
And BIPA litigation against businesses unquestionably drives up their costs – and makes employing people more difficult and more expensive. As authors of a Law360 article noted in discussing the BIPA's damages provisions, "It is easy to see how damages can become enormous when aggregated through a class action." In a case against a large employer like United Airlines with thousands of possible employee-plaintiffs, potential damages could total millions of dollars.
Whether businesses will take extra precautions to comply with the BIPA, hoping to escape enterprising class-action lawyers and litigants – or decide hiring people in Illinois is not worth the expense and hassle – will play out as the cases progress. In a state with weak employment growth and a workforce dropout problem, this is not a minor concern.