Rauner announces plan to ban lawmakers from working as property tax lawyers
Illinois House Speaker Mike Madigan, Senate President John Cullerton and state Rep. Robert Martwick are all involved in the clout-heavy cottage industry of property tax appeals.
Gov. Bruce Rauner announced at a Jan. 18 press conference that he plans to have a bill introduced banning lawmakers from making money as property tax appeals lawyers, according to the Daily Herald.
House Speaker Mike Madigan has earned millions of dollars appealing the assessed values of some of the most expensive properties in the state through his law firm, Madigan & Getzendanner. Every dollar Madigan earns back for his corporate clients makes someone else's property tax bill go up. It falls on the shoulders of Cook County residents not savvy enough to hire a politically connected law firm to appeal their property taxes, or who refuse to play the game altogether.
The governor also announced plans to sign an executive order barring the state's Property Tax Appeal Board from hearing cases brought by lawmakers working as property tax lawyers.
"Why do we let legislators argue cases around property taxes when they set tax policy?" Rauner asked at the press conference, according to WTAX. "It's unethical, clearly unethical."
Illinoisans pay some of the highest property taxes in the nation, and saw their property tax bills grow six times faster than household incomes from 2008-2015.
Madigan's millions
A joint investigation released Dec. 7 by the Chicago Tribune and ProPublica Illinois revealed the extent to which Madigan & Getzendanner dominates the property tax appeals business. That domination comes within a Cook County property tax system found to disproportionately harm lower-income residents, due in part to the appeals process.
From 2011 to 2016, Madigan's firm appealed property taxes for more than 4,200 parcels totaling more than $8.6 billion in assessed value. No other firm handled more value in commercial and industrial properties over that time.
On those parcels, Madigan & Getzendanner won $1.7 billion in assessed value reductions from the Cook County assessor, a 20 percent reduction overall.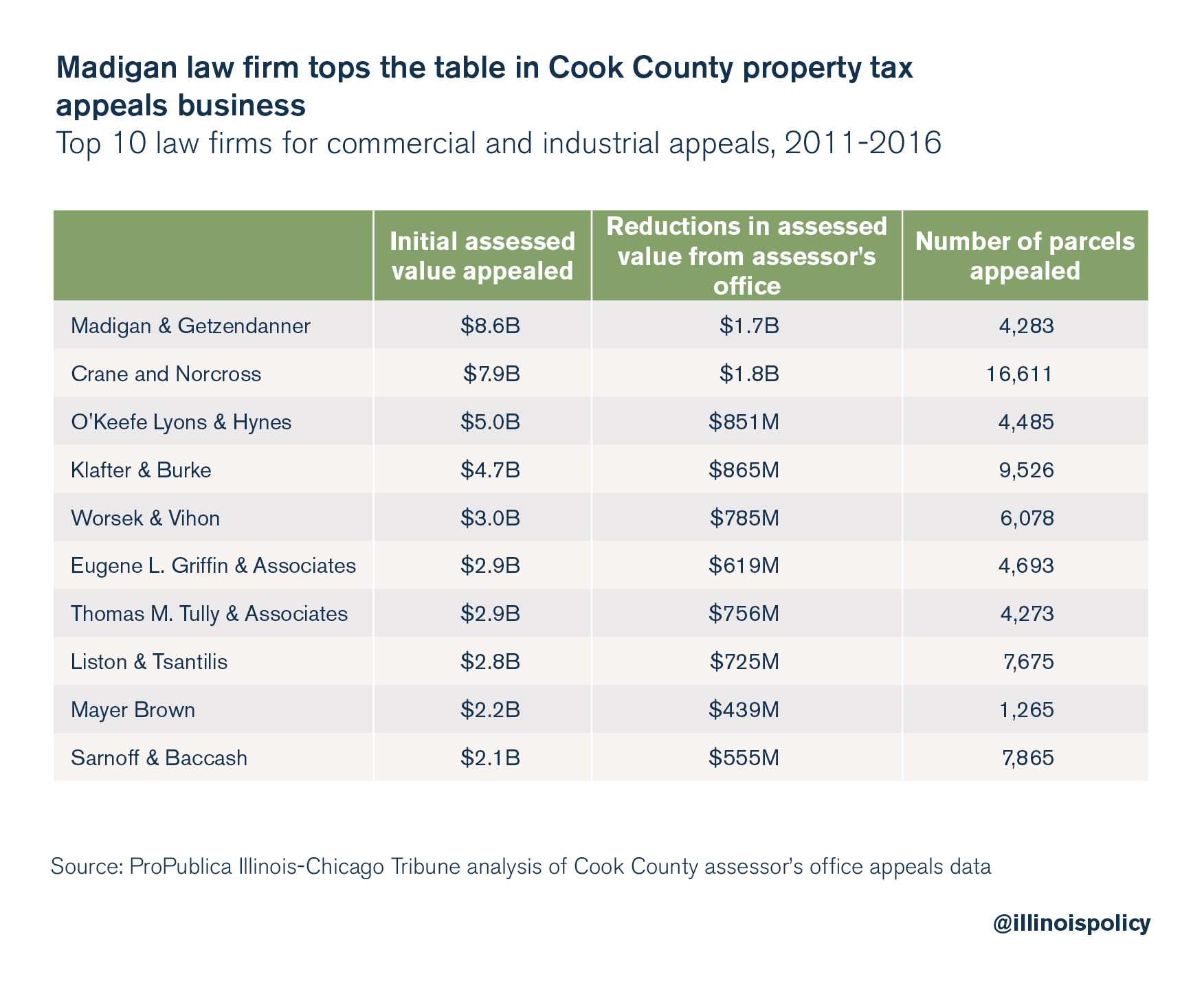 Madigan spokesman Steve Brown disputed the appeals analysis, saying Madigan's firm won a mere $1 billion in assessed value reductions, but did not provide any supporting data, according to the Tribune. No. 4 on the list is Klafter & Burke, the property tax appeals law firm founded by Chicago Alderman Ed Burke. Burke has served as a Chicago alderman since 1969, and is the longtime chair of the City Council's finance committee.
But it's not just Madigan and Burke.
Cottage industry
Illinois Senate President John Cullerton is a partner at Thompson Coburn LLP, where his brother Patrick Cullerton works as a property tax appeals lawyer. Patrick's biography on the firm's website notes his work "to convince the Illinois General Assembly to reform the tax appeal provisions of the Illinois Property Tax Code."
State Rep. Robert Martwick, D-Chicago, also works as a property tax appeals attorney for Finkel, Martwick & Colson. In July 2017, a Chicago Sun-Times investigation found Martwick failed to disclose $170,000 in income from his political consulting business, where he worked for clients such as Cook County Assessor Joe Berrios.
Berrios' office is in charge of the property valuations so crucial to these political figures. He was elected assessor in 2010 with the help of Madigan's political workers. Berrios also serves as the Cook County Democratic Party chairman. Meanwhile, Madigan is the state party chairman. He is the only legislative leader in the nation to serve in such a position, according to the Illinois Campaign for Political Reform.
It remains to be seen if Rauner's proposed reforms can survive political or legal challenges posed by Madigan, Cullerton and others.
What's beyond doubt: Lawmakers working to profit off of a property tax appeals system they control – as evidenced by the advocacy of the Senate president's brother – has eroded trust in Illinois' state and local governments for decades.