Rauner's 4 reforms to keep child care subsidy afloat for low-income families
Despite lacking a budget, Gov. Bruce Rauner is continuing CCAP for families currently receiving its services.
For low-income Illinois parents who need child care for their children while they work or attend school, the state's subsidized child care program provides much-needed assistance.
In spring 2014, lawmakers underfunded this child-care program, called the Child Care Assistance Program, or CCAP, by as much as $300 million, then used this intentional shortfall as a rationale to call for another tax hike – essentially holding low-income families hostage.
Now, despite not having received a balanced budget from the General Assembly, Gov. Bruce Rauner is continuing CCAP for families currently receiving its services.
In an attempt to secure the long-term sustainability of CCAP, however, the governor recently ordered four revisions to the program to address the projected funding shortfall so the state may continue to provide child-care services for those who need them most.
Focusing on the neediest recipients
The first step in Rauner's reform plan is to restrict new enrollment in CCAP to the neediest families. Thus, new applicants will have to meet one of the following four standards:
Be a recipient of benefits under the Temporary Assistance to Needy Families, or TANF, program
Be a teen parent enrolled full time in school or a GED program
Have a special needs child
Be a working family with income that does not exceed 50 percent of the federal poverty level
These guidelines are a good-faith attempt to show compassion to the neediest families and to avoid disrupting services for those currently enrolled in the program.
Requiring background checks for care providers
The second directive provides for children's safety. The Rauner administration now mandates that all providers of subsidized child care services – including license-exempt providers – undergo background checks to ensure that no provider has a criminal record, is listed on the Illinois sex-offender registry or has a history of child abuse or neglect.
Mandating that families seek child support from absentee parents
The third reform requires that each child with an absentee parent have an active collection case with the Division of Child Support Services at the Department of Healthcare and Family Services, or DHS. Given that, according to recent DHS reports, 95 percent of participating families are headed by single-parent households, and federal data show that the average family below the poverty line receives only $4,503 per year in child-support payments, this change will benefit children and families as well as the financial viability of the program.
Requiring families to pursue the enforcement of child support obligations is hardly a radically new policy for a child-care subsidy program. Federal TANF regulations already require child-support arrangements for its program recipients, and several other states, including Connecticut, Kansas and Minnesota, also mandate that families seek child support while participating in child-care subsidy programs.
Increasing copayments for better-off program enrollees
The fourth program revision increases copayment obligations for most participant families. Despite the opposition to this requirement, it will only affect families earning more than 50 percent of the federal poverty line and is merely a return to the copayment levels that were in effect from July 1, 2013, to June 30, 2014, under the administration of former Gov. Pat Quinn.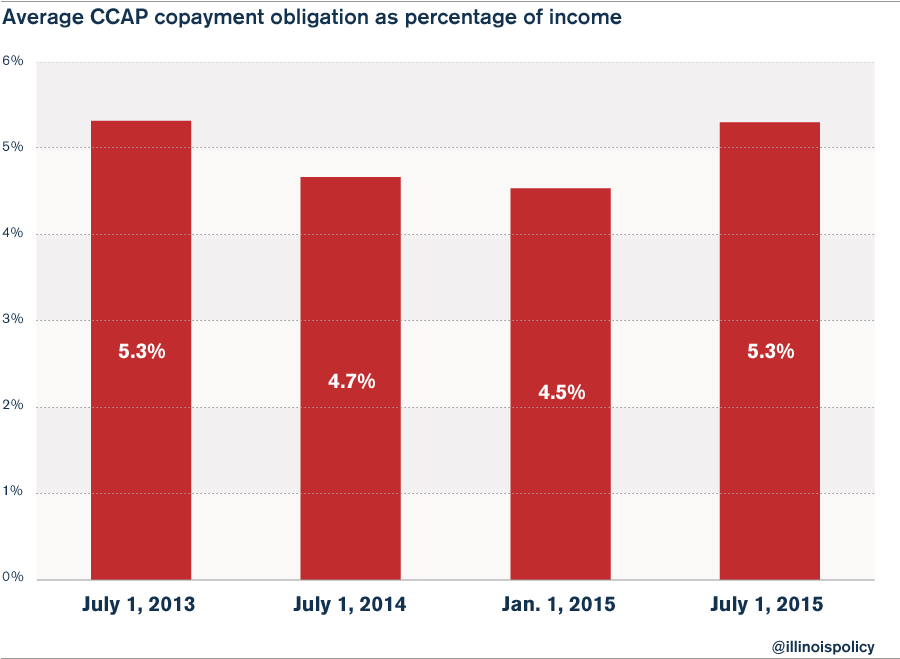 As a percentage of household income, the new copayment obligation will rise from the 4.5 percent level in effect as of January 2015, to 5.3 percent.
Pushback and resolution
Not everyone welcomes the changes. Several special-interest groups have filed a procedural complaint with the Joint Committee on Administrative Rules. However, state law clearly gives DHS discretion to take necessary cost-reducing steps when there is a shortfall in funding. As stated in law:
"The Illinois department is authorized to lower income eligibility ceilings, raise parent co-payments, create waiting lists, or take such other actions during a fiscal year as are necessary to ensure that child care benefits paid under this Article do not exceed the amounts appropriated." (305 ILCS 5/9A-11)
Nonetheless, in a flagrant act of fiscal irresponsibility, the Illinois Senate passed a bill on Aug. 5, 2015, that would strip these discretionary cost-containment powers from the administration. Without these fiscal safety valves, the department would have little choice other than to proceed with the program as if there were no shortage of funds until insolvency forces the program's termination.
Ideally, the final state budget agreement will allow the Rauner administration to remove these temporary restrictions for new applicants. Meanwhile, these fourchanges to the program move CCAP in the right direction by putting it on more solid financial ground. The administration should continue to improve CCAP so that it becomes even better managed over time.