Repeal Day: Prohibition ended 86 years ago, but Illinois' alcohol taxes, regulations remain sobering
With the ratification of the 21st Amendment, 1933 marked the end of Prohibition in the United States. Illinois, however, has continued to serve a cocktail of prohibitive regulations on alcoholic beverages.
On Dec. 5, 1933, the country toasted to the ratification of the 21st Amendment to the U.S. Constitution, in celebration of its renewal of personal liberty.
The official end of Prohibition freed from the underground an entire industry that had been outlawed overnight in 1919, and a whole new sector of jobs and tax revenues came with it amid the Great Depression.
However, punishing taxes and regulations Illinois imposes on alcohol sales have sustained Illinoisans' post-Prohibition hangover.
High-tax hangover
In 2017, Cook County residents defeated County Board President Toni Preckwinkle's attempt to spike their mixers with an unpopular "soda tax." But Illinois' high taxes on alcohol have persisted – to the delight of retailers across the state lines.
Among neighboring states, Illinois has the second-highest taxes on wine and liquor in the Midwest, outmatched only by Iowa and Michigan, respectively. Illinois' tax on distilled spirits, for example, comes to $8.55 per gallon.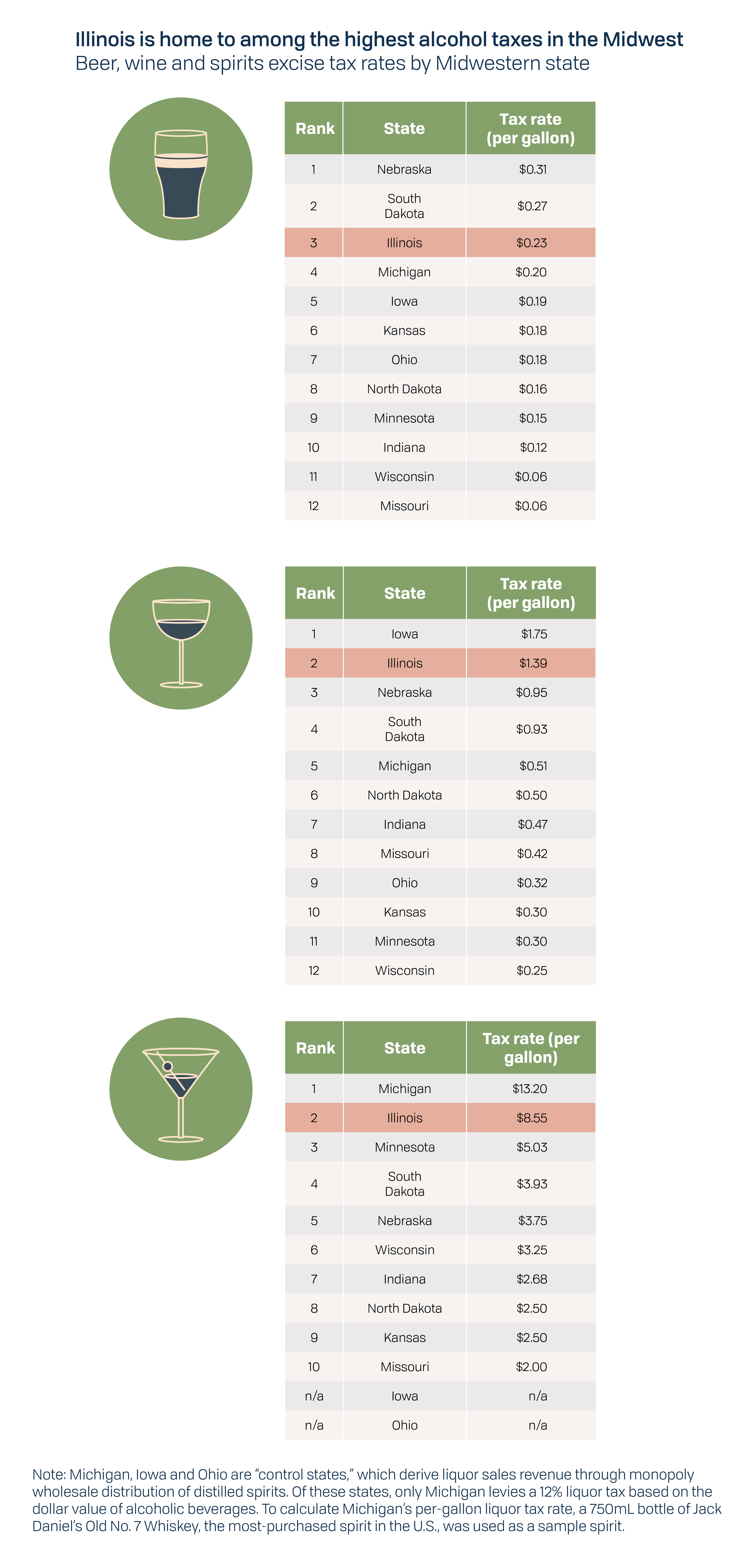 High alcohol taxes fall especially hard on liquor store retailers located near the state line, as Illinoisans flock to nearby states for cheaper booze. Beer in Illinois is taxed at 23 cents per gallon, for example, nearly three times higher than Missouri and Wisconsin's 6 cents per gallon tax.
That tax burden doesn't necessarily fall evenly for consumers either. Thanks to a "rare quadruple layer" of taxes, Illinoisans pay local and county alcohol taxes on top of the state and federal taxes, according to the Hospitality Business Association of Chicago. Beer drinkers in Chicago pay a 61-cent city and 32-cent county tax on each gallon, on top of the state's 23-cent tax. Chicagoans' combined excise tax burden on liquor stands at a dizzying $13.73 per gallon, highest among neighboring states.
In May, Gov. J.B. Pritzker proposed a $120 million across-the-board tax hike on booze to help fund his $45 billion capital plan. Fortunately, those increases didn't make it into the final bill. But the tax burden on alcohol in Illinois is heavy enough to take a serious bite out of both private and public revenues.
Bob Myers, president of the Associated Beer Distributors of Illinois, has estimated Illinois loses up to $30 million per year in tax revenue to cross-border alcohol sales.
Illinois' high taxes have even allowed at least one Prohibition-era racket to persist: The Wine and Spirits Distributors has found the state loses $20 million to $30 million a year to bootleggers selling overtaxed Illinoisans alcohol products purchased out of state.
Icing out competition
With the passage of the Liquor Control Act in 1934, Illinois established its alcohol distribution system, dividing it into three tiers: manufacturers, distributors and retailers. Under this system, manufacturers, such as breweries and wineries, produce alcoholic beverages and sell them to distributors – the middlemen – who then supply the product to retailers, such as bars and liquor stores.
While this arrangement is common among the states, Illinois policymakers have used it to tilt the table in favor of connected parties by restricting competition.
The restrictiveness of Illinois' three-tier chain was further cemented in 2016 when former Gov. Bruce Rauner signed into law Public Act 99-0904, which, in addition to raising licensing fees, strengthened penalties against unlicensed transport of alcohol into the state. Running afoul of the statutory distribution system could now trigger a Class 4 felony.
What followed the signing of that law could be characterized as a domestic trade war. In 2017, Crain's Chicago Business profiled small business owners suffering under the law, as other states reciprocate by imposing restrictions on Illinois wine merchants who had previously shipped to customers in those states.
Recipe for reform 
While some Illinois leaders' misguided vaping panic shows the state has not fully rid itself of prohibitionist impulses, recent reforms to the state's liquor law suggest that more permissive attitudes toward alcohol may be brewing in Springfield.
Most recently, Pritzker signed into law House Bill 2675, which helps craft distilleries bypass the state's costly three-tier distribution system. Under this law, smaller producers of spirits can sell up to 5,000 gallons of their product to bars and restaurants directly, without being forced to go through a middleman wholesaler. The law also lifted a ban on distilleries from serving outside producers' wine and beer products.
The year before, Rauner overturned a ban on taprooms from purchasing and serving beer produced by outside breweries, and gave smaller breweries the ability to store fixed amounts of beer at their own offsite warehouse facility, rather than going through a wholesaler for storage.
Additionally, Rauner signed Senate Bill 2436 into law in 2018, which gave local communities in Illinois more control over the process of liquor licensure. Previously, state law prohibited businesses located within 100 feet of a school, church or hospital from obtaining liquor licenses – unless state lawmakers passed a bill through the General Assembly granting a special exemption. This gave an unfair competitive advantage to politically connected – typically larger – businesses.
State Rep. Sara Feigenholtz, D-Chicago, remarked at the time that, "Sixty-eight pages of the 72-page liquor control act are exemptions."
Regulations that forbid breweries, distilleries and wineries from serving a greater variety of beverages do not improve public health or safety, nor do archaic rules enforcing the supply chain of liquor. Instead, these laws protect established industry incumbents from competition posed by newcomers, at the expense of consumers.
Illinoisans celebrating Repeal Day this year should drink – or brew – to the dismantling of unnecessary laws that limit personal liberty and consumer choice in the Land of Lincoln.