Illinois' pension crisis has been a growing problem for decades, and its negative effects on state residents are well documented.1 Economic fallout from the COVID-19 pandemic and related government shutdown orders threaten to bring that long-running crisis closer to its breaking point.
The state's five pension systems collectively held nearly $139 billion of debt at the end of fiscal year 2019, according to state financial reports.2 But that number actually undersells the size of the state's debt crisis. Moody's Investors Service, a credit rating agency that uses assumptions more in line with private sector pension accounting, estimates the true debt burden is significantly higher than state estimates. Most recently, Moody's pegged total state pension debt at $241 billion at the end of fiscal year 2018.3 That debt burden equaled more than 505% of annual state revenues, the worst pension debt-to-revenue ratio of any U.S state.4
Local government pension debt adds another $63 billion,5 bringing total state and local pension debt to more than $200 billion, according to official estimates. Moody's does not provide independent estimates for all local systems.
Stock market losses related to the global coronavirus pandemic will cause those debt burdens to increase further and faster than previously expected. That's because investment returns are a key source of pension fund income, accounting for 63% of revenue from 1989 to 2018 for all public plans nationally.6 The other two sources of public pension fund income are employee contributions and employer contributions, the latter of which means taxpayer contributions.
In Illinois, shortfalls in investment returns must be made up with higher taxpayer contributions in subsequent years. Employee contributions and benefits are both fixed by state law, meaning current system design requires no shared sacrifice from retirees or current workers to cover funding gaps.
More than 1 in 10 Illinoisans – 1.1 million, or about 11.4% of the adult population – are members of an Illinois public pension system.7
State worker contributions typically cover only about 4 to 6% of lifetime benefit payouts. The average lifetime payouts for members of the state retirement systems exceeds $1 million, and employees with 30 years of service or more can typically expect to collect more than $2 million. The only exception is for employees of state agencies and boards – nearly all of whom also qualify for Social Security – where the average benefit is a still generous $1.7 million even without Social Security payments factored in.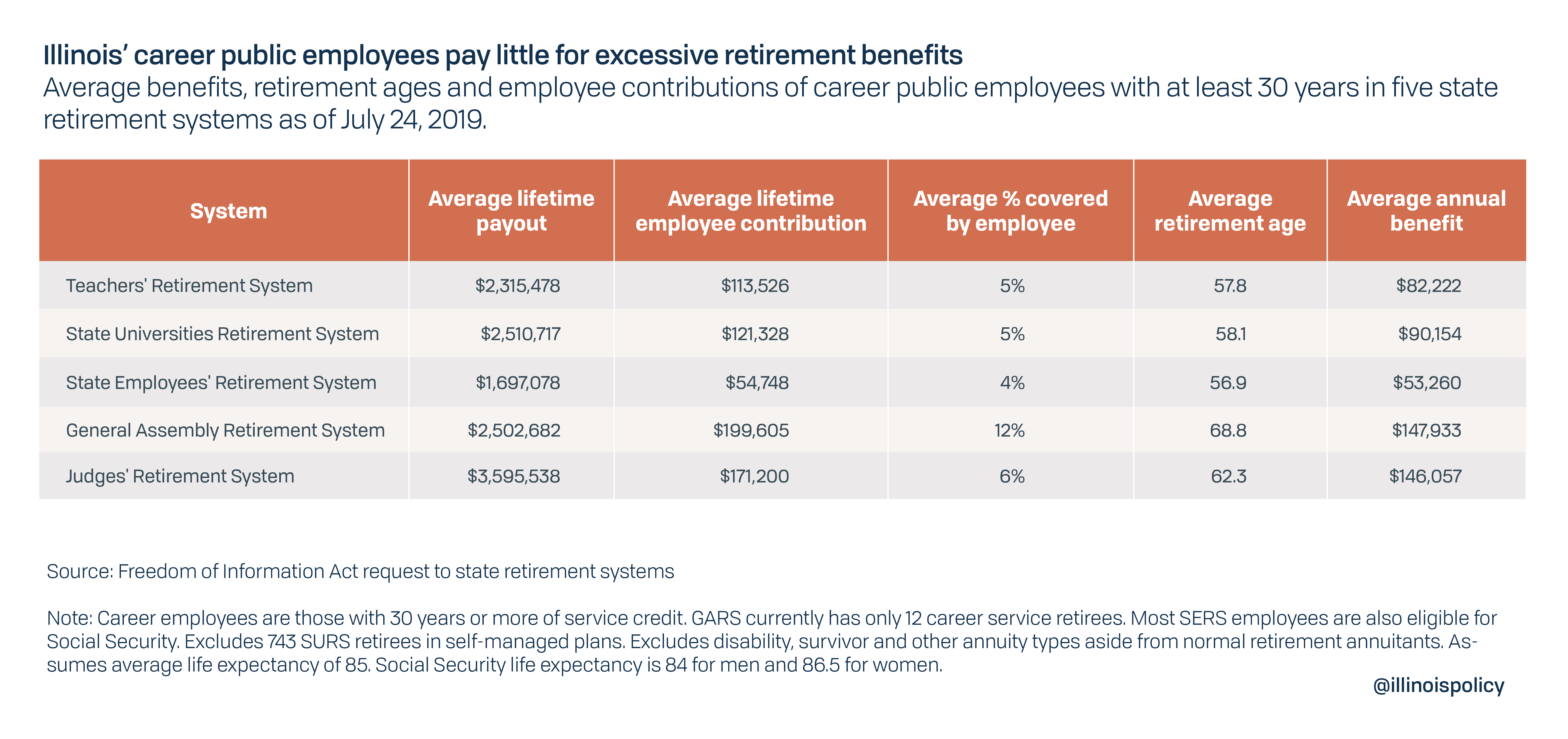 Ultimately, this flawed system design harms every resident in the state, including those relying on taxpayer-funded pensions for their retirement security. The financial burden it places on businesses and private sector workers is larger than they can bear, making the pension plans unaffordable and unsustainable in the long run. Eventually, the funds are likely to run out of money and be unable to pay promised annual benefits to retirees.
Even in the run-up to insolvency, public pension debt is already inflicting great harm on Illinois through higher taxes, fewer jobs, lower economic growth, residents moving out and cuts to public services that weaken the social safety net.
Pension costs are already eating away at Illinois government services. Pension costs increased by more than 500% during the past 20 years. Spending on core services, including child protection, state police and college money for poor students, dropped by nearly one-third since 2000.8 Pension contributions accounted for less than 4% of Illinois' general funds budget from 1990 through 1997 but have grown to consume more than a quarter of the budget in recent years.9 That growth crowded out the state's ability to spend money on programs that provide value to residents.
To avoid a future in which taxpayers are asked to pay ever more in taxes for fewer and fewer government services – while public servants are left with shaky retirement systems – Illinois must enact structural reforms as soon as possible to make pensions more resilient and affordable.