By
Adam Schuster

,

Orphe Divounguy

,

Bryce Hill
By
Adam Schuster

,

Orphe Divounguy

,

Bryce Hill
Illinois Gov. J.B. Pritzker has proposed a "fair tax" plan he claims would cut taxes for 97 percent of Illinoisans.
But his proposed tax rates would raise only $1.4 billion, less than half of the $3.4 billion the governor has projected the tax hike would bring in, or the $3.3 billion required to close the current structural deficit. And even Pritzker's revenue overestimate is far short of the $14 billion to $19 billion required to meet the governor's spending promises.
If Pritzker is serious about his proposed spending, these initial tax rates would have to be increased across the board, with the typical middle-income family seeing a tax hike of up to $3,500.
Pritzker called his first budget proposal a "bridge" budget, claiming it was "austere" compared with the spending he would like to propose.1 Pritzker confirmed his spending priorities from the campaign trail by proposing new spending for education, social services and public safety.2 According to Pritzker's budget speech and accompanying budget documents, he won't be able to spend as much as he would like to without revenue from a progressive income tax hike.3
Raising enough revenue to meet the governor's spending priorities while maintaining the same level of progressivity as his proposed rate schedule would require higher rates for everyone. (See Appendix A for a detailed cost estimate of Pritzker's spending proposals.)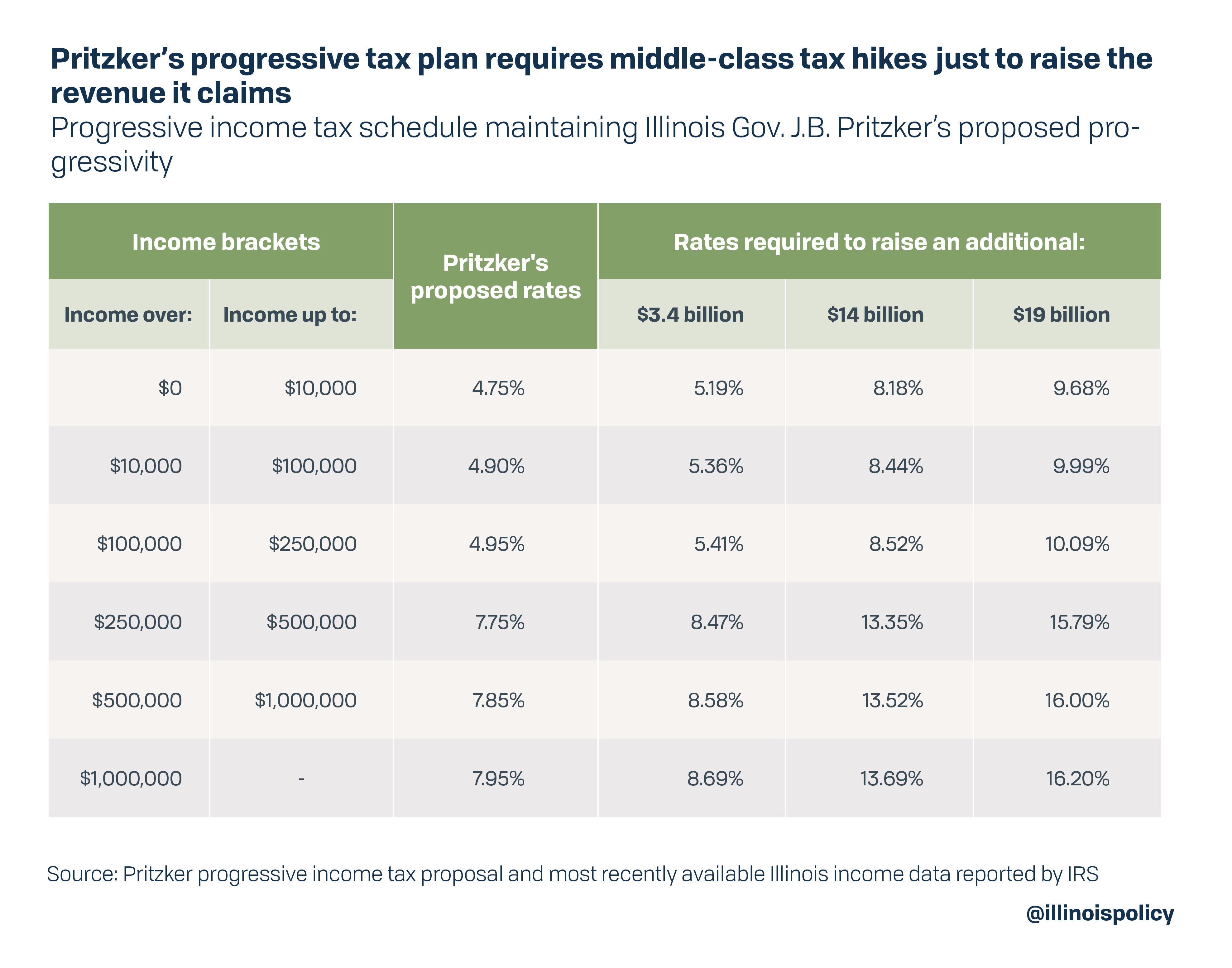 Even after accounting for other sources of new revenue from tax and fee hikes in his fiscal year 2020 proposed budget, Pritzker would need to raise between $14.3 billion and $19.4 billion4 from a progressive tax hike to fully implement his promised spending in fiscal year 2022: the first full fiscal year for which a progressive income tax could generate revenue.5
Under the tax rates necessary to raise this amount of revenue, the typical Illinois family would pay between $2,425 and $3,508 more in income taxes. Even closing the structural deficit with a progressive tax hike similar to what Pritzker proposed would require hiking taxes on the average middle class family by nearly $270.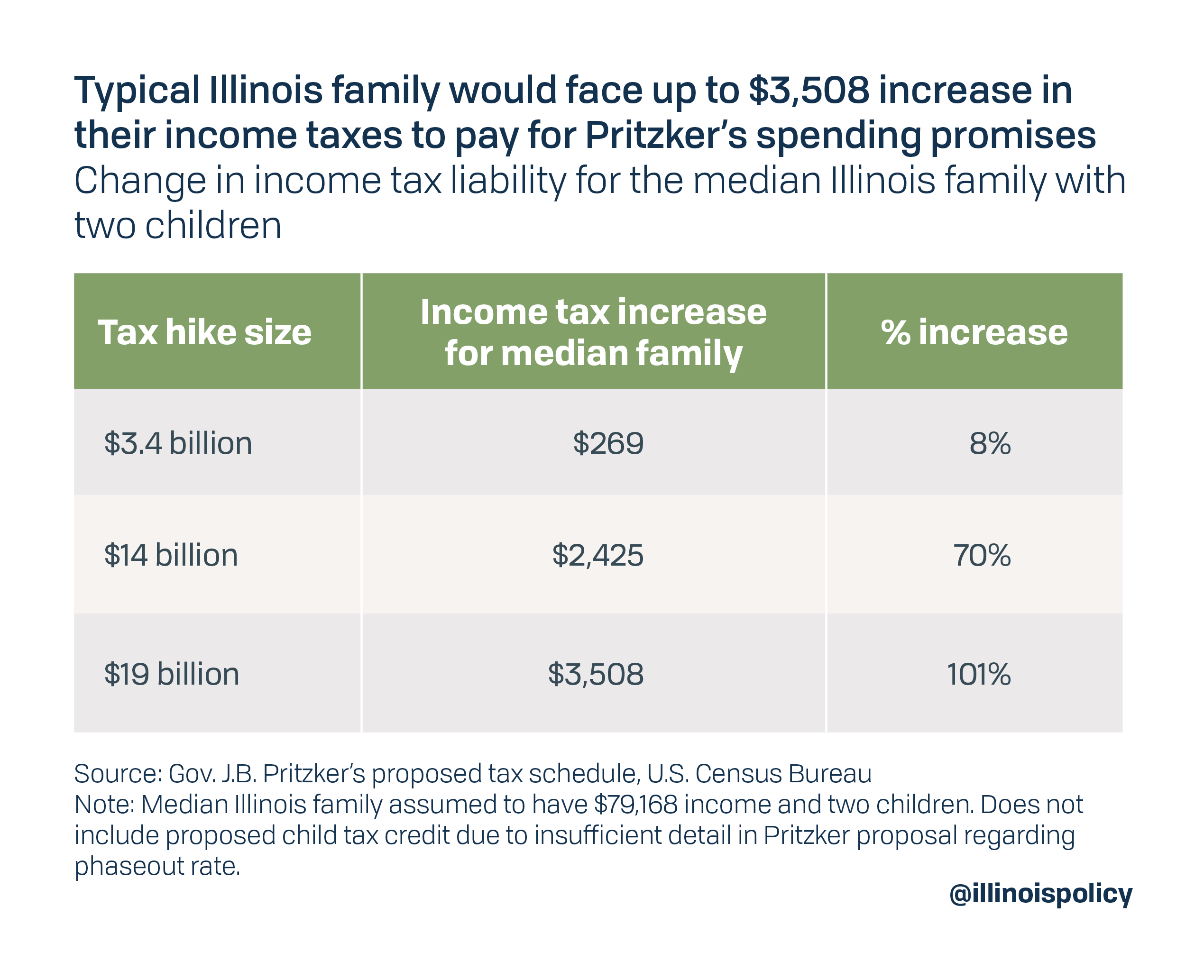 Even if Pritzker were to fall short of the full spending promises made during his campaign, the governor has made clear he wants to significantly increase spending beyond what current fiscal constraints allow on all levels of education, various social services and infrastructure. Billions of dollars of additional spending cannot be financed with the tax rates currently proposed by Pritzker's administration. And his proposed constitutional amendment would give middle-class taxpayers no guarantees that these tax rates would be adopted, much less that they would stay at the same levels in the future.
In short, to the extent that Pritzker's first budget proposal is a "bridge," it is likely to be a bridge to future middle-class tax hikes.
This resembles what happened in the last state to switch to a progressive income tax, Connecticut. Initial tax hikes led to persistent budget shortfalls, so in an effort to raise more revenue, Connecticut hiked income tax rates on the average middle-income earner by 13 percent.
Not only would a progressive income tax hike end up taking more money directly from all taxpayers' pockets, but it would also have negative economic effects on jobs growth, after-tax income adjusted for cost of living, and overall economic output.