Myth: Gov. Pat Quinn says that Illinois is a regional leader in job creation, and that the state is making a comeback.
Fact: Illinois has ranked at the bottom of regional job comparisons since the Great Recession hit. Illinoisans suffer a jobless rate that is the second-worst in the nation and the highest in the Midwest.
Quinn claimed in his recent State of the State address:
"… since last May, Illinois has led the Midwest in new jobs created. But over the past five years, we've rebuilt one hard step at a time. And we've been getting the job done. Illinois is making a comeback."
But if Illinois was really making a comeback, the state wouldn't have the second-highest jobless rate in the U.S. There wouldn't be 1 million Illinoisans unemployed or underemployed. And there wouldn't be 2 million Illinoisans dependent on food stamps.
Quinn's claims of a comeback can't be supported. Illinois had 358,000 fewer people employed in February 2014 than in January 2008. That's the heaviest loss in the Midwest, and more than the combined populations of Rockford and Aurora,
Illinois' second- and third-largest cities. Compared to the rest of the Midwest since January 2008, Illinois has:
The second-worst decline in overall employment. The number of people employed has declined 5.6 percent, down to 2004 levels. Only Michigan had a worse percentage decline.
The worst drop in payroll jobs.  The number of payroll jobs has shrunk 3 percent, down to 1997 levels.
The largest percentage point drop of working-age people with jobs.  The percent of the state's working-age population that is employed fell by 5.3 percentage points to the lowest rate since 1984, according to the Bureau of Labor Statistics' household survey.
Since Quinn took office, Illinois' unemployment rate has worsened. Over the same time period, every other state in the Midwest has improved.
Illinois had a lower unemployment rate than the Midwest average in 2009. Now that has flipped. The Midwest's jobless rate is now 2.6 percentage points better than Illinois'.
If Illinois had a jobless rate equal to the rest of the Midwest, 168,000 unemployed people in Illinois would have jobs today.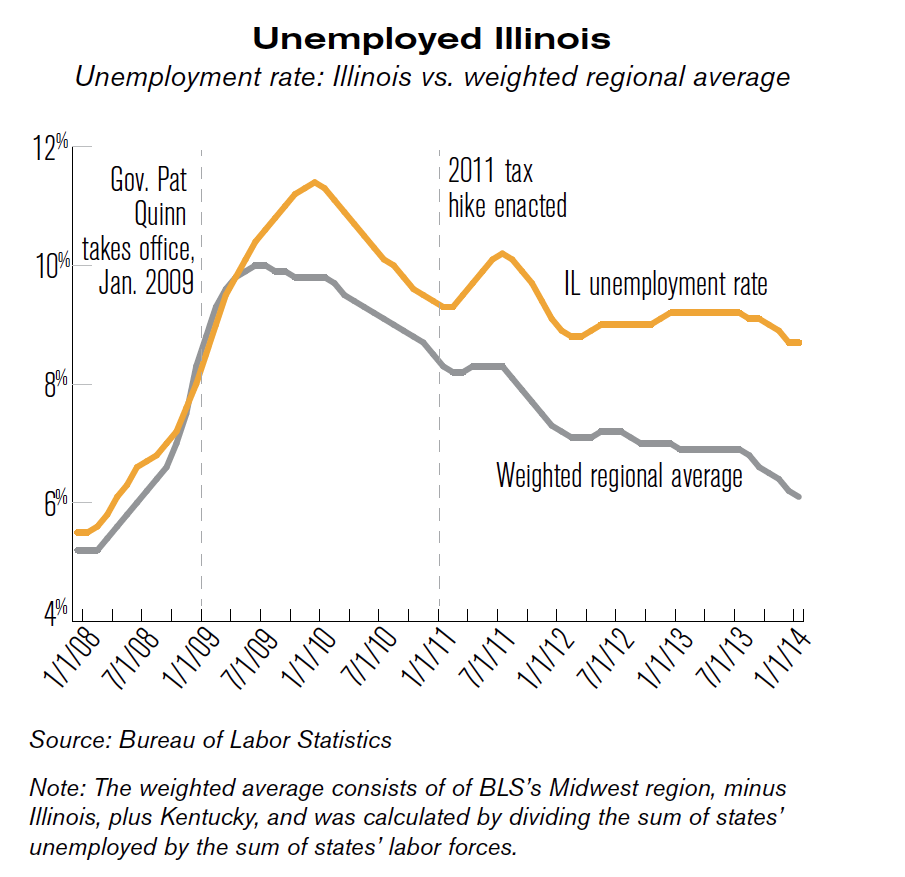 States that are passing pro-jobs policies have seen major recoveries. And there are plenty of job-creating reforms available to Illinois legislators.
Illinois needs to make such reforms to put workers on payrolls instead of on food stamps. This starts with unleashing entrepreneurship by lightening taxes and regulations for small businesses.
Until then, don't call it a comeback.