'Right to strike' being used against West Chicago taxpayers and students
Illinois has enshrined a "right to strike" in state law, effectively giving government worker unions the power to shut down government services to get what they want. The latest example: A teachers' union in West Chicago may go on strike in February to force 22 percent pay raises over the course of the next contract.
A teachers' union in West Chicago is using its strike power as a cudgel to force 22 percent pay raises over the next five years.
The West Chicago High School Teachers Association and District 94 are at an impasse in negotiations for a new contract. The sticking point: salaries.
According to the Daily Herald, the district has proposed giving teachers a cumulative raise averaging 8.73 percent over the next four years. The union, however, is demanding more. It insists on raises averaging 22 percent over five years.
That's a deal taxpayers cannot afford. According to estimates provided by the school board, the union's demands would require more than twice the amount of new revenue the district projects it will receive over that time period.
But if the union doesn't get what it wants, it may call teachers out on strike as soon as next month – injecting uncertainty into the lives of students and parents.
That's the way bargaining works for local governments across Illinois. When a government worker union doesn't get its way, it can threaten to shut down important services until its demands are met.
That, in turn, forces school districts to make unfair choices: either bow to the government worker union's expensive demands, or risk a strike that could leave students and parents in the lurch.
It's an uneven playing field, with government worker unions holding the power. Taxpayers are forced to watch from the sidelines, powerless as their hard-earned money is strong-armed away.
But it doesn't have to be that way. Illinois has enshrined a "right to strike" for most government workers in state law. Conversely, every one of Illinois' neighbors prohibits most or all government workers from going on strike.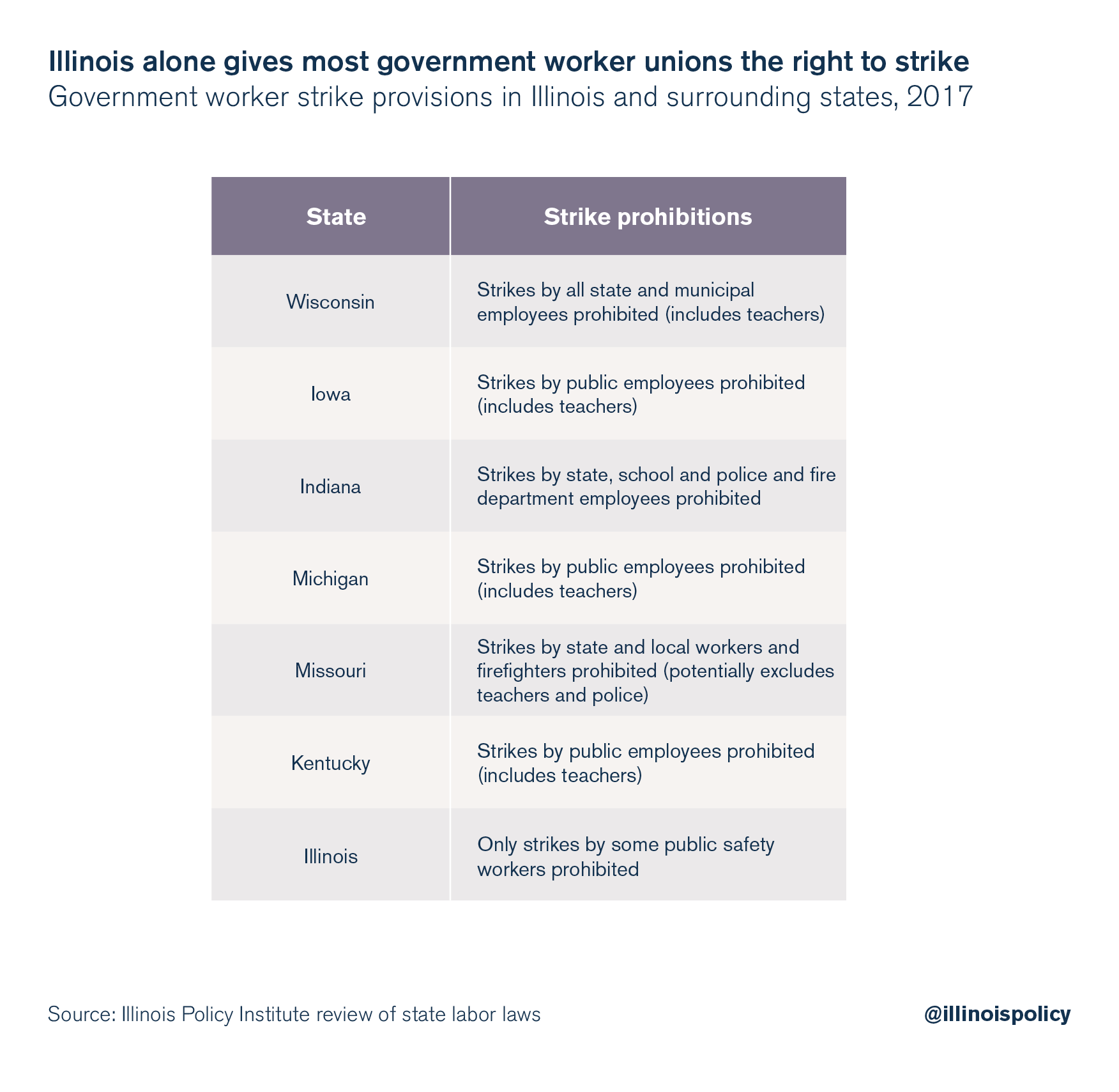 A government worker strike is different than a strike in the private sector. When government worker unions threaten to strike, they are threatening to shut down government functions and deprive residents of vital services. It isn't the party sitting on the other side of the negotiating table, such as the governor or a city council, that directly bears the harm – it's the residents themselves.
In other words, it's a bullying tactic government unions threaten to use to shut down important services until their demands are met.
Illinois must follow the lead of its neighbors. Otherwise, government worker unions across the state will continue wielding oppressive power over the people of Illinois – and taxpayers will continue paying heavily for it.