Springfield population drops by nearly 1,000 residents from 2015-2016
Illinoisans from all areas are leaving the state in droves, and Springfield lawmakers need look no farther than the state capital to see the proof.
Population numbers are dropping across Illinois as frustrated taxpayers head for the exits. But that reality is going to be particularly hard for lawmakers to ignore when it's happening right under their noses.
The Springfield metro area and Sangamon County as a whole are shrinking in population, with more than 1,200 people on net leaving the Springfield metro area from July 2015 to July 2016. Sangamon County lost 1,299 people on net to domestic migration in that timeframe, meaning more than 90 percent of the county's losses were from its largest city and county seat, Springfield. Though the city gained 258 people from international migration, the loss of residents to other U.S. localities resulted in Springfield's population dropping by 935 people.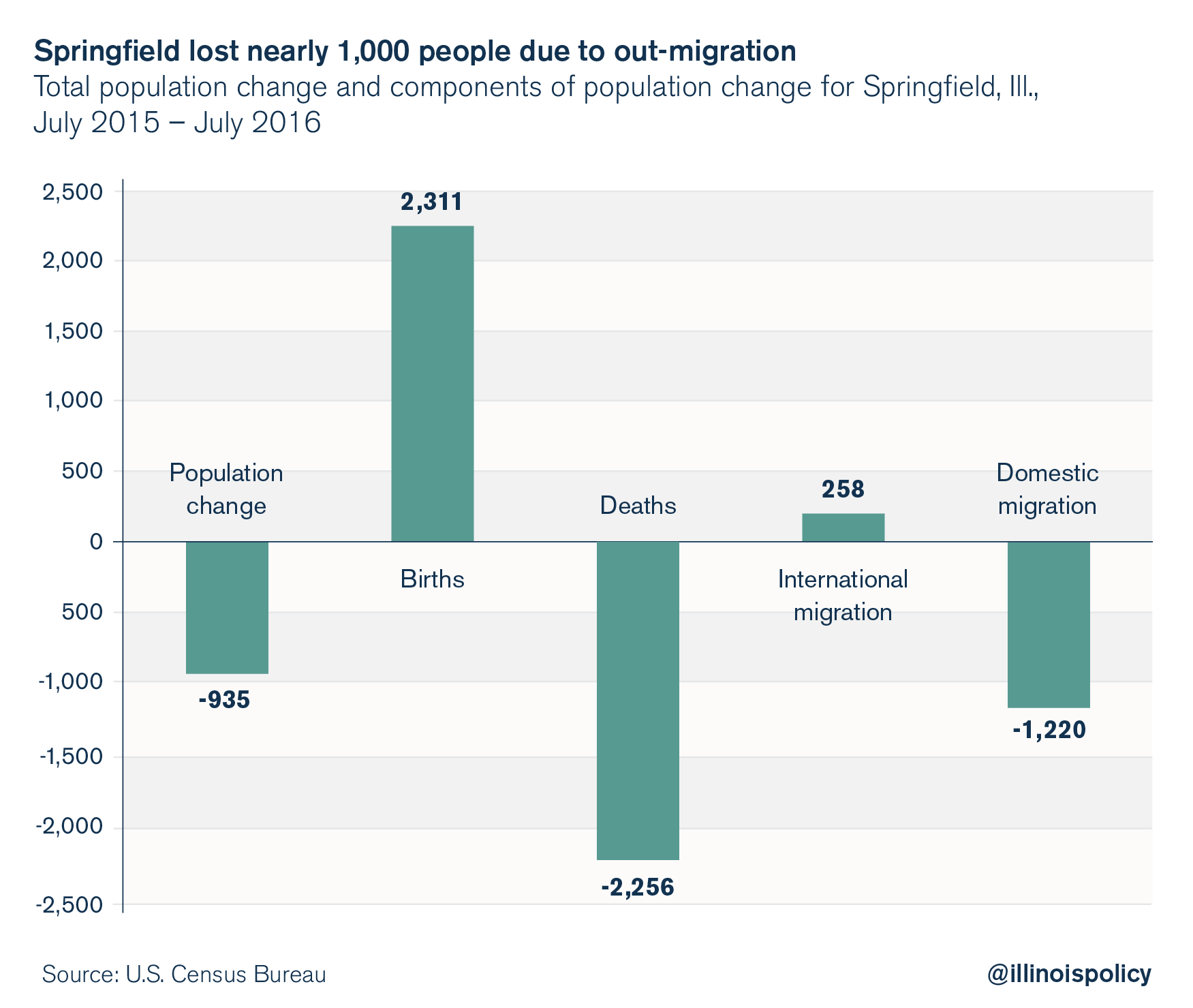 Springfield is facing another population concern, as the number of births just barely topped the number of deaths in the city. From July 2015 to July 2016, 2,311 babies were born, and 2,256 people died. By comparison, Peoria, which is roughly the same size as Springfield, saw a population loss of more than 1,700 over the same time period, but still had 947 more births than deaths.
The trend of population loss is carrying on throughout central Illinois and around almost the entire state – 93 of Illinois' 102 counties are experiencing net out-migration, and 89 are losing population.
Illinoisans have been explicit in their reasoning for wanting to leave: taxes. A Paul Simon Public Policy Institute poll released in October 2016 found that nearly half of Illinoisans want to leave the state, and taxes were the top reason people cited.
If lawmakers in Springfield want to stem the capital's population decline, they could start by getting to work on a balanced budget that doesn't raise taxes and offers a permanent property tax freeze. Illinois homeowners battle some of the highest property taxes in the nation. And not only are property taxes crushing the state at large, but Springfield-area homeowners are in the top third of Illinois' property tax payers. Springfield residents need relief from the state's high tax burden.
Lawmakers would know this if they looked around and listened to concerns outside the Capitol building. Illinoisans are voting with their feet, in large part due to the failures of state government, and heading out of Springfield and communities across Illinois.