Lake County lies about 40 miles north of Chicago's congested urban landscape. With more than 100 lakes within county lines, the place is aptly named and offers a stark contrast to the nearby city.
The Rev. Lisle Kauffman, looking over one of those lakes – Round Lake – still admires it more than four decades after moving to the area. In many ways, Round Lake is a good depiction of the entire county: It feels rural, but is complemented by retail and commuters to and from Chicago. And it is more diverse than might be assumed.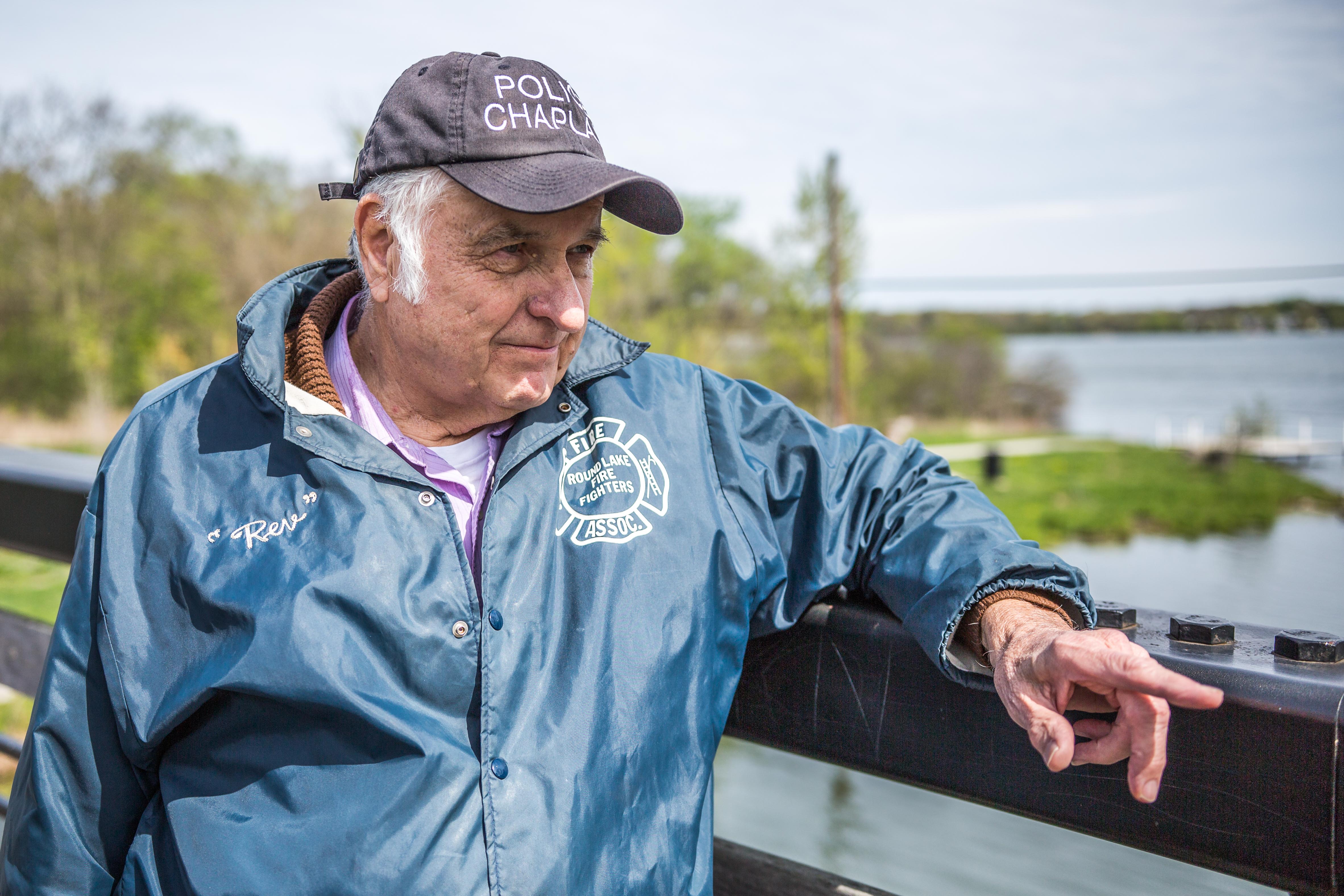 "It really is an amazing little place," Kauffman says about the Round Lake area, to which he moved in 1969.
Small beaches, parks and trails hug the shoreline of the lake. Residents' backyards touch the lake's northwest channel. The beauty and quaint feeling of Round Lake communities – of which, in name, there are four, all between 2,000 and 30,000 in population – are still attracting people to the area. Vicki McCarthy, who operates a small business out of her home in Round Lake Beach, moved to the area in 2000 from Mississippi. She moved to Illinois for work, and as she began looking for a neighborhood to call home she fell in love with Round Lake.
She still feels that way, partially.
"I really like the area, I do. It's nice," McCarthy said. "I don't want to have to move, but I will if I have to. If Illinois doesn't change as a state, I will. I'll bail."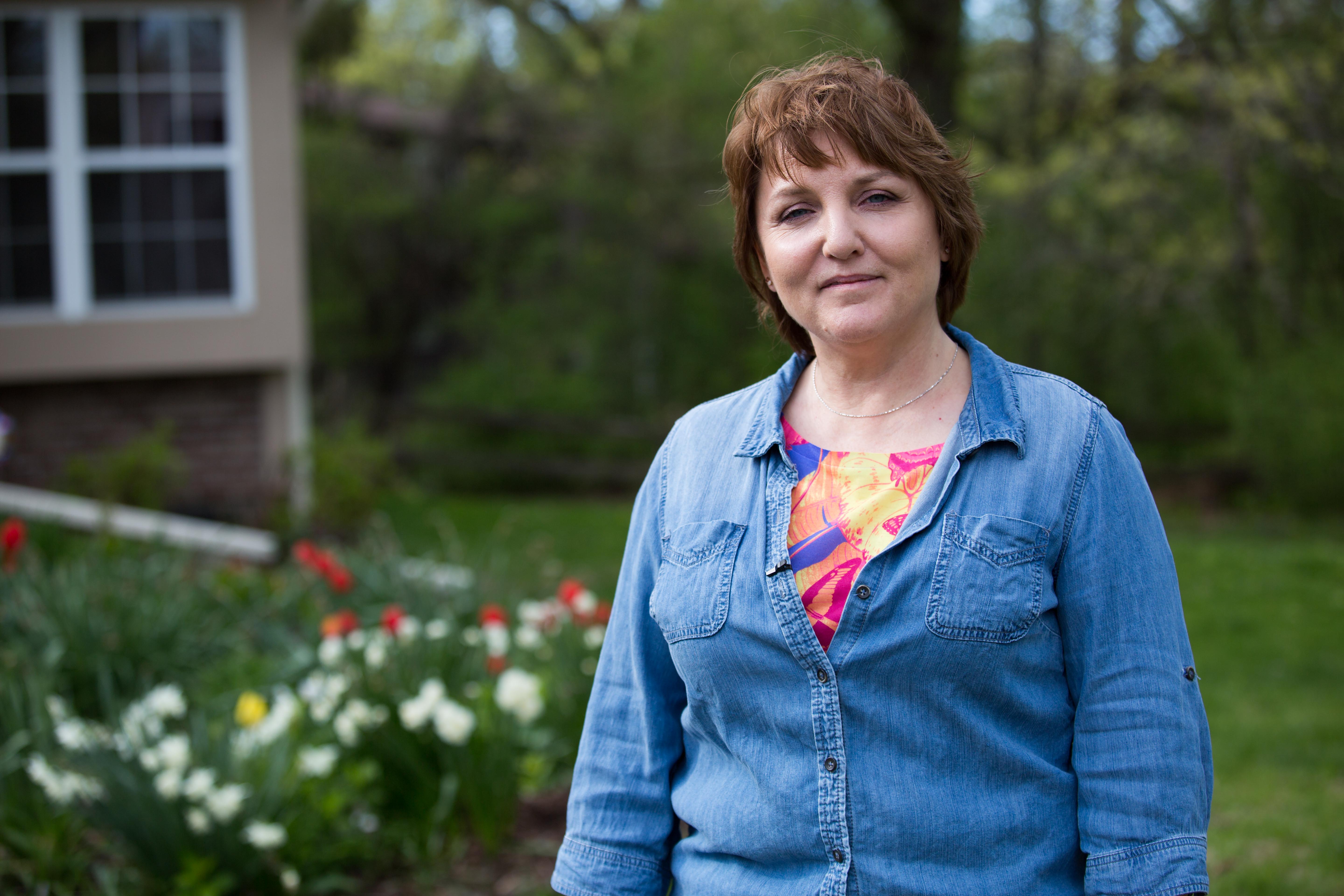 Beyond the foliage, the miles of lakes and a small-town community feel, McCarthy and her neighbors pay a lot each year for their homes. Not in mortgage costs, but in property taxes. They have for decades. According to data from the Tax Foundation, the median Lake County property tax bill is almost $7,000 each year, the highest in the state and one of the highest in the country.
This is a problem for the Round Lake area – nearly 25 percent of homes in the greater Round Lake area are "seriously underwater," according to a 2017 RealtyTrac report. While the greater Round Lake area – encompassing Round Lake proper, Round Lake Beach, Round Lake Heights and Round Lake Park – exemplifies Lake County's character, these areas also highlight a noxious problem many Illinois communities face: waste. The Round Lake community is carved up along jurisdictional lines, with four relatively small villages of similar makeup, and four different mayors and village boards. Residents of each village, however, don't see much difference among themselves.
"Where one village ends and another one begins is very blurred, quite honestly," said Ken Slove, owner of Lovin Oven Cakery in Round Lake Beach. "You don't know. It's all the same."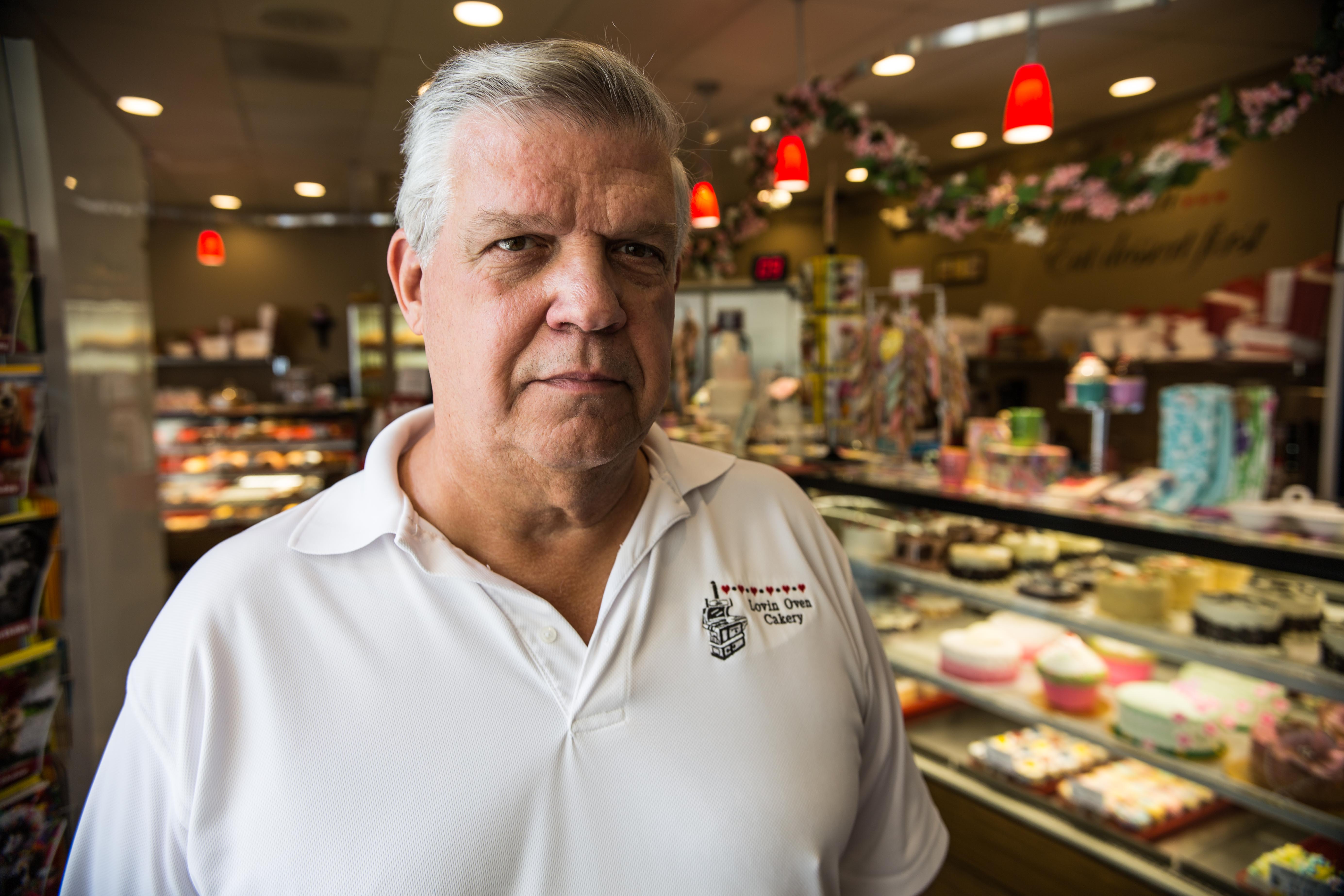 Slove sees customers from every Round Lake community. His bakery is a popular local spot for cakes and donuts among residents of each village, as they are all within less than 3 miles of each other. Slove, who feels a connection to the community through his small business, sees them all as one.
Local politicians don't.
"We have one fire department, but that's the only thing that is one. Everything else is four," Slove said. "Four mayors, four village boards, four chief of polices, four whatever. … Instead of doing that under one, they found a way to spend some money."
Residents of those communities over the years have come together in several ways. They've adapted to demographic changes, embraced more business and retail, and faced challenges from crime and violence to improving local schools. But within just a few miles of each other, surrounding one of Lake County's many bodies of water, they remain divided administratively.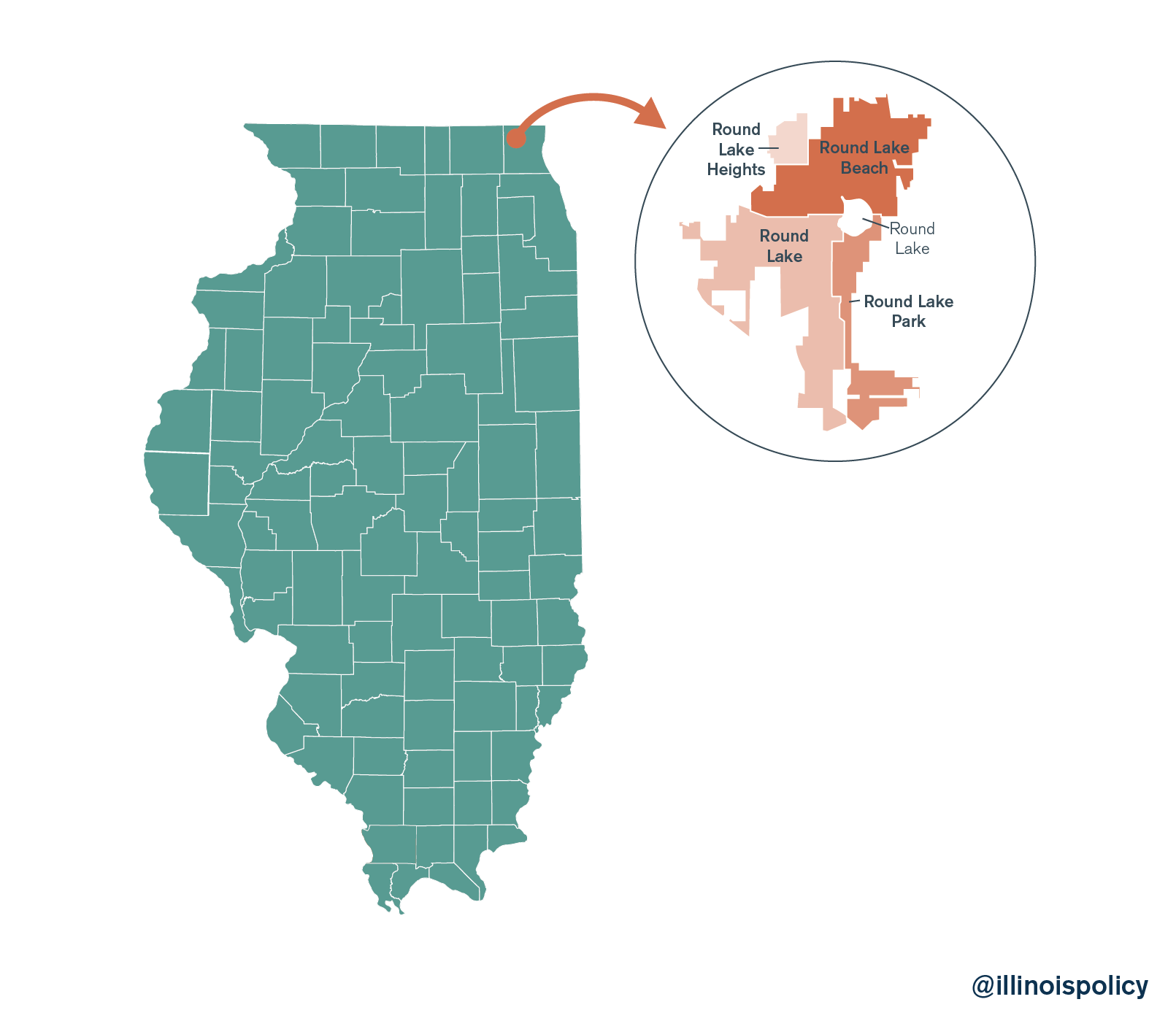 Where those dividing lines fall can appear arbitrary. McCarthy has a fire department in her subdivision. But if her house would catch on fire, she said that's not the fire department that would respond – Lake Villa would, due to where her house falls along the boundary lines that separate each unit of government.
It's been easier for citizens to come together than it has for those in power locally. And those jurisdictional and administrative divisions that still remain have a cost.
History 
The Round Lake area began to really develop in the 1940s. Round Lake proper was incorporated in the early part of the 20th century, but in the late '40s, as servicemen began coming back from the second world war, affordable homes were developed in the unincorporated areas around the lake. Residents in those areas began needing municipal services, and new neighborhoods called Round Lake Beach, Round Lake Park and Indian Hill – now called Round Lake Heights – began to develop.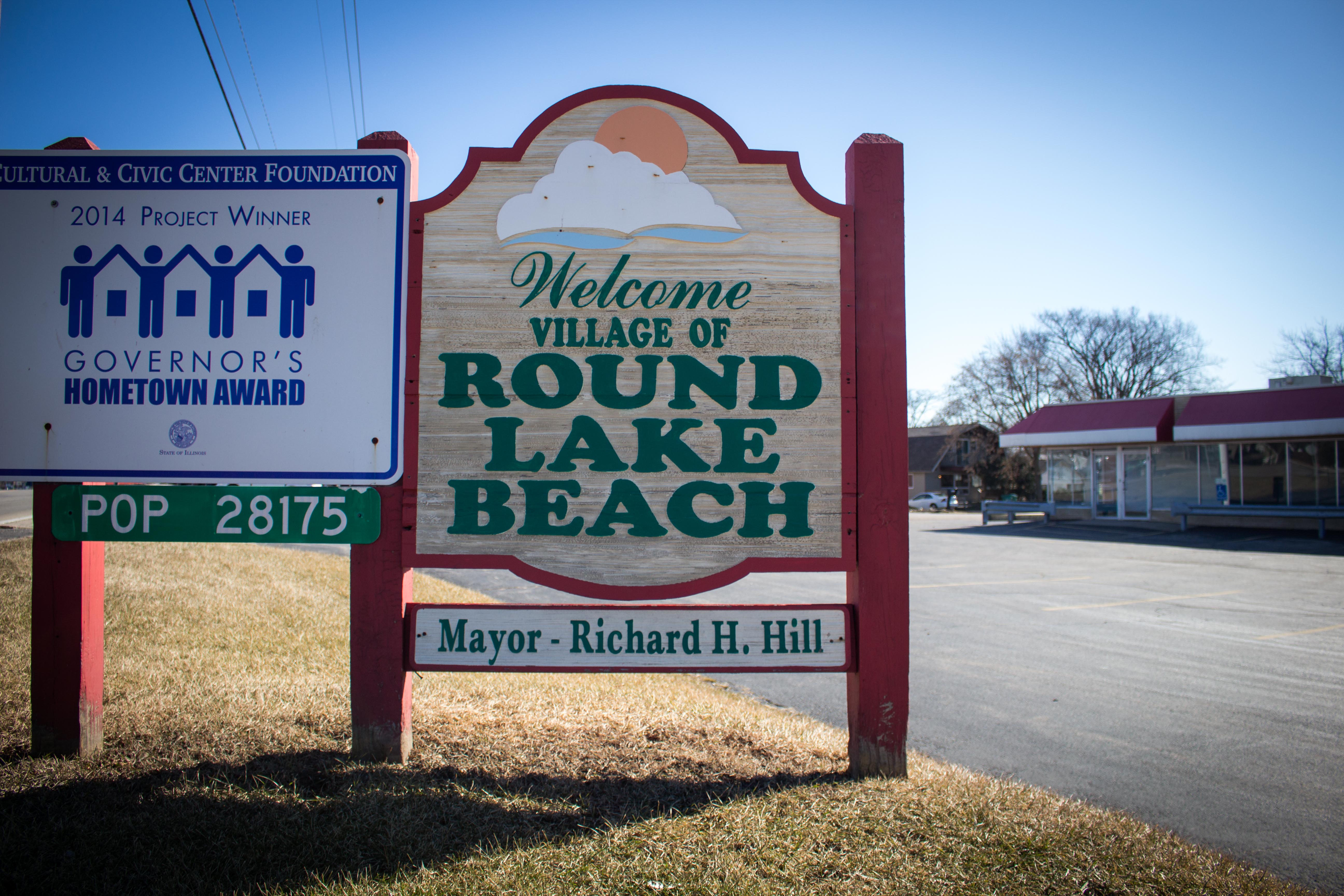 In 1955, a 15-man committee called the Round Lake Civic Betterment League was tasked with trying to bring these communities together by consolidating the villages. An April 1955 headline in the Daily Herald read: "Consider Round Lake Merger For One City." Sixty-one years later, in August 2016, a Daily Herald headline read: "Coalition aims to merge three Round Lake-area towns into one."
Nothing has changed. Different coalitions have formed, but the issue stays the same.
Kauffman moved to Round Lake Park in August 1969, after growing up in Arlington Heights and Wheaton, and serving in the Korean War. He worked on two consolidation boards in the 1970s, neither of which was successful.
But though he hasn't seen movement on that front, Kauffman, who serves as both police and fire chaplain for the area, has seen quite a bit of change in nearly 50 years as a Round Laker.
"I've seen some incredible change," Kauffman said. "I've watched these citizens really, really work to change this town."
"I'm just as proud as I can be of our communities."
Over the four-plus decades Kauffman has called the greater Round Lake area home, he's seen demographic changes as the area has become more diverse, and he's observed residents overcome a host of challenges.
A nine-week teachers strike in 1994 left students and parents in a bind and set the district back. By 2002, the district had become severely financially distressed and had declined educationally. This prompted the state of Illinois to take over the district, which was then only the second time the state had taken control of a school district.
The Chicago Tribune reported at the time that the district had been "spending beyond its means" for years and was facing $14 million in short-term debt at the time of the state takeover.
"It was a terrible impact," Kauffman said, speaking of the teachers strike in the '90s and the ensuing events. "Kids were out of school for a long time. A lot of animosity, a lot of bitterness. But in life sometimes you have to pass through some really, really complicated times in order to go forward.
"I still believe adversity breeds a fiber that can make a community stronger, and I think that's what happened here. And that's what happened in our school."
In his time as what he calls a "greater Round Lake person," Kauffman has also seen considerable changes in the makeup of the Round Lake community. As of the 2010 census, more than 25 percent of Round Lake is Hispanic, 48 percent of Round Lake Beach is Hispanic, and 38 percent of Round Lake Park is Hispanic.
With this, attitudes have changed, too.
Terri Kelly has been living in the Round Lake area for 34 years. Twenty-nine years ago, she adopted her first child. All four of her sons are black; Kelly is white. When she was first raising her children more than two decades ago, a social worker advised Kelly to move – Round Lake wasn't very diverse. But that's changed.
"[Back then] it was mostly white, with a very small black population," Kelly said. "The town has grown and changed dramatically."
Hispanic-owned businesses are common on many of the streets in the communities, and the area is culturally integrated, though that was an effort that took time.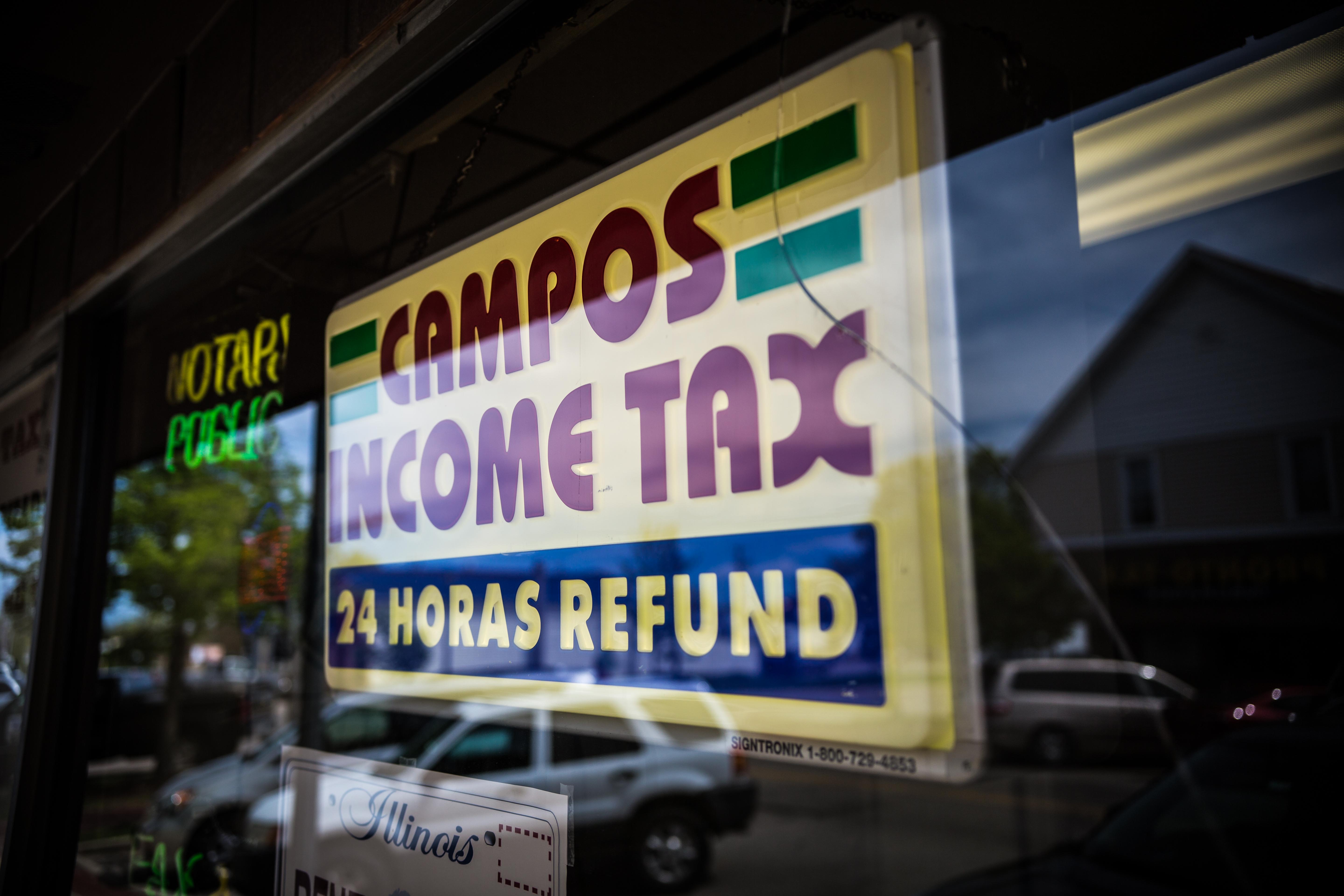 Gilbert Rivera, the Round Lake Beach chief of police, has seen those demographic changes from multiple perspectives in his 18 years in the area – both as a Hispanic resident and a public employee working to keep the community safe.
For a while, he was the only Hispanic member of the force. But now Rivera wants the police force to reflect the diversity of the community, which he's seen evolve over time.
"I felt it early on here, kind of clashes of culture," Rivera said. "There are always people that are less accepting and not understanding. I think that's gotten way better. Everyone evolves. I think we're in a good place there. The village is very unified in that regard."
Round Lake residents worked toward that unification – which transcends the political borders.
Coming together – almost
Despite all the growth and unity, the Round Lake communities – none of which are that large – are still divided by governmental borders. Why?
"Round Lake, Round Lake Heights, Round Lake Park, Round Lake Beach – they're all one big conglomerate of Round Lake, but they don't want to form into one Round Lake because three of the mayors and three of the village boards and three of the chief of police would lose their job," Slove said. "So, they would rather take taxpayer dollars and pay themselves."
The highest-paid municipal employee in Round Lake Beach is the village administrator, who is making nearly $180,000 a year. The chief of police makes more than $130,000, and the deputy chiefs both make more than $120,000. Compensation isn't much lower in less populous Round Lake, where the village administrator makes more than $130,000, and the police chief and three police sergeants all make between $114,000 and $120,000.
Meanwhile, private sector median earnings in Round Lake Beach have fallen 8 percent between 2009 and 2015, reaching $26,000 at the end of that time period. Just by consolidating duplicative jobs between Round Lake and Round Lake Beach, taxpayers could save up to $3 million each year.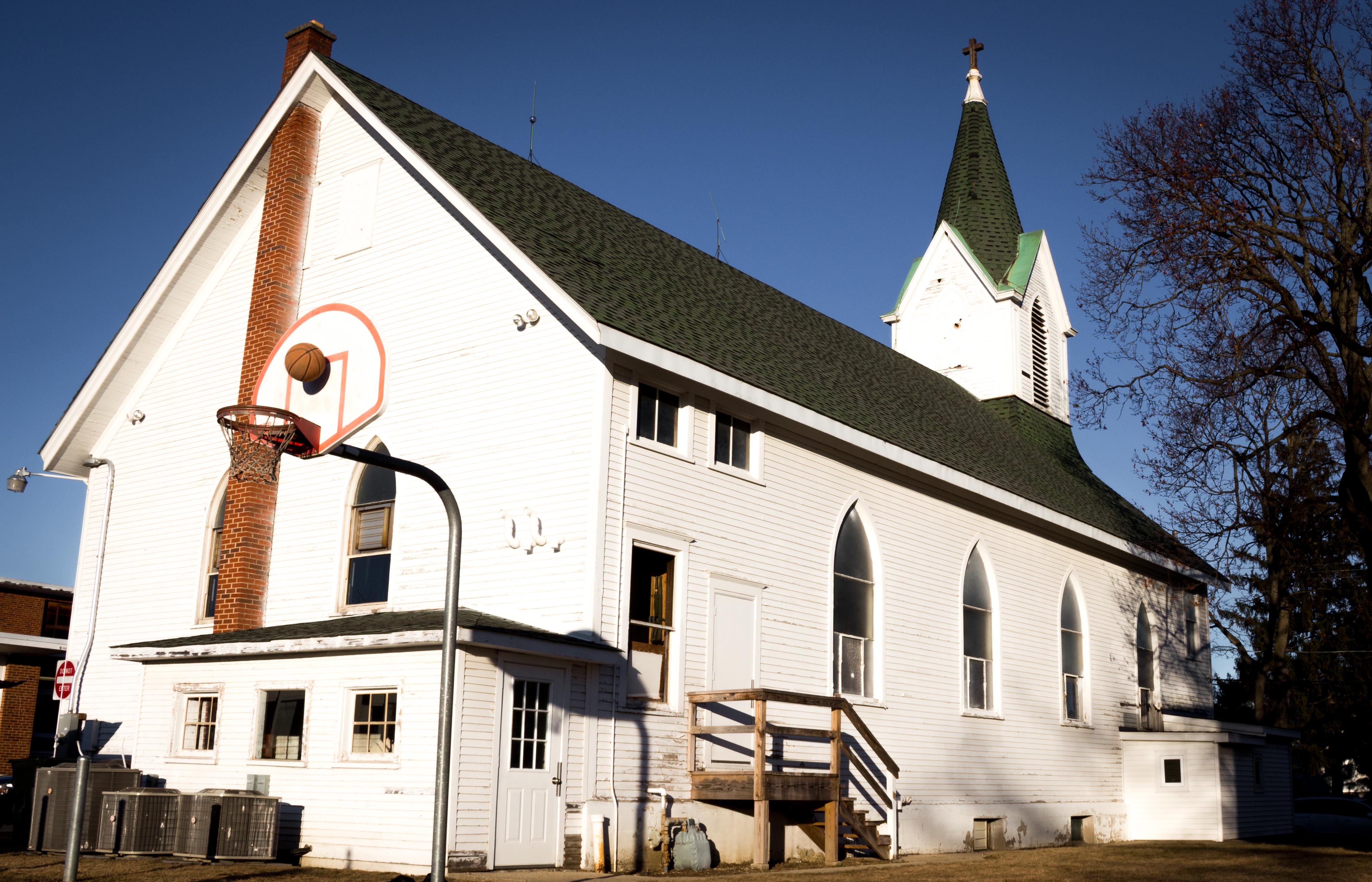 But there are hurdles both at the local level and at the state level. A bill in Springfield would have expanded local governments' ability to consolidate. But state Rep. Sam Yingling, who represents the Round Lake area, proposed an amendment to the bill that would prevent any reduction in personnel or in compensation or benefits for union-represented employees if a unit of local government were to dissolve. That bill stalled and did not pass the General Assembly before the spring session ended May 31.
Given the evident struggles of several different past consolidation committees at the local level, that structure is difficult enough to break without state government roadblocks.
"I don't know what it's going to take [to consolidate]," McCarthy said. "I know all of the mayors in all of the little villages in our little area have enough of an ego that none of them are going to say, 'For the betterment of our community, let's consolidate,' because who is going to end up being the mayor, who is going to give up their position? Their little fiefdom?"
The Daily Herald story in 1955 said the consolidation of the four villages would result in one town of about 15,000. If that happened now, it would be more than three times the size. The community has changed demographically and increased in size while confronting challenges and adapting to changing times. But local politicians are slow to catch up.
"Ultimately, when the people speak, politicians generally have to listen or are forced to listen," Slove said. "But obviously there doesn't appear to be enough outcry, and maybe enough people don't think like that or don't realize [that consolidation would help].
"I don't even know if people consider [consolidation]. They're too busy making their own ends meet that I don't think they even think about that. But they should, 'cause it would help their ends meet."
Even after years of profound change and growth in the Round Lake community, Kauffman still worries about making sure Round Lake residents are able to survive financially. That tops a list – along with consolidating the communities – of what he and many other residents hope for moving forward.
"I'd like to see us as one," Kauffman said, still looking over the lakeshore that touches multiple villages with a shared name. "I think that would be good."