Suburban families could pay $1,700 more in vehicle-related taxes starting Jan. 1
The gas pump is just one place Illinois drivers will feel pain in 2020, when the remaining transportation tax and fee increases Gov. J.B. Pritzker approved in 2019 take effect.
On Jan. 1, Illinoisans will awake to a new year and new taxes, with those imposed on driving and transportation potentially taking the biggest chunk out of the family budget.
Five new or increased taxes and fees will be placed on driving, parking, registering and selling cars to finance Gov. J.B. Pritzker's record $40 billion budget and $45 billion capital plan. That means a family in the Chicago suburbs with two cars in 2020 could pay up to $1,700 more in taxes than they paid in 2019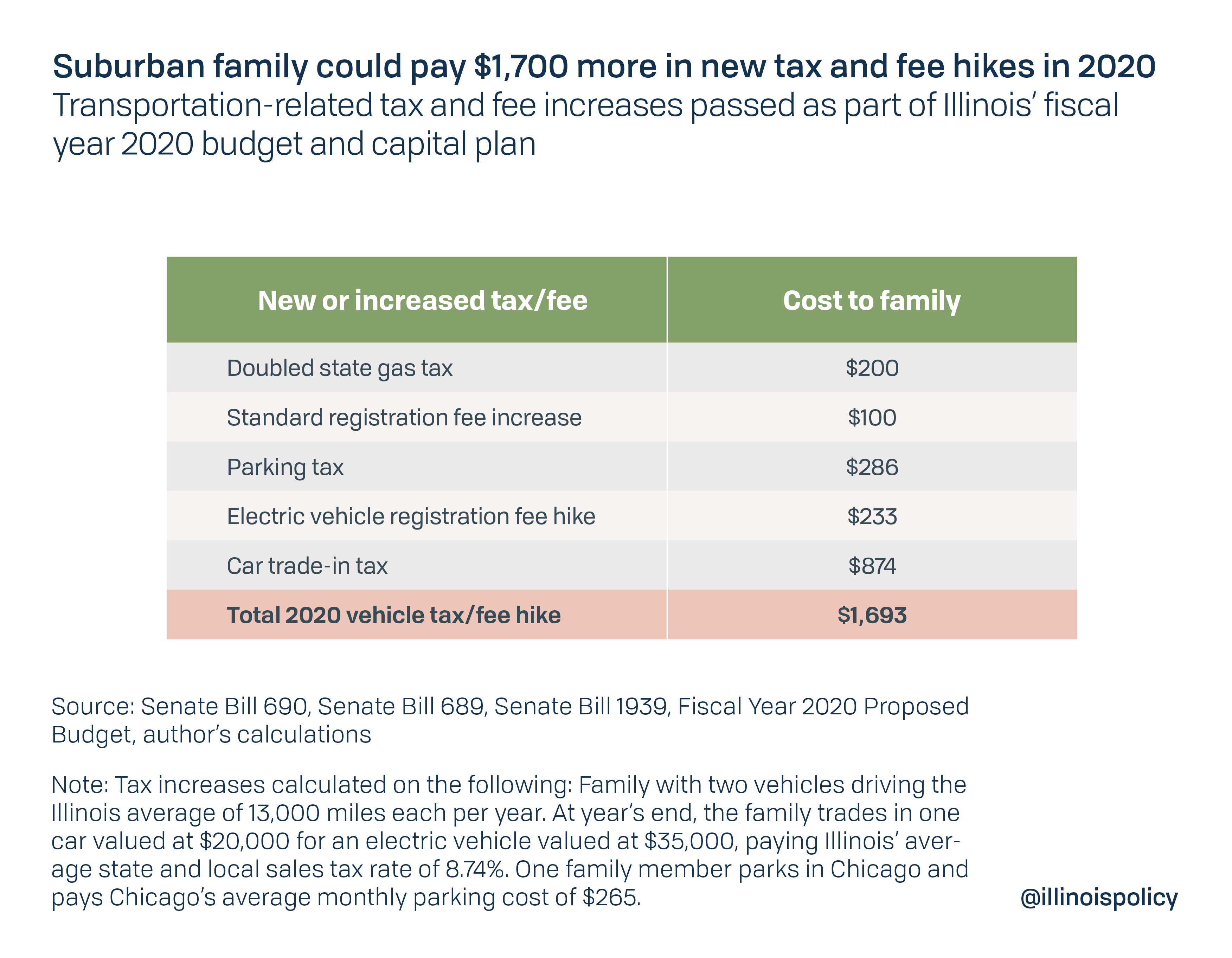 For example, if that family drives the roughly 13,000 miles per year that the typical Illinois driver does, they would pay $200 more from the doubled gas tax alone. But that's far from the only new cost, with the potential for another $1,500 hit in taxes from: an increased fee for both standard and electric cars, a new tax on parking and a $10,000 cap on a tax credit for car trade-ins. The trade-in tax leaves Illinoisans paying sales tax twice on the same vehicle, once when they purchase a car and again when they sell it.
If one member of this family regularly drives to Chicago for work, they'll end up paying an extra $286 thanks to the new 9% state tax on monthly parking garages. Standard vehicle registration will cost them an extra $100 per year for two cars. And if that family trades in a less fuel-efficient vehicle for an electric – perhaps to help offset the higher gas tax – they could pay an extra $874 due to the trade-in tax and another $233 in higher vehicle registration fees.
These are only a few of the 20 new and increased taxes and fees Pritzker signed into law in June. But the $1,693 in automobile tax hikes alone in 2020 will more than cancel out the promised $195 in savings middle-class homeowners would see under the "fair tax" Pritzker wants voters to approve next November.
Illinoisans should be wary of Pritzker's tax referendum at the ballot box in 2020. They'll be voting on a promise that has already been broken.
Click here to learn more about transportation fees and Illinois' capital spending program.