Tax growth approaches double the pace of income growth in Illinois
Money flowing to Illinois' state and local governments grew much faster than the average Illinoisans' paycheck from 1969-2012.
Politicians have been nicking Illinoisans' earnings at an unreasonable tear.
Illinois' state and local tax collections per capita increased by 121 percent from 1969-2012, while the state's metro income per capita was up only 66 percent over the same period, according to data from the U.S. Census Bureau and Bureau of Economic Analysis. Non-metro income per capita grew by 69 percent from 1969-2012.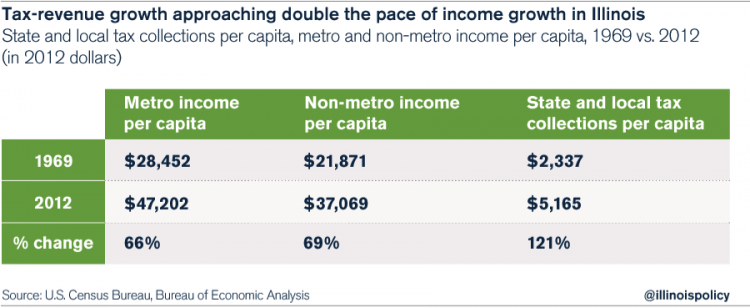 These data were highlighted in a May report from the nonpartisan Tax Foundation and the Taxpayers' Federation of Illinois, and take the wide-angle view of a state spending portrait painted plainly by Pew Charitable Trusts in March. Illinois has a spending problem, not a revenue shortfall.
As taking outruns making, the state's infrastructure is flagging, its competitive position is laughable, its schools are middling at best and its welfare system traps families in poverty. State lawmakers have been given a long leash on revenue for decades, and have tripped over it.
Keep in mind these numbers account only for tax revenue, not government spending. Illinois politicians have long exceled at spending money they do not have, so state and local government spending growth likely outpaces income growth at an even higher rate over this period.
Just since the early 1990s, state-spending growth has outpaced personal-income growth in Illinois, research from Illinois Policy Institute Senior Fellow J. Scott Moody shows.
If only state residents had the same ability to raise their incomes on a whim.
If an average Chicagoan's income grew as fast as state and local tax collections from 1969-2012, her income in 2012 would have been $62,800 instead of $47,200 – a $15,600 swing.
Righting the state's fiscal ship with pro-growth reforms, including those outlined in Gov. Bruce Rauner's Turnaround Agenda, is the only way to responsibly grow Illinois' tax base. Accelerating the pace of revenue growth with tax increases – rather than fixing what ails the state economy – is precisely the failed status quo that has crippled the Land of Lincoln.
A better tomorrow hinges on the rejection of that nefarious norm.