Tennessee votes to ban income taxation, Illinois should do the same
Over the last 15 years, Illinois has lost a net of 282,827 people and more than $14 billion in annual income to zero-income-tax states.
Illinois voters were swamped with ballot initiatives this election season, including a referendum on instituting a millionaire's tax.
But this initiative failed to mention the billions of dollars of wealth that are already leaving the state every year, relocating to no-income-tax states like Florida, Texas and Tennessee. Fortunately, Illinois' referendum measures were merely advisory, meaning they had no effect on law.
Tennessee voters, on the other hand, were given the real opportunity to amend their constitution to permanently ban income taxation in the Volunteer State. And in an overwhelming 2-to-1 majority, they voted "Yes on 3," to make Tennessee income-tax free.
Income taxation is now permanently banned in Tennessee, and that ban is protected by an ironclad constitutional amendment, which in part reads:
"The Legislature shall not levy, authorize or otherwise permit any state or local tax upon payroll or earned personal income or any state or local tax measured by payroll or earned personal income …"
Tennesseans understand a simple idea: if you want more work opportunities, don't tax work. Tennessee's no-income-tax status has helped it foster growth and attract businesses and entrepreneurs. In particular, it has helped the Volunteer State attract workers and income from the Land of Lincoln.
The most recent year of IRS taxpayer data revealed Illinois lost residents to nearly every state, on net. The top 15 states to which Illinoisans fled include all five border states and four no-income-tax states. Tennessee gained a net of 1,783 Illinoisans in one year, while zero-income-tax states Texas and Florida led in luring Illinoisans away.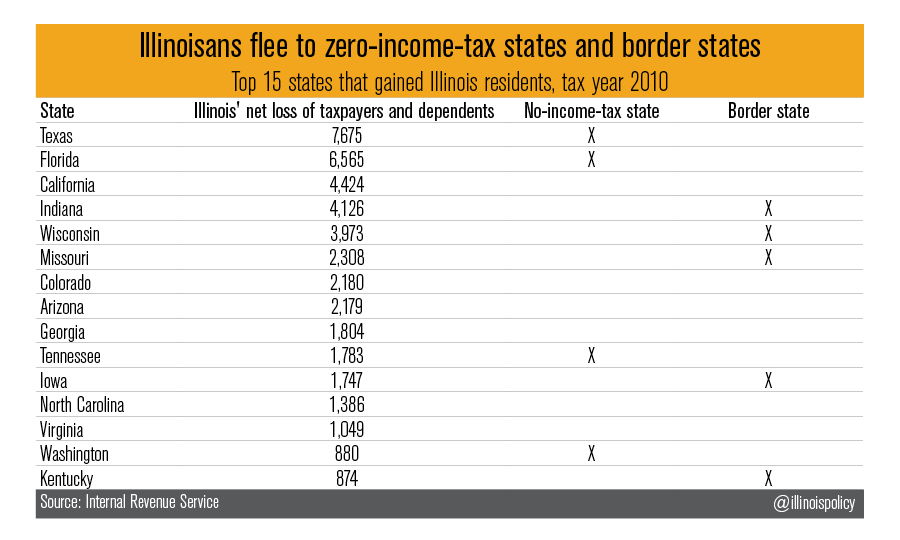 It's nothing new for zero-income-tax states to lure Illinoisans away. In fact, over the last 15 years, all nine zero-income-tax states have gained more people from Illinois than they've lost to Illinois.
Over the last 15 years, Illinois has lost 282,827 people and more than $14 billion in annual income to zero-income-tax states, on net.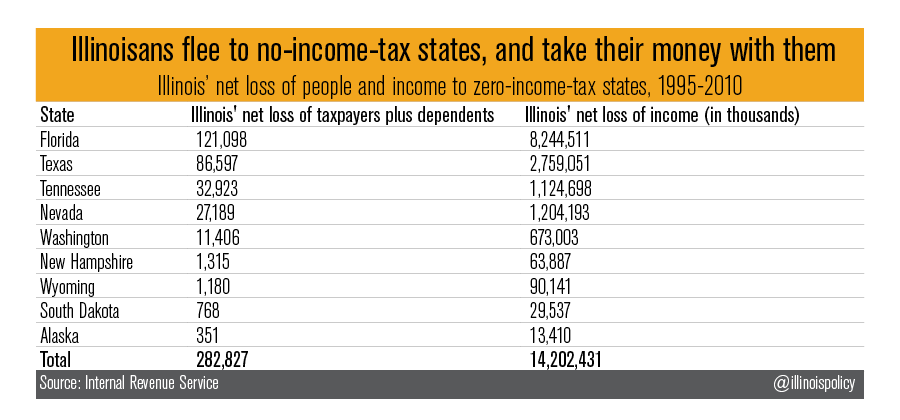 If the Illinois General Assembly is intent on gauging the opinions of voters, state lawmakers should ask the same question posed to Tennesseans. Would Illinoisans prefer to keep all of their hard-earned income, or continue sending more of it to the General Assembly? Illinois politicians probably don't want to know the answer.