The fall of Illinois manufacturing
Since the state's recession bottom, Illinois has regained less than 5 percent of its manufacturing jobs — the worst rate of recovery among all neighboring states.
When Marty Flaska moved his forklift-manufacturing business to Illinois 18 years ago, he didn't think to look at the cost of operating in other states. In 2014, out of curiosity, his son ran the numbers.
"I didn't believe him," said the elder Flaska. His son told him that a short drive east would save the business $2 million a year.
Thus began the journey of Hoist Liftruck to greener pastures in Indiana; a move that resulted from policy mistakes that have made the Land of Lincoln a laggard state when it comes to forging well-paying manufacturing jobs.
On March 31, Flaska cut the ribbon on a massive facility in East Chicago, Ind., the new home of Hoist. The Indiana factory will house nearly 300 manufacturing jobs transplanted from Bedford Park, as well as 200 new jobs Flaska plans to create. The average salary for one of those positions is $55,000.
While tax credits from Indiana made Flaska's decision even easier, he says Hoist never would have considered moving if not for the punishingly high workers' compensation costs and soaring property-tax bills he faced in Illinois.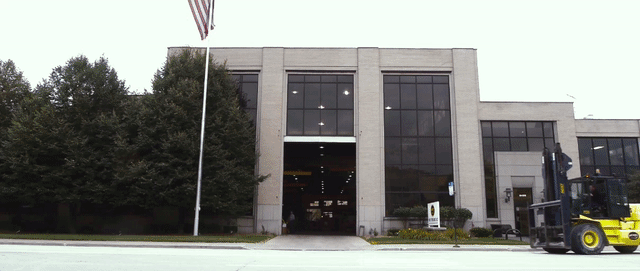 Illinois is home to the steepest workers' compensation costs in the Midwest, according to a nationwide study conducted by the state of Oregon. Illinois is also home to some of the highest property taxes in the nation, according to the nonpartisan Tax Foundation. These factors make Illinois an unfriendly state for businesses such as Hoist, which need lots of manual labor and a substantial amount of space to succeed.
Flaska's exit mirrors a troubling trend in Illinois, one that has hit the state's middle class squarely in the jaw: Good manufacturing jobs that disappeared during the Great Recession aren't returning.
It took until February for Illinois to finally recover the total number of jobs it lost during the recession, according to state employment data. That stands as one of the slowest comebacks in the nation.
Many of those returning jobs are at corner stores, restaurants and hotels, not in steady middle-class occupations where workers bend, forge and assemble. Compared with pre-recession levels in January 2008, Illinois has 90,000 fewer manufacturing jobs and 54,000 more jobs in leisure and hospitality. Illinoisans who are lucky enough to find production work take home the lowest average pay in the Midwest, according to the federal Bureau of Labor Statistics.
Since the state's recession bottom, Illinois has regained less than 5 percent of its manufacturing jobs — the worst rate of recovery among all neighboring states. Meanwhile, Michigan has roared back to pass Illinois for total manufacturing jobs. Indiana is outpacing Illinois in creating manufacturing jobs, even with a workforce half the size of Illinois'.
In Arlington Heights, manufacturer Al Panico is proud to say his products at The Line Group Inc. are American-made. His shop specializes in metal stamping, and also makes the "Awl for All," a sewing tool used by people across the globe — from Scandinavian farmers to Martha Stewart.
When the recession hit, Panico's revenues tanked. So he made sacrifices.
"I went without a few paychecks because that's what an entrepreneur does," Panico said. He cut hours for his employees, but not wages, and he didn't lose a single worker.
Panico's business survived. But he was one of the lucky ones. He's appalled by what the state has done to his industry.
"I always say that the only thing keeping our business here are these 200-ton presses," Panico said. "If we could afford to move them, we'd be out of Illinois."
Across the state, too many manufacturers feel the same way. Growth has become a rarity. Most are treading water or performing triage.
The common chorus for policy reform among Illinois manufacturers has been to address major cost drivers such as workers' compensation and property taxes. In response, Gov. Bruce Rauner is pushing a property-tax freeze and workers' compensation reform to bring costs in line with those in peer states. But Illinois House Speaker Mike Madigan has repeatedly dismissed these calls for reform as "non-budgetary," and thus not worthy of discussion.
Madigan need only look in his backyard for the result of such indifference.
Just a 10-minute drive from Madigan's district office sits the Hoist warehouse where hundreds of workers once made world-class forklifts. They now go to Indiana to do that work.