Typical collar county family would pay as much as $1,000 in additional taxes under progressive tax proposal
A progressive tax proposal in the Illinois House would raise taxes on an overwhelming majority of families already struggling with some of the highest tax burdens in the nation.
Though often billed as a "tax on the rich," median-income families in Chicago's collar counties would see their income taxes increase as much as $1,000 under a new progressive tax proposal in Springfield.
House Bill 3522, filed by state Rep. Robert Martwick, D-Chicago, puts forth a graduated, or "progressive" income tax structure with the following rates:
4 percent for income between $0-$7,500
5.84 percent for income between $7,500-$15,000
6.27 percent for income between $15,000-$225,000
7.65 percent for income above $225,000
This means a median-income family with two kids in DuPage County would pay an additional $1,018 in income taxes per year. A median-income family in Lake County would pay an additional $974, in McHenry County an additional $909, in Will County an additional $887 and in Kane County an additional $797.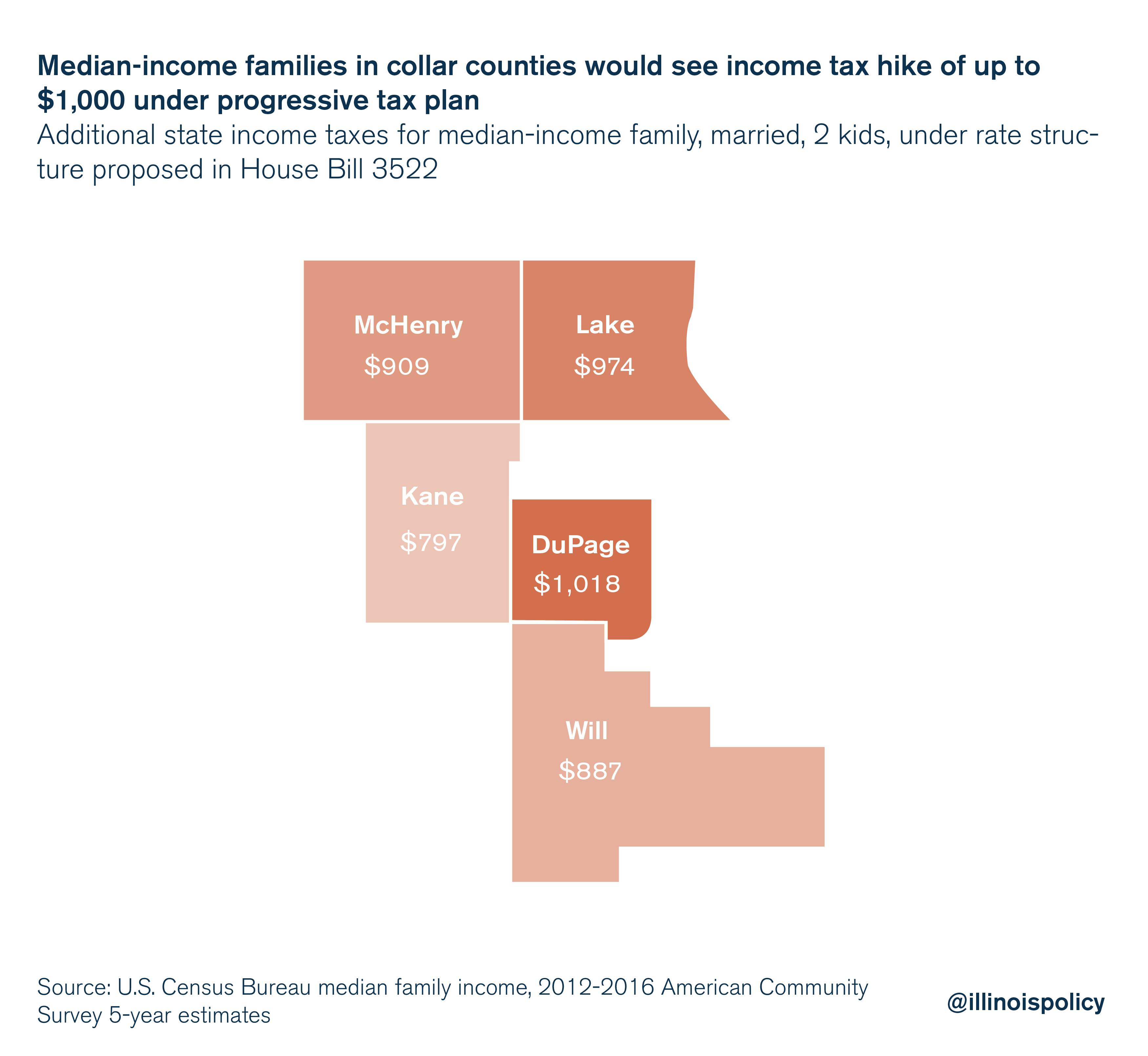 This potential income tax hike is particularly burdensome for these collar county taxpayers, who are also paying some of the highest property taxes in the nation.
With a median property tax bill approaching $7,000, Lake County taxpayers pay the highest property taxes in the state and the 21st highest in the country, according to data from the nonpartisan Tax Foundation. DuPage, McHenry, Kane and Will counties are also all within the top six counties in the state and within the top 40 in the nation in terms of property tax burden. Given this already-high tax burden – as well as having shouldered a record income tax hike in 2017 – yet another income tax hike could be crippling for families' budgets.
Even before the 2017 income tax hike, collar county taxpayers had been fleeing the region's high tax burden: Each of the collar counties saw net domestic outmigration from July 2015 to July 2016.
If Illinois wants to retain and attract residents, policymakers at both the state and local levels need to stop looking to tax hikes as a cure-all.
Martwick's plan is the exact opposite of what Illinois families need, and families in the collar counties would stand among the hardest hit.