Welch, Harmon get millions from teachers unions before blocking school choice for poor kids
It's a simple choice for Illinois' top legislative leaders this fall: listen to the over $1 million each got in campaign cash from teachers unions, or back the futures of 9,600 low-income students with a tax credit that is barely a blip in the $50 billion state budget.
Bose Clodfelter's son, Jordan, was in public school for four years, but not doing very well.
"There was a lot of bullying going on and a lot of overcrowding in the classroom. Because of the larger-sized classroom, he wasn't given a lot of attention, and he didn't excel really well," she said.
"So we pulled him out and decided on private school. And immediately we saw the change in my son: his grades, his personality, just everything improved."
It was a sacrifice, but then the family hit a rough patch. Her husband was laid off. Her father was murdered. Her sons only were able to stay in school because they received scholarships through the Invest in Kids program. It was a blessing, but there was no guarantee they would receive it for a second year.
"My son was nervous. We were all nervous, and we got on the computer and we were waiting in line. We prayed, and we were in shock when we managed to get it. [My son] said, 'Wow, we got it,' and I said, 'Yeah. We got it,'" Clodfelter said.
But Illinois Senate President Don Harmon and House Speaker Emanuel "Chris" Welch have the Clodfelter family nervous all over again. State leaders failed to include Invest in Kids in the fiscal year 2024 budget, so it ends this year.
"No" to disadvantaged kids. But they certainly said "yes" to teachers union bosses.
Those unions put over $1 million into Welch's campaign coffers and did the same for Harmon – both of whom sent their own children to private schools. Teachers unions bosses were also very clear they wanted Illinois' only school choice program dead.
The majority of Illinoisans support educational choices and the Invest in Kids Act, which provides a 75% tax credit to donors who provide private school scholarships for low-income students. There are 9,600 students helped by the program, and thousands more on the waiting list.
The Clodfelters and other families still have a glimmer of hope: state lawmakers can vote to revive the program during their fall veto session. So state leaders have a choice: invest in the futures of students such as Jordan Clodfelter, or listen to the cash from teachers unions.
Harmon, Welch each received over $1 million in campaign donations from teachers unions
Teachers unions – including Illinois Education Association, Illinois Federation of Teachers and Chicago Teachers Union – have funneled millions to the campaign committees of Harmon and Welch.
Since 2002, the "Friends of Don Harmon" campaign committee has received at least $1,015,866 from teachers unions and their political action committees, according to Illinois Sunshine.
The "People for Emanuel (Chris) Welch" has received even more, with at least $1,183,760 funneled into the committee since 2012 from teachers unions and their PACs.
Despite Illinoisans' overwhelming support for the program, lawmakers under the leadership of Harmon and Welch failed to act, and the act will sunset, or die, at the end of 2023.
That's exactly what the teachers unions want.
Teachers unions fought to kill Invest in Kids Act
Teachers union bosses don't want parents to have options. That is clear in their efforts to kill the Invest in Kids Act.
For example, IFT called on their followers to "keep the pressure on lawmakers to sunset" the program.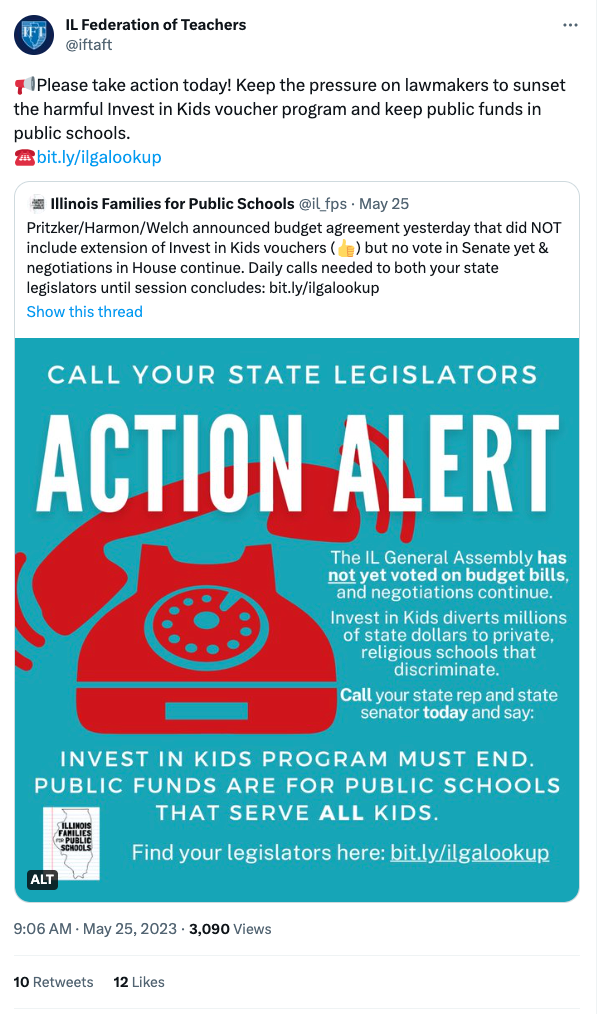 CTU, the largest affiliate of IFT, also called on lawmakers to kill the program and has advocated for years against educational options for kids.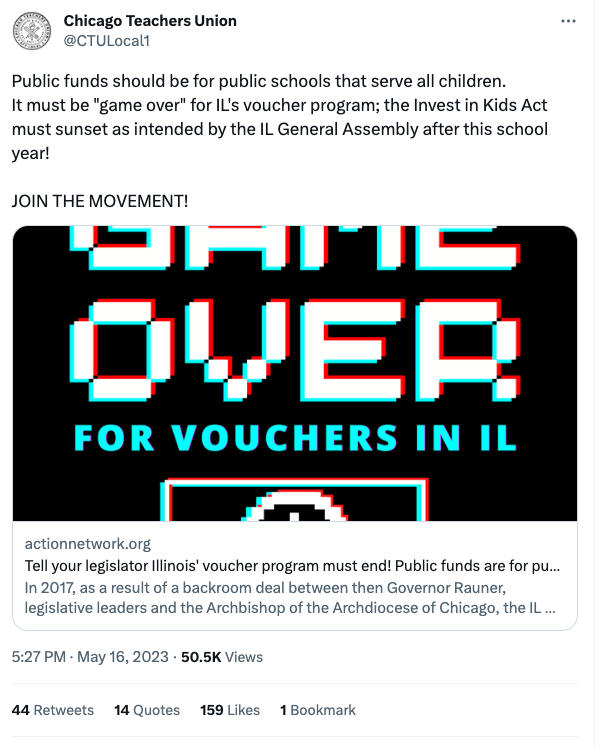 Invest in Kids allowed about $50 million in income tax credits to donors. In a state with a budget of about $50 billion – with an additional $350 million added to the $8.3 billion in public school funding – that tiny fraction was treated by union bosses like a threat to public education's very existence when in reality it is a lifeline for 9,600 disadvantaged students trying to break the cycle of poverty.
IEA celebrated the seeming demise of the program – and the end of educational options for low-income families – when the legislative session ended and Invest in Kids had not been extended.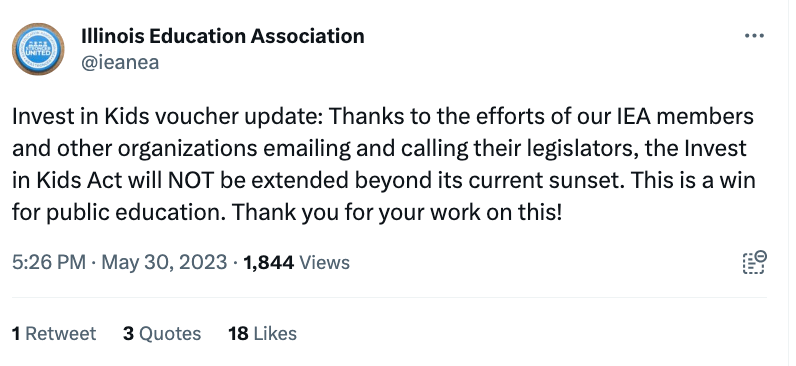 Or, as The Wall Street Journal paraphrased IEA's stance, "to hell with the 9,000 kids already enrolled" – and with what the majority of Illinoisans want.
62% of Illinoisans support school choice, and 59% support the Invest in Kids Act
Most Illinoisans support giving kids and families access to more educational options, according to polling from Echelon Insights in partnership with the Illinois Policy Institute.
Sixty-two percent of Illinois voters polled said they support school choice.
In addition, 59% of Illinoisans also support the Invest in Kids tax credit scholarship program.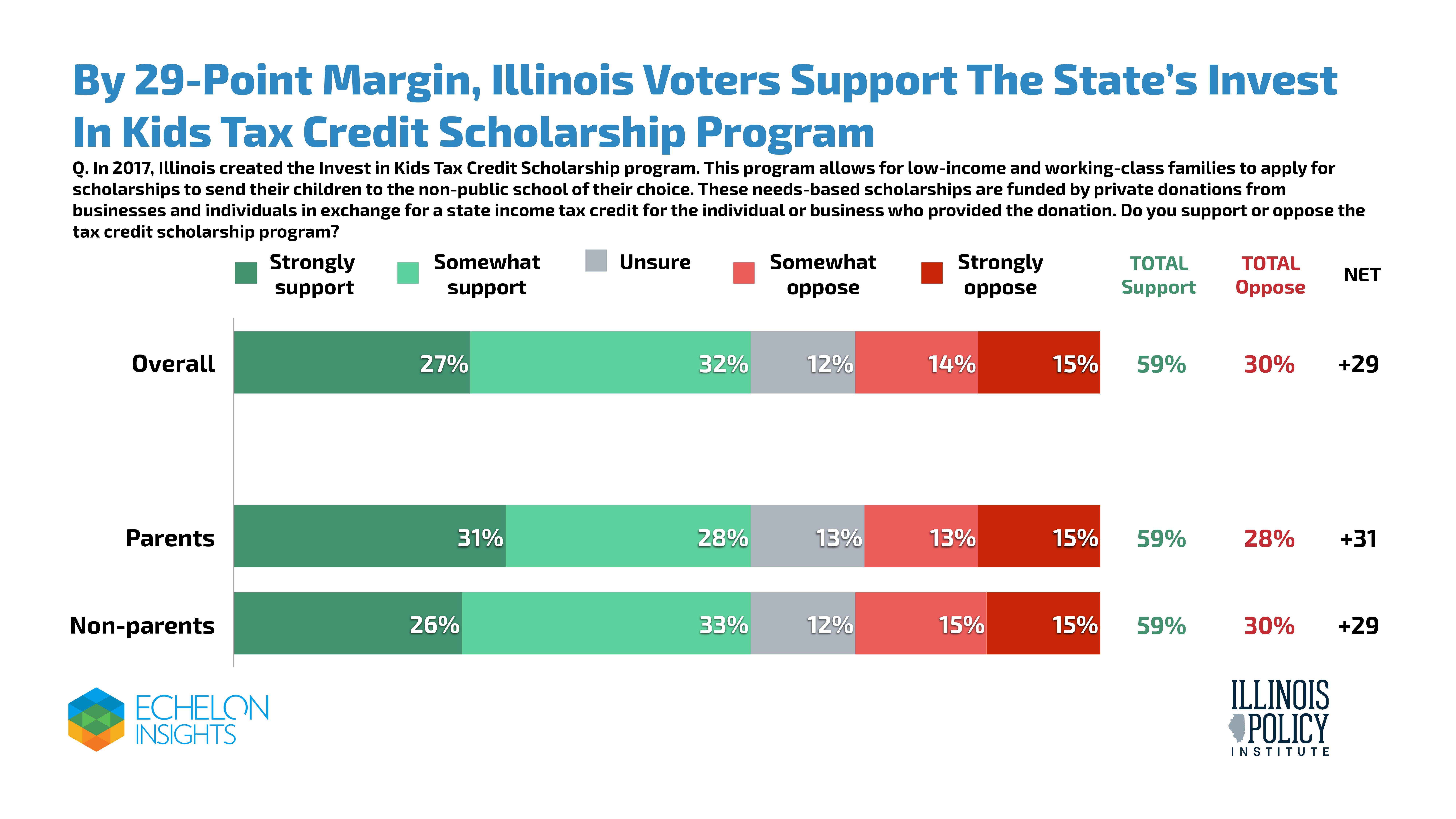 If most Illinoisans support the Invest in Kids Act, why did Harmon and Welch let it die?
Money talks.
The teachers unions have it. Thousands of low-income families do not.