Where have all the new homes gone?
Compared with Illinois' pre-recession average, permits for new single-family and multiunit housing are down more than 60 percent.
Building a new home is more than routine construction.
It's an investment in a community. It's a sign of trust, hope and confidence.
But like so many other measures of success, Illinois is lagging when it comes to homebuilding.
The U.S. Census Bureau tracks permits for new housing as a key economic indicator. Before the Great Recession, Illinois was averaging more than 40,000 permits for new, single-family homes per year.
But in 2016, the state issued just over 10,000 of those permits.
That 75 percent plunge is the worst in the nation. States the housing bubble hit hardest – Nevada, Florida and Arizona – have all seen a less severe drop in new single-family housing permits than Illinois.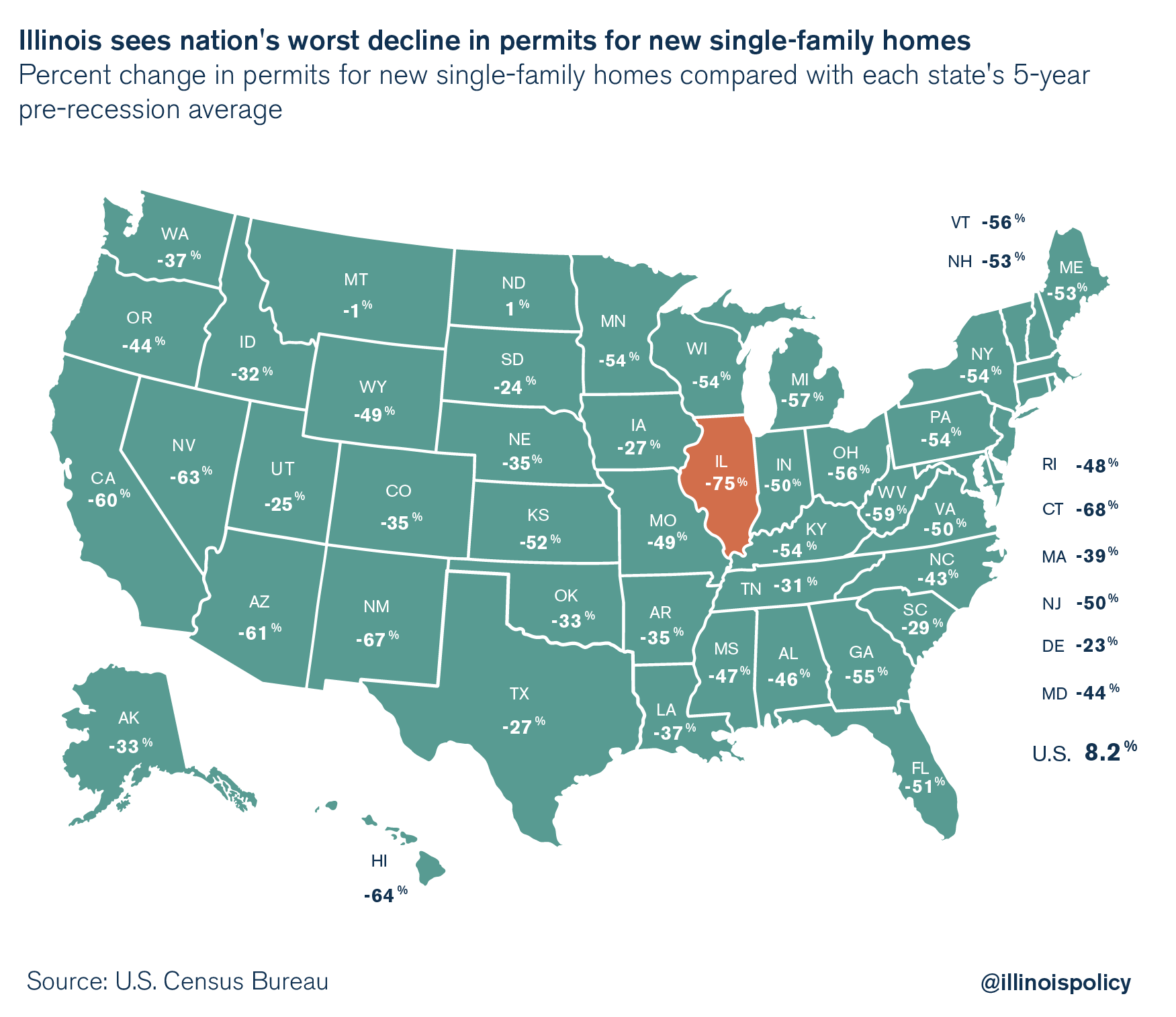 "This recovery has been the slowest since World War II," said Ed Boss, chief economist at the Illinois Commission on Government Forecasting and Accountability. "But Illinois is doing far worse than the nation as a whole and even the surrounding states."
Indeed, a look across the state border offers another chilling comparison. In 2016, builders filed more permits for new single-family homes in Wisconsin, Michigan, Indiana and Missouri than in Illinois.
What's bugging builders about the Land of Lincoln?
Jim Work knows firsthand.
He grew up in Wheaton and worked in construction to pay his way through college at Northern Illinois University. After graduating he took a major risk and started a homebuilding business with a friend during the depths of the Great Recession.
"We were the only guys stupid enough to do this when no one else wanted to," Work said.
"Now we're doing well in Illinois. But we're doing so much better in Iowa … Property taxes are lower. Government is easier to deal with. Now our guys want to do more of their work in Iowa because we can afford to pay them more."
Work is in the process of moving his family and a majority of his business to the Hawkeye State.
The difference in attitudes of local governments in Illinois and Iowa especially struck Work.
"The teachers out here still get paid but they don't have these crazy retirement plans like what's going on in Illinois," Work said from a build site in Le Claire, Iowa, just a stone's throw from his home state.
Unfortunately, Illinois' slow comeback in housing construction isn't limited to the single-family homes Work and others build.
Given the nature of Illinois – where jobs growth is nonexistent outside of Chicago – one might think construction companies are flocking to the Windy City to build high rises instead of white picket fences.
But even when including new permits for multiunit housing, Illinois is still a national laggard.
Compared with Illinois' pre-recession average, permits for new single-family and multiunit housing are down more than 60 percent. That's the second-worst drop in the nation behind New Mexico.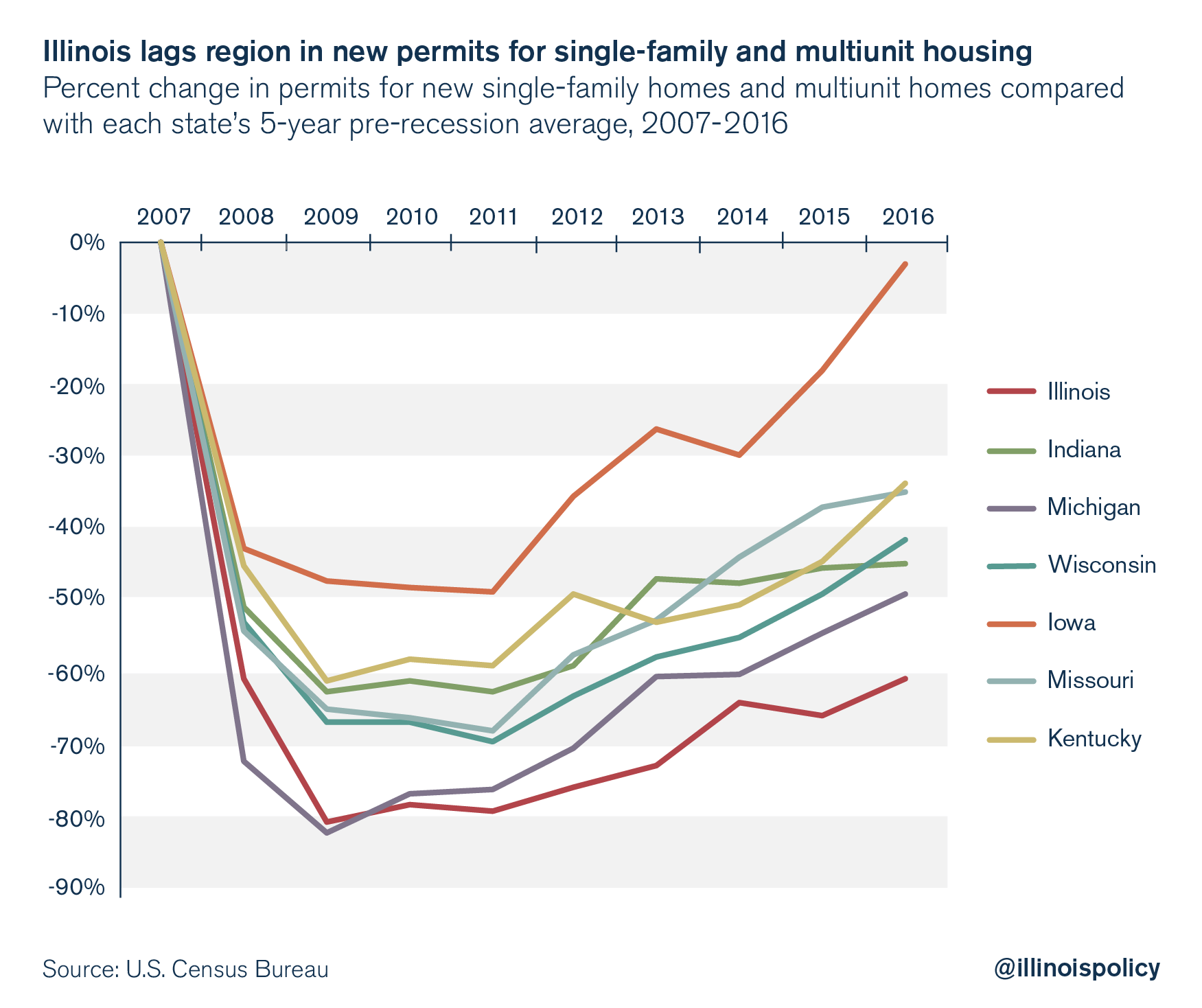 There are many reasons for Illinois' homebuilding downturn. For example, the Land of Lincoln is shouldering the heaviest population losses in the nation. There's little reason to build new housing as neighborhood populations shrink across the state.
But one thing is clear, Illinois cannot fix its homebuilding woes without addressing the elephant in the room: property taxes.
Illinoisans pay some of the highest property taxes in the nation, and builders are on the hook for that burden – not to mention other local taxes and fees levied on construction – until they can sell the property. Even then, the property tax bill takes a big bite out of the price buyers are willing to pay.
Contract costs in local government largely drive those bills. But reforms addressing those costs at the root – including changes to collective bargaining privileges and prevailing wage mandates – are said to be non-starters in Springfield. Instead, Illinoisans are told the best deal they can hope for is a property tax freeze.
With housing in a tailspin, a mere freeze isn't enough. It's time lawmakers provide a clear path toward relief.
Let thy people build.