Your Story: COVID 19's 2nd anniversary proves Illinoisans remain resilient
During the past two years, about 80 Illinoisans shared how the COVID-19 pandemic was changing their lives, children's educations and businesses. Here is how some of them have come through the pandemic, both those who thrived and those who lost.
For two years, Illinois imposed some of the nation's strictest COVID-19 mandates, creating uneven rules that favored large over small and left people looking for common sense. Nothing showed the flaws and hardships created by severe, blanket policies as well as the individual stories shared by over 80 Illinoisans as part of the Your Story series since the pandemic hit.
There was often desperation in their stories, but also the threads of hope and resilience that define Illinoisans.
On the second anniversary of the pandemic changing Illinois, some of those original contributors wanted to share how their stories have turned out. Some lost their businesses. Some are still fighting for their health. But still, hope and endurance shine through.
Here is how they are doing now.
Sheldrick Holmes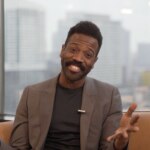 Sheldrick Holmes was uninspired by his finance job, so went to culinary school and opened the Grail Café in January 2020 in Chicago's South Loop. It was a success, until the state and the pandemic shut him down. He survived, but then the Delta variant and more restrictions hit harder.
"At a certain point, I didn't even want aid. I actually just wanted to be open and work. I wanted to live and die on my own. I felt like they should just let me be open, let me work. I wanted to hustle like we had pre-COVID, and see how far I made it," Holmes said. "And that just wasn't the story."
The Grail Café closed in November 2021. But Holmes isn't giving up on Chicago. He's figuring out the next way he can contribute to the city.
"I won because I opened a business and I kept it open."
Jackie Jackson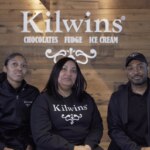 Jackie Jackson was $70,000 behind in rent on her Kilwins location on Michigan Avenue in Chicago because of the COVID-19 closures. Then the George Floyd riots left her ice cream and chocolate shop shattered.
But Jackson and her partners refused to give up. They learned to innovate, catering to the pandemic demand for drive-thru food. They expanded, but only thanks to their drive to learn, take risks and believe.
"But one thing about this pandemic, it pretty much was a reset button. We got a timeout. We had nothing else to do, so we started learning. We reinvented ourselves," Jackson said.
"We have just got to keep going, keep pushing. We have to overcome this. And I know we will."
 Kevin Promenschenkel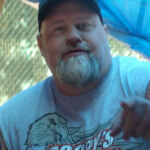 Poopy's Biker Bar in Savanna, Illinois, was forced to shut down at the beginning of the pandemic, but owner Kevin Promenschenkel fought back to save the business he built over 24 years. Defiance gained him threats from state regulators promising to put him permanently out of business.
Two years later, Promenschenkel said his resistance and customer support for it were the only things that kept Poopy's alive. He said surviving the past two years forced a complete change to his business.
"We shut down and it just killed us. Even if they weren't going to come in and shut us down, we would have closed anyway. We stayed open because we wanted to save our business. Once people realized we were fighting, they came out of the woodwork to support us," Promenschenkel said.
"We remodeled and totally changed in the way we're doing business because of the last two years… some people never recouped from the decisions made by our governor."
Promenschenkel's Your Story then
Promenschenkel's Your Story now
 Argie Karafotias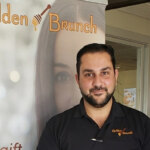 When Gov. J.B. Pritzker's closure orders first forced Golden Brunch in Arlington Heights, Illinois, to shut down, owner Argie Karafotias said he was afraid for his family business and employees. He gave all the food in his restaurant to his staff to help them get by.
Months later they reopened, only to face a new state closure order. Karafotias was sure it would be the end.
Two years later, Karafotias thanks loyal customers for getting him this far, but he's not sure what's next.
"Before the pandemic, we were growing fast with big companies. The pandemic happened. We lost more than $500,000 and now we're trying to bring back the business. Now we're just trying to survive," Karafotias said.
JoAnn Chumley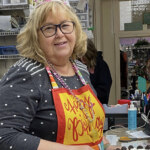 JoAnn Chumley's All Occasions Flowers and Gifts in Jacksonville, Illinois, was initially deemed "non-essential." The state forced the flower shop to close in spring 2020, the busiest time of the year for her. Proms, Mother's Day and Easter all faded as she was left with a cooler full of flowers she couldn't sell and up to an estimated $30,000 loss in what was supposed to be one of her busiest months of the year.
Two years later, she has slowly rebuilt the business thanks to some parents putting on an informal prom, funerals returning, some persistence and luck. But her business and city have both changed.
"We've also had a couple of new places so that's good for downtown. But it's still not where it was before the COVID closures," Chumley said.
"I started bringing employees back one-by-one. We have about nine employees. I mean their hours are not like before. They used to have more but people are getting more careful with their money."
She expects a long struggle. She also sees an opportunity that didn't exist two years ago: she might be able to sell the shop and retire.
Vicki Granacki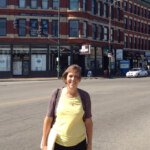 Vicki Granacki is a historic preservationist who owns a 100-year-old commercial building in Chicago that is facing a 300% property tax increase at the same time the pandemic cost her some tenants and others needed rent breaks to get through the pandemic. If the tax bill stands, it will eat all her rental income and leave nothing for other building expenses. She'd sell, but questions who would buy and preserve the historic building if it can't realize a profit.
"Prior to the pandemic, I was managing the building and going into our office. But now my staff is working remote. What's the fun of going in when no one else is there? Everything is just in flux. I think we just have to hold on tight, do the best we can and hope for best," Granacki said.
Desi Mulingbayan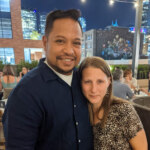 Village Inn Pizzeria is an institution in Skokie, Illinois, where high school kids hang out and get their first jobs and where little league athletes come to celebrate wins or ease losses. Randy Miles put himself in a bad financial position trying to keep his employees paid as he watched at least 10 neighboring businesses go under. After 30 years, he decided to sell his interest to Desi and Diane Mulingbayan. Diane Mulingbayan was one of those employees who started as a teen and worked her way to partner.
The Mulingbayans have kept things going, trying to survive on take-out orders and watching old customers flee to neighboring towns with fewer restrictions than Skokie.
"Customers pointed out that the neighboring villages had indoor dining open or that they were not checking face coverings and pressed us to do the same, which was valid. It was a frustrating situation," Desi Mulingbayan said. "I'm all for following the rules. But obviously, people were so divided on it. So, in sticking to the COVID guidelines, we've chased away business as a town."
Through COVID-19 hardship, increasing labor costs and supply chain problems, they are determined to figure it out.
"We've been around for three decades, not because we're awesome, but because our community is awesome," Desi Mulingbayan said.