4 manufacturers announce plans to shut down or move out of Illinois
Continued jobs losses in manufacturing underscore the need to reform the state's onerous tax and regulatory policies.
Illinois is bleeding manufacturing jobs for the second year in a row. The Land of Lincoln dropped a total of 6,200 manufacturing jobs in 2015. And so far in 2016, Illinois is down 8,500 manufacturing jobs through September, according to data from the Bureau of Labor Statistics. After this terrible start to the year, four Illinois-based manufacturers announced they plan to either shut down in Illinois or move facilities to another state, costing Illinois another 541 jobs.
Illinois lost manufacturing jobs in the majority of months of 2015, contributing to a total of 6,200 jobs lost on the year, on net. The same is true in 2016 – manufacturing jobs were lost in the majority of months, totaling 8,500 jobs lost on the year to date. Illinois lost an average of 25 manufacturing jobs per workday in 2015 and that rate has worsened to 43 manufacturing jobs lost per workday in 2016.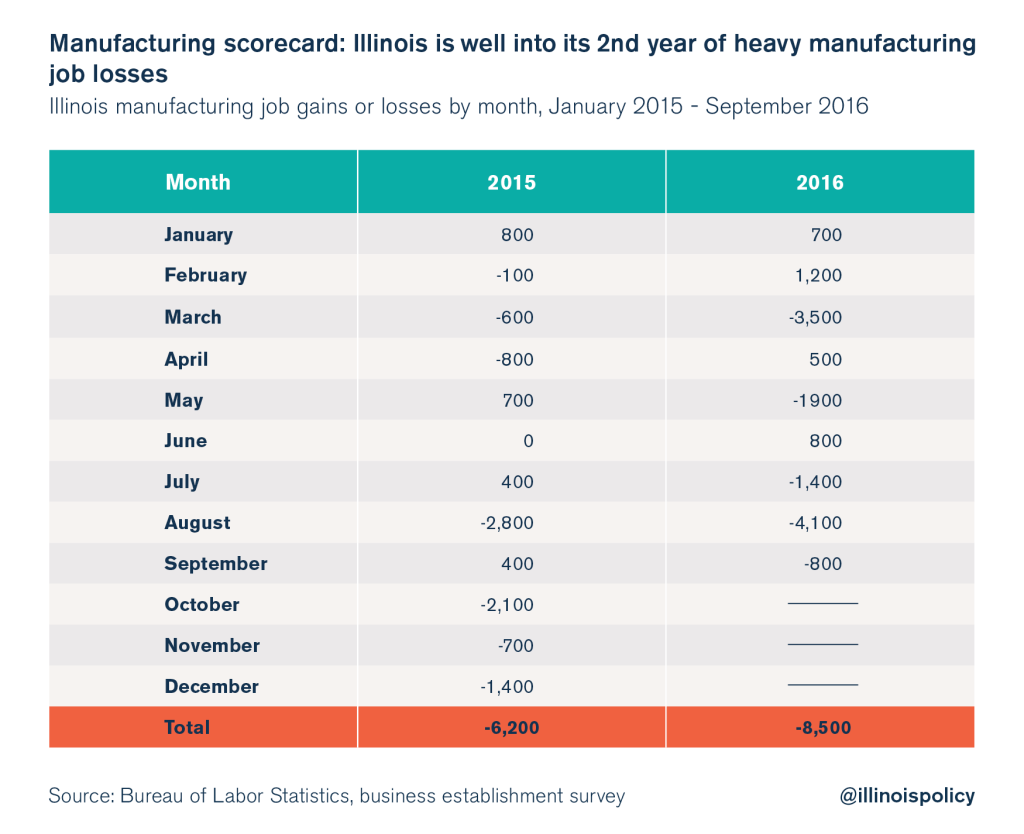 Illinois' year has been bad enough through September. Yet, a series of October announcements makes it clear that Illinois' job situation in manufacturing will likely continue to get worse. Four manufacturers in October decided to shut down or relocate facilities to another state.
On Oct. 4, Merisant, a Kankakee-based manufacturer of the artificial sweetener Equal, announced it would shut down operations employing 90 workers in Illinois and move to another state.
On Oct. 19, Colbert Packaging Corp, a Lake Forest-based manufacturer of packaging products, announced it would move 65 Illinois jobs plus 45 new jobs to Kenosha, Wis.
On Oct. 27, Altria, a Franklin Park-based manufacturer of tobacco products, announced it would shut down their 300-job facility and relocate it to another state.
On Oct. 27, Vonco Products LLC, the Lake Villa-based manufacturer of packaging products, announced it would shut down its Lake Villa facility employing 86 people and move its production 10 miles north into Salem, Wis.
And throughout 2016, Caterpillar has been announcing Illinois layoffs related to its global restructuring.
The manufacturers pulling out of Illinois remove hundreds of jobs from the Illinois economy. But worse is what the announcements say about the attractiveness of Illinois' business climate. If Illinois' business climate is so dismal that companies actually go through the effort of picking up their facilities, machinery and workforce to move to another state, then the business climate is certainly bad enough to keep the majority of new investment dollars out of Illinois.
Illinois is experiencing divestment and capital flight, especially for projects that require manufacturing labor. And unfortunately for Illinois workers, manufacturing investment dollars are critical for blue-collar job creation. Illinois' job creation is so terrible because businesses don't want to invest in projects that would create jobs in Illinois unless some compelling positive reason overwhelms the state's burdensome tax and regulatory climate.
This trend has been going on for the better part of a decade, and has held Illinois back from making a solid recovery from the Great Recession. Illinois lost more than 100,000 manufacturing jobs during the two years of the Great Recession, from January 2008 – January 2010. And since the absolute bottom from the Great Recession, the Land of Lincoln has gained only 14,000. That puts Illinois at a total manufacturing jobs growth rate of 2.5 percent since the recession bottom. In percentage terms, every state around Illinois has multiplied Illinois' recovery.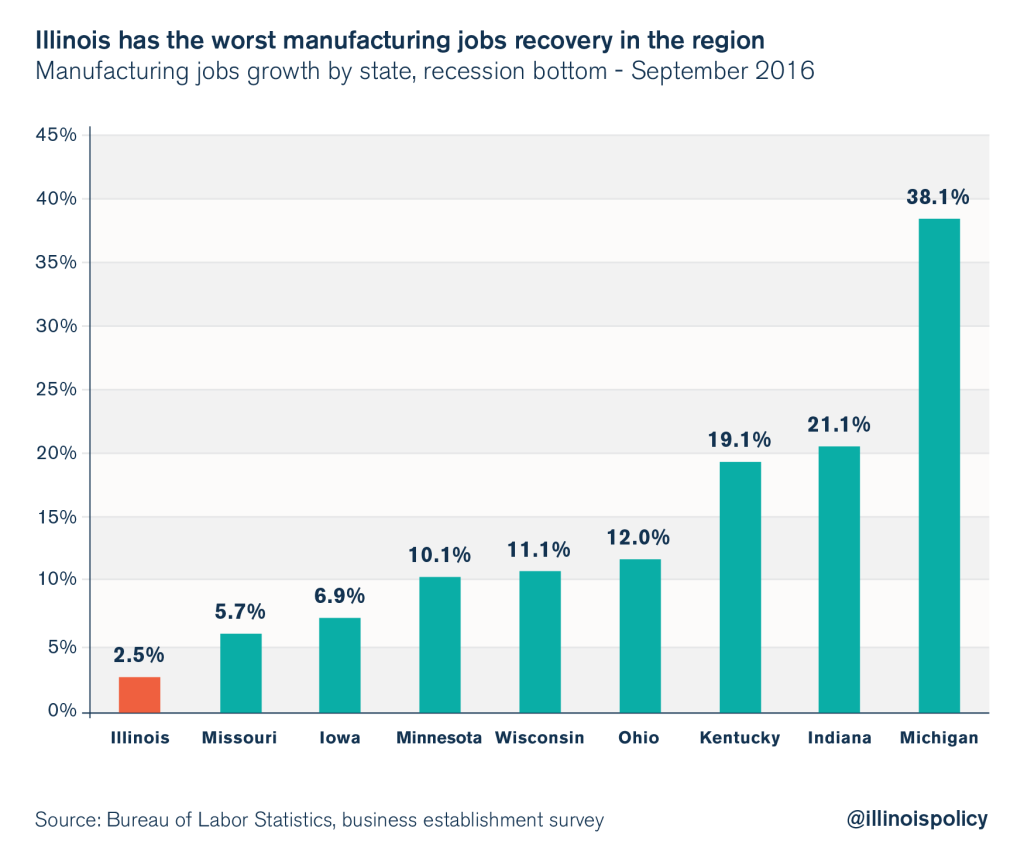 Illinois' blue-collar economy is suffering under the weight of onerous regulations and misguided tax policy. Industrial organizations such as the Illinois Manufacturers' Association have been outspoken about a variety of needed reforms to reinvigorate industrial job creation in the Land of Lincoln, and such an agenda should be at the top of the list for every lawmaker. Policy reforms that would boost industrial work opportunities include:
Much stronger controls on overall spending and tax levels
Broad workers' compensation reforms
Property tax freeze
Elimination of taxes that directly attack investments, such as the estate tax and franchise tax
Elimination of sales tax on business inputs to avoid 'tax pyramiding'
Worker freedom by enacting statewide or local Right-to-Work laws
Reincorporating industrial skills into high school education
These steps will put Illinois back in the game for new jobs. But without a robust policy agenda to bring back blue-collar work, Illinois will experience years of continued job loss, and monthly surprises of manufacturers announcing plans to jump ship.