After 50 years in Illinois House, 36 years ruling it, Mike Madigan is quitting
Former Illinois House Speaker Mike Madigan is resigning as a state representative after 50 years in office. It came a little more than a month after he was ousted as speaker.
Michael J. Madigan was already the former Illinois House speaker, but on Feb. 18 he said he will become a former state representative by resigning at the end of the month.
Madigan, 78, served 36 years as Illinois' House speaker before he was voted out on Jan. 13 by House Democrats. He has served 50 years as a state representative of the 22nd Illinois House district, which surrounds Midway Airport near Chicago.
His resignation statement showed his pride in multiple issues that led to his downfall.
"As speaker, legislator and member of the Illinois Constitutional Convention, I worked to make the General Assembly a co-equal branch of government, ensuring it acted as a check on the power of the governor and the executive branch, especially around a governor's abuse of the amendatory veto."
His success in building that power over 36 years was less about the Illinois General Assembly, and more about the power of the House speaker. During his national record tenure, he concentrated power in his office to the point that he held almost czar-like control over legislation and state spending, which led to massive bill backlogs, debt and the biggest public pension crisis in the nation.
His control of campaign cash as chairman of the Illinois Democratic Party allowed Madigan to reward loyalty and punish disobedience among his fellow Democrats, but the "Velvet Hammer's" other power came from the set of parliamentary procedures knows as the House Rules, which he built slowly over time. These rules allowed Madigan to bottle-up bills and even decide who could vote on them.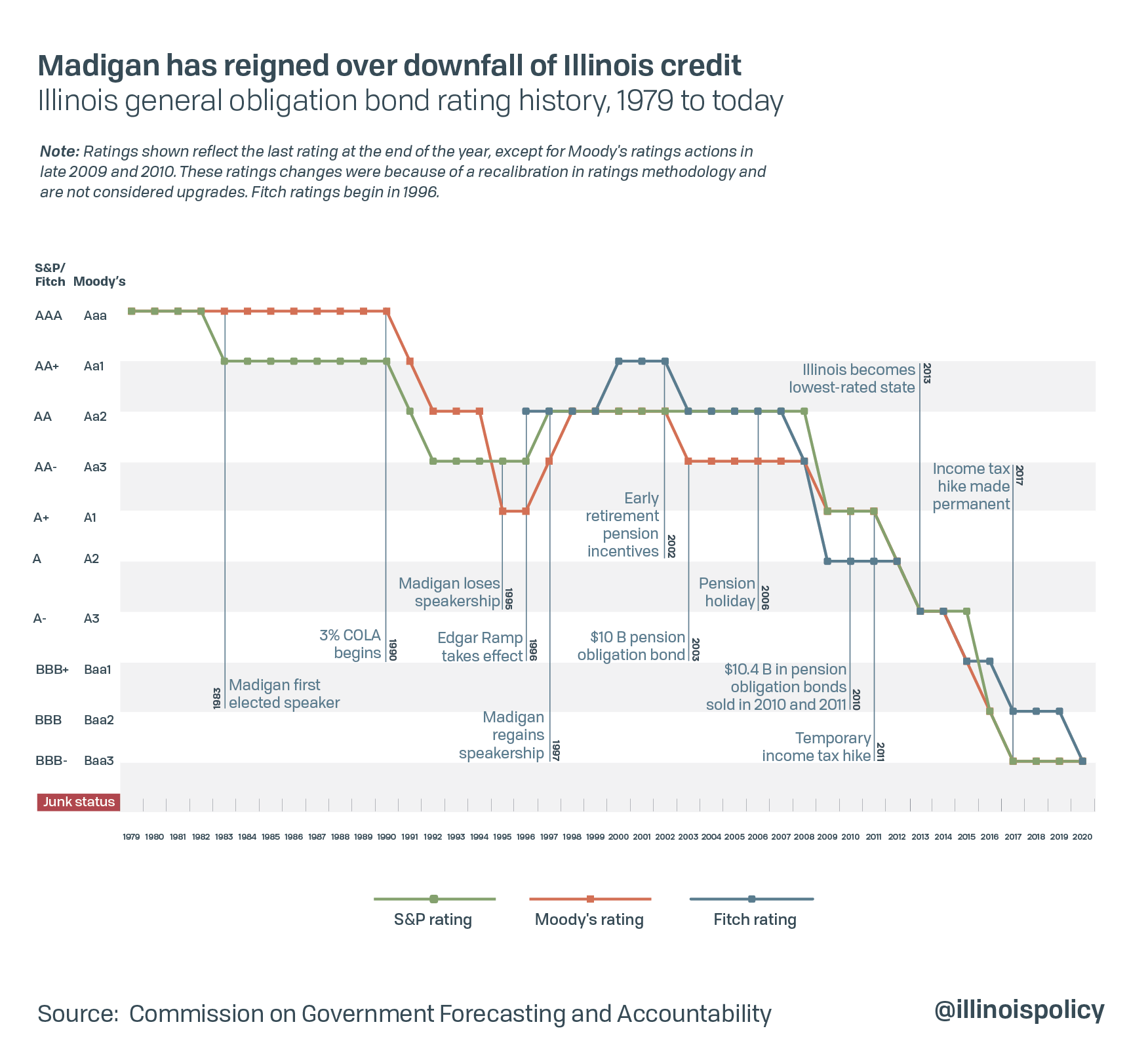 The fact that Madigan possessed so much power was costly for Illinois taxpayers, as the state's debt soared under his leadership. During Madigan's 36 years as speaker, Illinois' finances deteriorated from a perfect credit rating and just under $6 billion in unfunded pension debt to the lowest credit rating in the nation and over $144 billion in pension debt.
Placing so much power in the speakership also created the open secret that the path to getting anything done in Springfield meant securing Madigan's blessing.
Commonwealth Edison sought to bribe its way into Madigan's good graces by giving his political cronies over $1.3 million in no-work jobs and contracts, according to a deferred prosecution agreement implicating Madigan. Federal authorities were also investigating similar allegations regarding Madigan's relationships with AT&T, Walgreens and Rush University Medical Center.
Illinois saw 1,978 public corruption convictions since Madigan first became speaker, averaging over one per week. That is the most convictions per capita among the top 10 most populous states between 1983 and 2018, according to U.S. Department of Justice data.
Madigan's legacy of corruption and toxic public image was blamed for Nov. 3 election losses of Illinois Gov. J.B. Pritzker's "fair tax," an Illinois Supreme Court justice's retention vote and legislative seats. Those losses were key to Democrats' loss of faith and eventually replacing him as speaker.
Another Madigan point of pride led to his undoing.
"I am particularly proud of our work to increase the diversity of voices in the House Democratic Caucus to include more women, people of color and members of the LGBTQ community."
For three years Madigan and the General Assembly left vacant the Legislative Inspector General's post, creating a backlog of 27 ethics complaints including serious sexual harassment allegations that led to more than 130 signatures on an open letter about Springfield's open season on women. The inaction was compounded when a campaign worker complained to Madigan about sexual harassment by one of his lieutenants and went public in 2018 after the speaker did nothing. That campaign staffer, Alaina Hampton, sued, and Madigan's campaign eventually paid nearly $900,000 to end the case.
The Springfield sexual harassment scandal also cost Madigan his long-time chief of staff, who was accused of suppressing complaints as well as making inappropriate comments to a female staffer in Madigan's office.
Madigan's resignation letter gave him one last swipe at former Illinois Gov. Bruce Rauner, blaming Rauner for the two-year budget impasse and its impacts on higher education and social services while taking no responsibility for his own part in it.
Madigan also portrayed himself as a victim.
"It's no secret that I have been the target of vicious attacks by people who sought to diminish my many achievements lifting up the working people of Illinois. The fact is, my motivation for holding elected office has never wavered. I have been resolute in my dedication to public service and integrity, always acting in the interest of the people of Illinois."
Madigan's policy priorities were designed to give him unmatched influence over patronage jobs, property tax appeals, gerrymandered maps, political purse strings and the state's finances. These priorities were highlighted in a 2016 documentary by Illinois Policy that millions have since viewed. For most of his tenure as speaker, Madigan was virtually unknown to most Illinoisans. By 2019 he'd to earned the disapproval of 71% of Illinois voters.
Under Madigan's replacement as speaker, state Rep. Emanuel "Chris" Welch, D-Hillside, the Illinois House has already changed some of the House Rules to limit the speaker's power, including a 10-year term limit on the position and a mechanism to dislodge bills from the committee Madigan used as a control valve. Pritzker is calling for ethics changes that also chip away at the culture of corruption that continued under Madigan's watch.
Even after Madigan is gone, dismantling the Madigan Machine will require fighting corruption and finally addressing the pension crisis. Otherwise, Illinoisans will continue to flee the state.
Madigan just handed in his resignation, and with it a chance for the state to emerge from his dark shadow. Now it's up to voters and state leaders to end Illinois' infamy as the nation's fiscal basket case and make the state a place residents are proud to call home.