Another Illinois town hikes taxes amid skyrocketing pension costs
Local governments have their hands tied when it comes to pension reform.
Local officials in Normal, Illinois, gave the thumbs up to a $6 per month increase in garbage fees and a new 4-cent-per-gallon local gas tax this week. Forty-four cities in Illinois implement local fuel taxes ranging from 6.7 cents per gallon to 1 cent per gallon, according to Normal Finance Director Andrew Huhn.
Normal's tax and fee increases come on the heels of quickly increasing unfunded pension liabilities.
Like many communities in Illinois, Normal pays into three pension funds: a fire pension fund, a police pension fund and the Illinois Municipal Retirement fund, or IMRF. Normal's payment into these three funds totaled nearly $4.5 million in 2013 – a $400,000 increase just since 2010.
To put that payment into context, Normal's total pension payment is equivalent to nearly 70 percent of town's general fund property-tax revenue, or about 8 percent of the town's total general fund budget.
To Normal's credit, the town generally makes the full annually required contribution into its pension funds. And sometimes it even puts in a little extra.
But despite making these pension payments, Normal's unfunded pension debt for its police and fire pension funds alone has more than doubled – increasing to $36 million in 2013 from $17 million in 2006. Normal taxpayers are on the hook for an additional $13 million in unfunded pension debt for IMRF.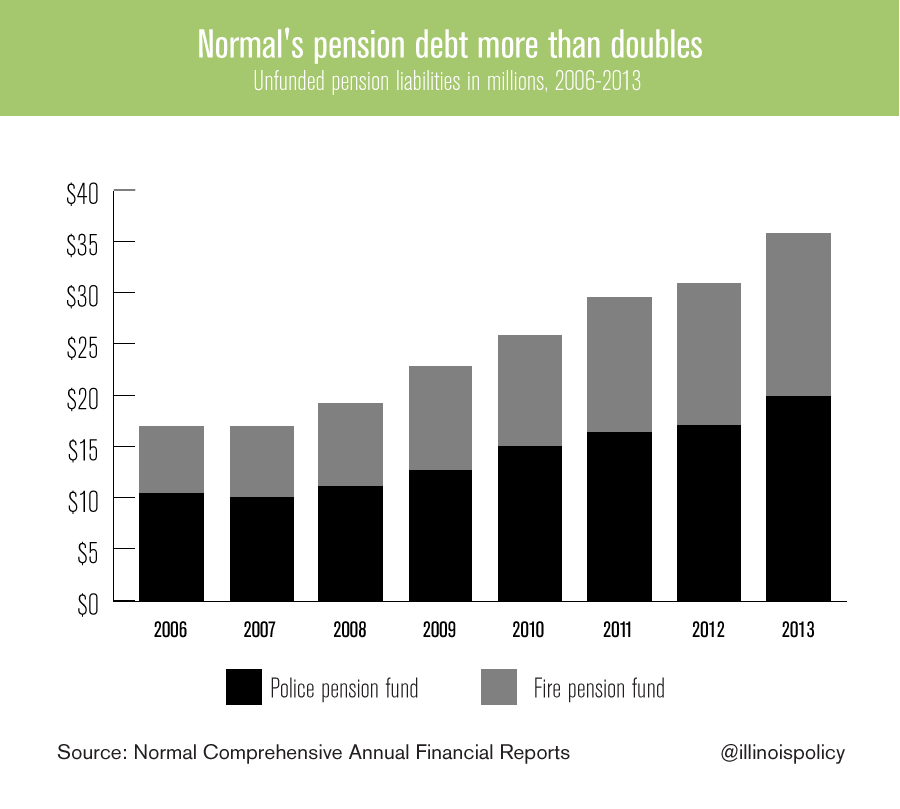 Local officials across Illinois are increasing taxes and fees to help balance their budgets – and rapidly growing pension costs are often a driver.
The problem is local governments like Normal's have their hands tied when it comes to pension reform. The Illinois state legislature sets municipal pension laws – retirement ages, cost of living adjustments and benefit formulas – with no regard to whether the local budget or taxpayers can afford them.
It's time to give local governments more control over their own retirement systems. Local governments should have the option to restructure their local retirement system in a way that best meets the needs of their budget, taxpayers and public employees. Local pension control would help communities like Normal prevent quickly growing pension costs from consuming an ever-growing chunk of local resources.