At caregiver 'trainings,' first handout is a union card
Mandatory training sessions for Illinois caregivers are little more than union membership drives.
The state has mandated that thousands of home-based caregivers who receive a Medicaid benefit from the state must attend "training" sessions hosted by one of the state's most powerful unions, the Service Employees International Union, or SEIU. Most program participants are family members who take care of loved ones – people like Pam Harris, who stays home to care for her son, Josh. What could the state possibly teach parents or relatives who have already cared for their loved ones for years?
The truth is, these "trainings" aren't trainings at all – they are union membership drives.
Here is what is handed to program participants as they wait in line to enter the sessions: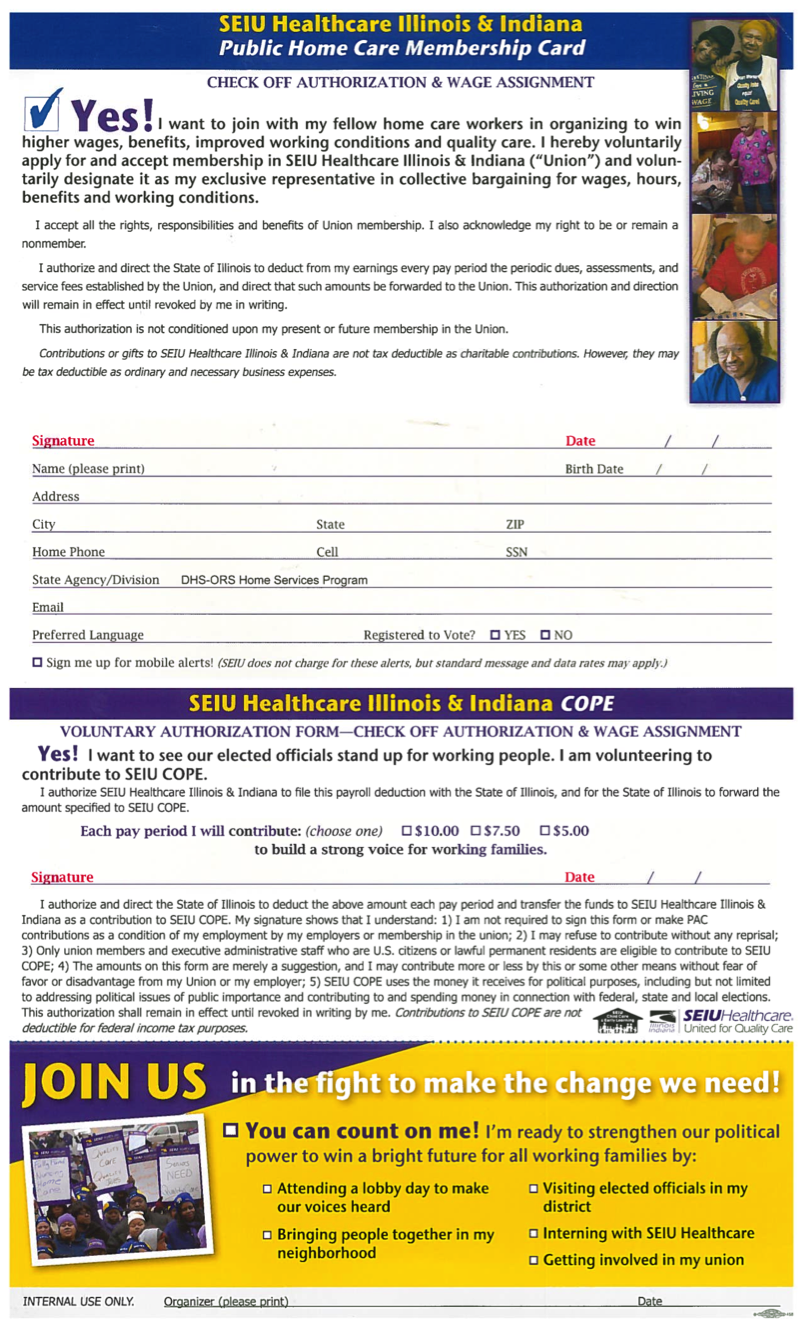 The card vividly illustrates the truth behind the entire training program. The union's commitment to improving the quality of care is minimal. The SEIU and its allies in state government are using these "trainings" to bully home caregivers into paying money to the union.
From what Illinois Policy Institute staff have observed at these sessions and from our conversations with people who have attended them, no other handouts are given about good caregiving or any of the other subjects the state claimed would be covered. The real emphasis is on signing up members and keeping as much of the dues flowing as possible.
This training ruse is creating a serious hardship for families of individuals with disabilities. Caregivers are pulled away from their families and loved ones. The training lasts up to three hours and the locations are inconvenient – some caregivers are forced to drive more than an hour one-way. And some of the people with disabilities this program was meant to serve need constant attention, which means families have to either make alternative arrangements while the main caregiver is away from home, or bring their loved one to the training with them.
The state is supporting this union membership drive with more than $2 million in taxpayer dollars. It has made this training program mandatory, and has agreed to compensate caregivers for the time they spend in class – though not for travel time or other expenses. Those who need care would be better served if this money were given to caregivers in the form of extra hours. And the training could be done just as well if not better if it were provided online by people whose real interest was improving care.
The union has gone to considerable lengths to keep the training, and its recruitment efforts before and after training, a secret. We have attempted to provide alternative information to caregivers, reminding them that they are not required to join the union. But SEIU staff have frequently been disruptive and rude. Union staff have often objected to our recording efforts at the training sessions – even though the training is mostly on government property and supported with taxpayer dollars.
The SEIU is taking advantage of taxpayers, and creating hardships for Illinoisans with disabilities and the families who care for them, all to benefit their bottom line. They should be embarrassed.