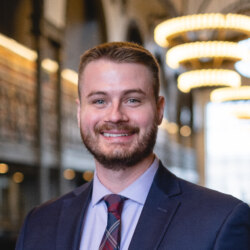 Adam Schuster | Senior Director of Budget and Tax Research
Senior Director of Budget and Tax Research
---
Adam Schuster is the senior budget and tax research director at the Illinois Policy Institute. In this role, he develops original research, solutions, and writing regarding state and local finances. His work has focused on finding practical solutions to Illinois worst in the nation pension crisis, strengthening fiscal institutions and constraints, making government spending more efficient and reducing property taxes. His work has appeared in the Wall Street Journal, Fox News, Reason Magazine, the Weekly Standard, the Chicago Tribune, Crain's Chicago Business, and more.
Adam is frequently relied upon as an expert panelist for state and local media, including Chicago Tonight, Fox 32 Chicago, and various radio stations.
Adam has a master's degree from Northern Illinois University. Prior to joining the Institute, he worked in the Illinois Department of Labor as a Senior Policy Advisor. His work for the State of Illinois focused on reducing unnecessary regulatory burdens and on an initiative to tie state spending to measurable policy outcomes.