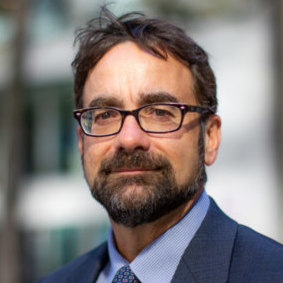 Brad Weisenstein | Managing Editor
Managing Editor
---
Brad Weisenstein is managing editor at the Illinois Policy Institute. His role is to guide institute content and ensure it is accurate, thorough and communicates the principles of personal liberty and fiscal restraint.
For 32 years Brad was an editor at his hometown newspaper, the Belleville News-Democrat. His work with investigations, multimedia, special projects and opinions won numerous state and national awards. Topics included failed rape prosecutions in southern Illinois, a county treasurer's corrupt handling of delinquent property tax sales, overdose deaths, memories of World War II and the stories of the folks found along one of America's longest Main Streets. He individually won awards for his editorial opinions on where a poor community's mayor really lived and with a farewell to the Illinois Senate's No. 2 Democrat, as well as for an investigation into taxpayer subsidies of a shuttle bus system to St. Louis Cardinals games (Go Cards!). He was part of the team that won a Pulitzer Prize for coverage of Hurricane Katrina.
He is a Belleville, Ill., native and graduate of Southern Illinois University Edwardsville.
Latest Posts by Brad
By
Patrick Andriesen
,
Brad Weisenstein