Belleville District 201 board approves 5 administrator salaries over $100k
Though the median household income in Belleville is only $43,318, Belleville Township School District 201's top administrators are making six-figure salaries.
Belleville Township School District 201 School Board renewed the contracts of five administrators on April 10, according to the Belleville News-Democrat. All of the administrators earn more than $130,000 per year.
The median household income in Belleville is $43,318.
The administrators whose contracts were renewed until 2022 are:
Jeff Dosier, superintendent, $174,280
Brian Mentzer, assistant superintendent, $132,763
Rich Mertens, principal at Belleville West High School, $131,171
Melissa Taylor, director of student services, $130,079
Andrea Gannon, director of alternative education, $130,079
The renewed contracts included no salary increases, according to the Belleville News-Democrat.
High administrative pay leads to higher property taxes
Illinoisans suffer under some of the highest property tax burdens in the country. To understand how local property tax bills look, just look at how a property tax tab breaks down.
The median home price in Belleville is $83,100, according to Zillow.com. A single-family home located at 101 South 51st St. in Belleville was listed for $83,000 as of April 2017.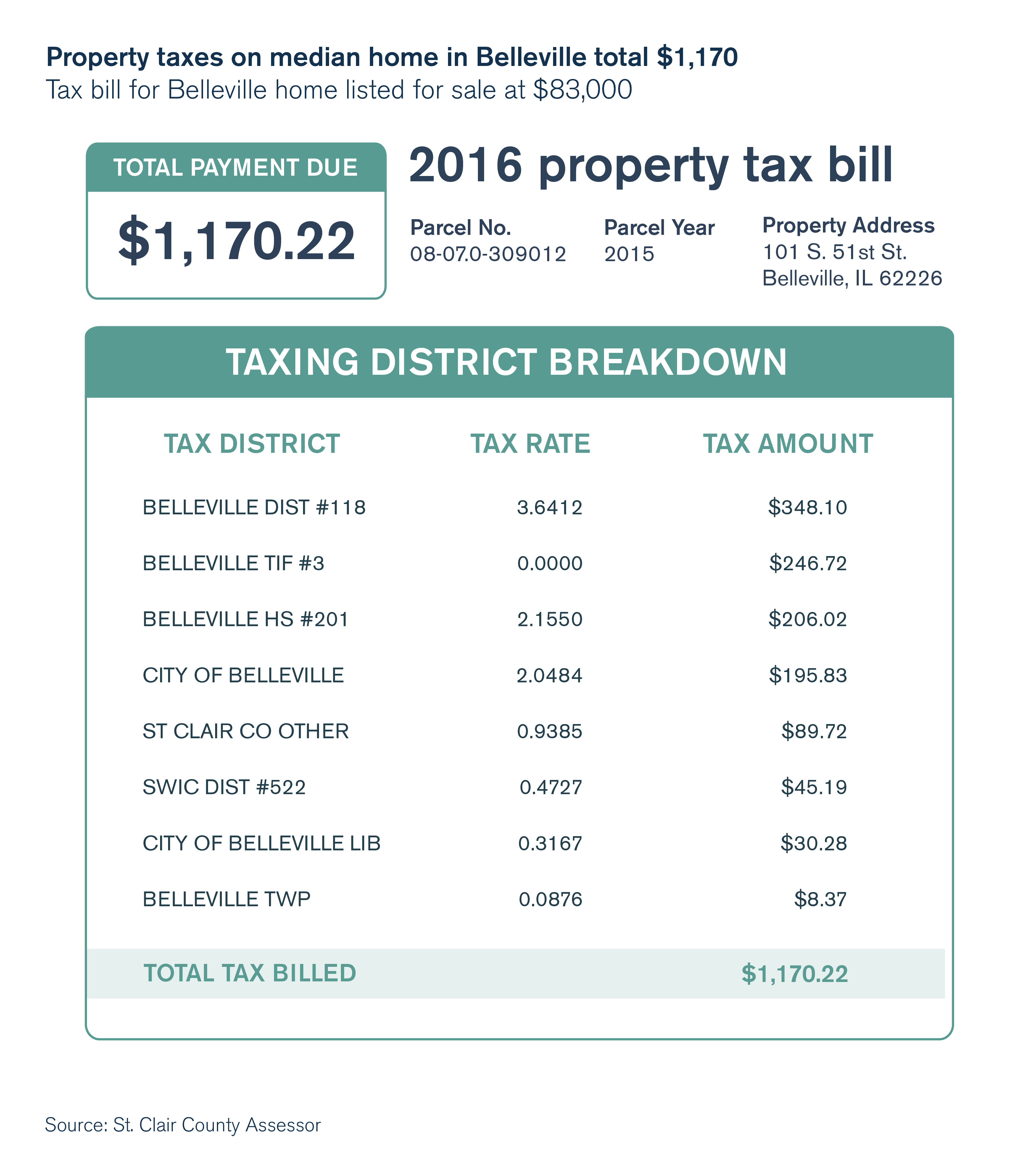 For this Belleville home, District 201 eats up the third largest share of local property taxes, behind only the local grade school district and Belleville's Tax Increment Financing, or TIF, district. A Belleville resident will pay $206.02 of a $1,170.22 property tax bill on a home selling at the city's median home price of $83,100.
Six-figure administrative salaries, like the kind approved by the District 201 School Board, contribute to keeping Illinoisans' property taxes among the highest in the nation. Property taxes in St. Clair County grew 52.4 percent from 2000 to 2013.
Costly property taxes also contribute to the state's, and the Metro East region's, high out-migration numbers. The population of St. Clair County declined by 1,320 people between July 2015 and July 2016. Meanwhile, on the other side of the Mississippi River, most of the counties in the St. Louis region saw population growth. Missourians also have, on average, property taxes that are 2.25 times lower than those of Illinoisans.
Additionally, District 201 is one of the 44 percent of Illinois' 859 school districts that serve only one or two schools, with a total enrollment of 4,958. This, in turn, means more duplicative six-figure administrative positions in areas like Belleville, as well as around the state, that could be reduced if the district served more schools and more students.
According to a poll from the Paul Simon Public Policy Institute, Illinoisans identified taxes as the top reason they wanted to leave the state. The same poll found that 47 percent of Illinois residents surveyed indicated they wanted to move.
The costs of these school administrators are out of sync with what households in the area earn per year, and the costs help drive the property tax burdens those households pay even higher. Belleville residents should pressure their elected leaders for property tax reform and school district consolidation to bring those burdens down and give residents a reason to stay in the area, instead of fleeing across the river to Missouri or to other states with lower taxes.