The shrinking Metro East
St. Clair and Madison counties saw combined population losses of more than 1,600 people due to out-migration to other states.
The Metro East region of Illinois is shrinking.
Comprising a handful of counties on the Illinois side of the greater St. Louis area, the Metro East region borders Missouri with the Mississippi River separating the two states. Belleville, the largest city in the Metro East, is less than a half-hour car ride from St. Louis. Because of its proximity to St. Louis, the Metro East is home to many residents who cross the border in their daily commute. But a large number of Illinoisans are leaving the state altogether for Missouri.
With the exception of Monroe County, every county in the Metro East saw its population shrink. From July 2015 to July 2016, two counties in Metro East – St. Clair and Madison – saw a combined drop in population of more than 1,600 people. St. Clair County suffered the brunt of the decline, losing 1,320 people, while Madison's population decreased by 312.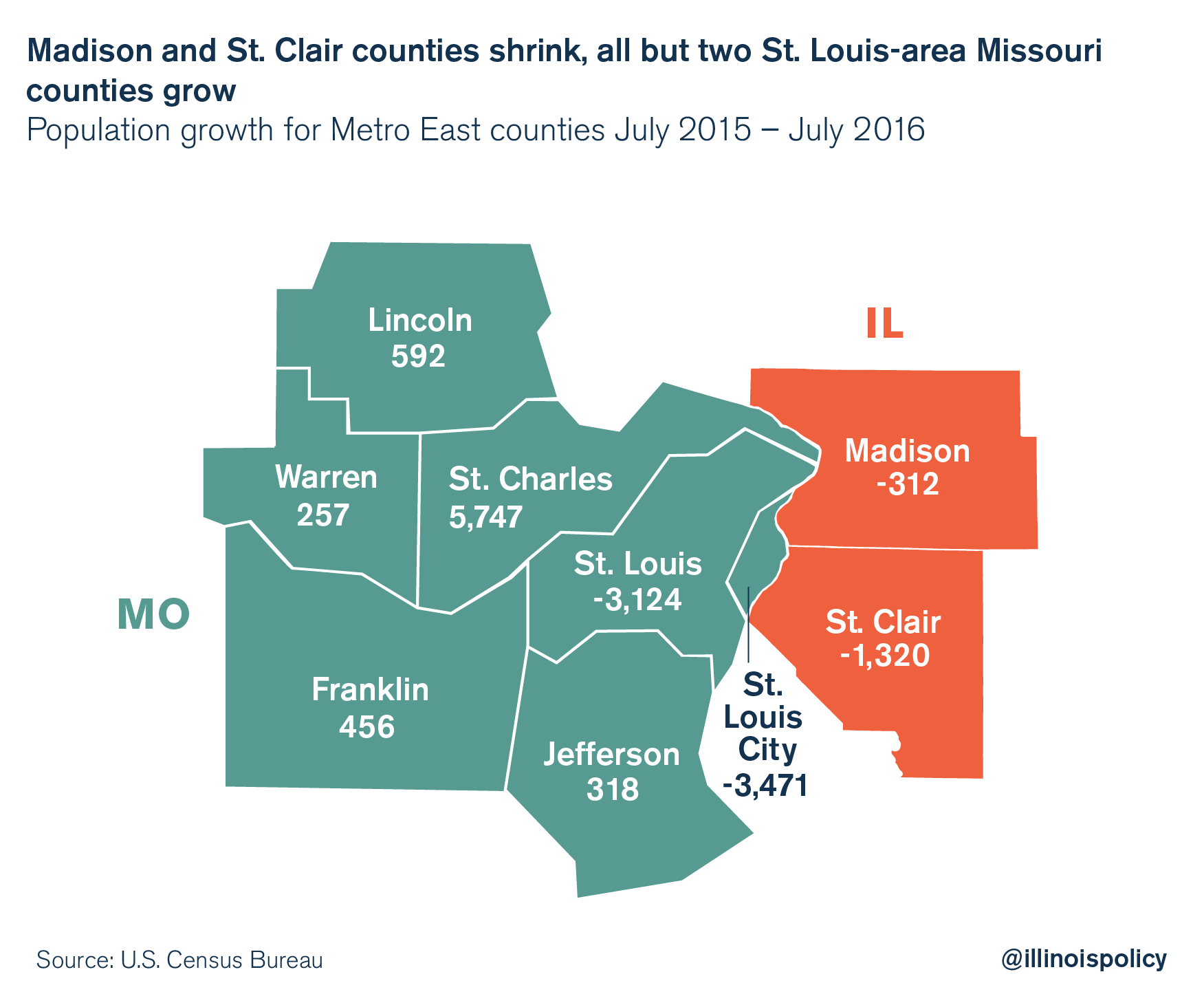 St. Clair and Madison counties' population losses come overwhelmingly from out-migration – the areas saw more births than deaths and even gained residents on net from international migration. St. Clair County had 3,282 births, 2,678 deaths and 127 immigrants arrive. However, St. Clair County lost 1,910 residents due to net domestic migration, and suffered a population loss of 1,320 residents. Madison County had 3,032 births, 2,814 deaths and 148 immigrants arrive. Far fewer people left Madison County; it lost only 572 people on net to domestic migration.
Missouri does not have this problem. Of the Missouri counties in the greater St. Louis area, only two counties ̶ St. Louis County and the city of St. Louis ̶ lost people. And though the city of St. Louis and St. Louis County lost more than 6,000 residents combined, the Missouri counties of the greater St. Louis area saw net growth. The other Missouri counties in the greater St. Louis area all saw population gains from July 2015 to July 2016. St. Charles County saw the biggest growth, where the population increased by 5,747 between July 2015 and July 2016.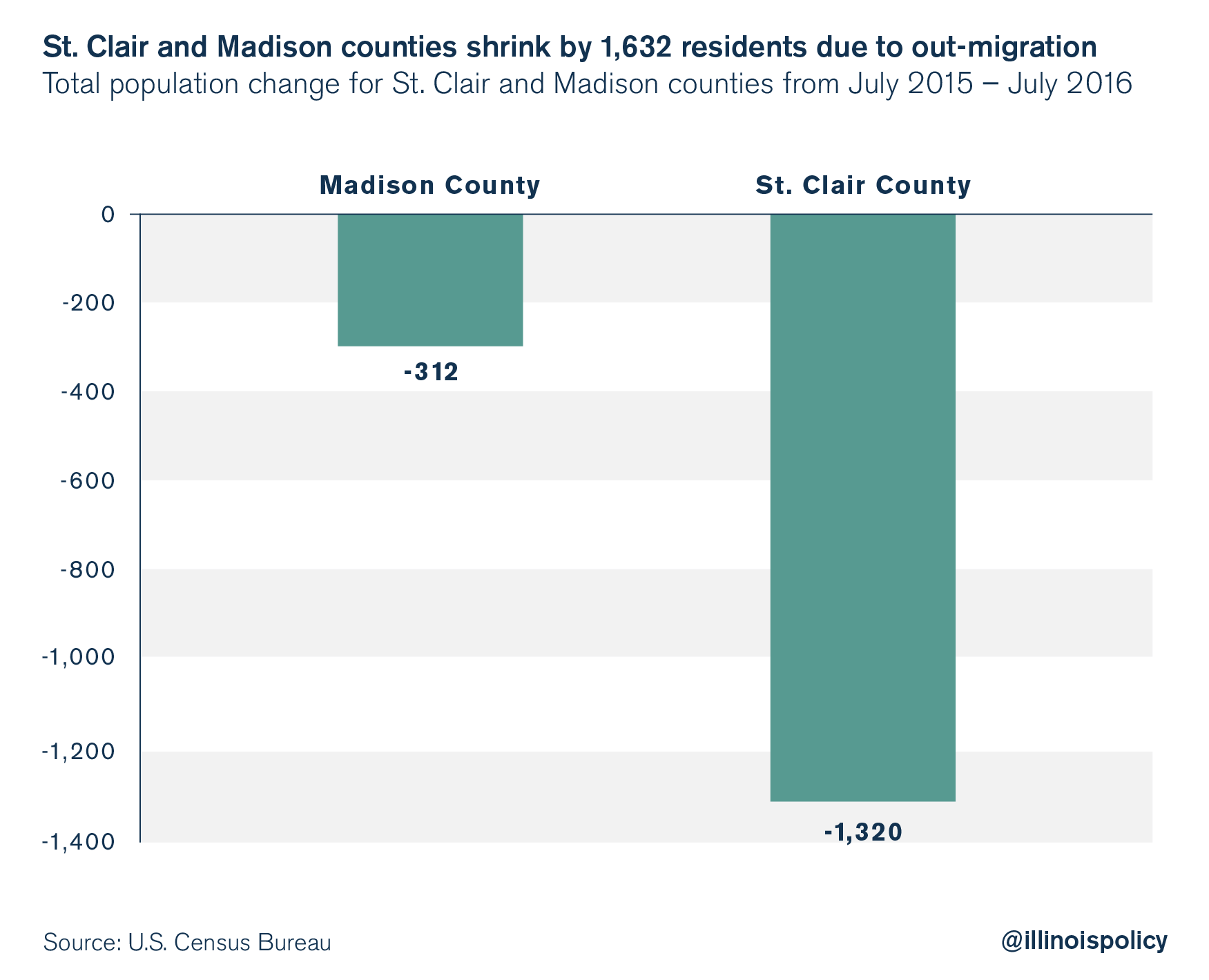 Crossing state lines: Illinois lost 73,000 people on net to Missouri in the last decade
In 2015, Illinois saw a net loss of more than 8,500 people to Missouri. Although 15,000 Missourians came to Illinois in 2015, nearly 24,000 Illinoisans left the Land of Lincoln in favor of the Show Me State. And it's not just Metro East; from July 2015 to July 2016, 89 out of Illinois' 102 counties shrank in population.
And 2015 wasn't an outlier.
From 2006 to 2015, Illinois lost nearly 73,000 residents on net to Missouri. That's more people than the populations of Jersey and Clinton counties combined.
Why Illinoisans are fleeing: Taxes are No. 1 reason
Illinoisans have been fleeing the state for several years now. In 2015, half of Illinois' migration losses were the result of Illinoisans moving to other states in the Midwest, including Missouri. In addition to Missouri, Wisconsin and Kentucky both saw net migration gains from Illinois in 2015.
One of the biggest causes of this exodus is taxes. According to a poll from the Paul Simon Public Policy Institute, Illinois' high taxes were the No. 1 reason nearly half of those surveyed wanted to leave the state. Illinois has some of the highest property taxes in the country and one of the costliest overall tax burdens in the nation. Since 1990 residential property taxes in Illinois have grown 3.3 times faster than median household incomes, and the homeowners' property tax burden as a percentage of median household income has skyrocketed 76 percent.
Missouri, on the other hand, has much lower property taxes. In 2016, the property tax rates for Illinois homeowners were 2.25 times higher than property tax rates in Missouri.
On Election Day, people in Madison County voted on a referendum on whether to reduce and cap property taxes, despite two challenges submitted to the electoral board to prevent the question from appearing on the ballot. Madison County residents voted overwhelmingly in favor of reducing the amount of property taxes the county can collect to 0.20 percent from 0.25 percent of home value.
While homeowners in Madison County made important progress in the last election, the battle for more affordable property taxes is nowhere close to over. Though currently stalled, lawmakers in Springfield are seeking to resurrect the "grand bargain" Senate deal which would've implemented a two-year property tax freeze in exchange for a permanent income tax hike. And the proposed property tax freeze would've been ineffectual because it excluded the biggest cost drivers, such as debt service, pension payments and public safety.
Raising taxes will not solve the state's education funding problems, and doing so will simply hurt Illinois residents who are already overburdened with taxes. Residents of the Metro East counties and the rest of Illinois should take a lesson from Madison County and fight for real property tax relief at the state level. Metro East residents should hold their elected officials accountable and demand more, instead of trading permanent tax hikes for weak reforms and watered-down, temporary property tax freezes.