Belleville has seen sharpest population decline among top Illinois cities since 2010
As Illinois struggles to address its people problem, population loss has plagued communities across the Land of Lincoln. But the shrinkage in some areas has been more severe than others.
A reminder of the state's population woes surfaced when the U.S. Census Bureau released new population data May 24. Of the nation's largest cities, the data show, Chicago was the only one to experience population loss from July 2016 to July 2017.
But in St. Clair County, 300 miles south, one city has experienced a level of population loss that tops Illinois' 50 most populous cities.
From 2010 to 2017, the city of Belleville's population fell to 41,650 from 44,300, losing more than 2,600 residents, or nearly 6 percent of its population.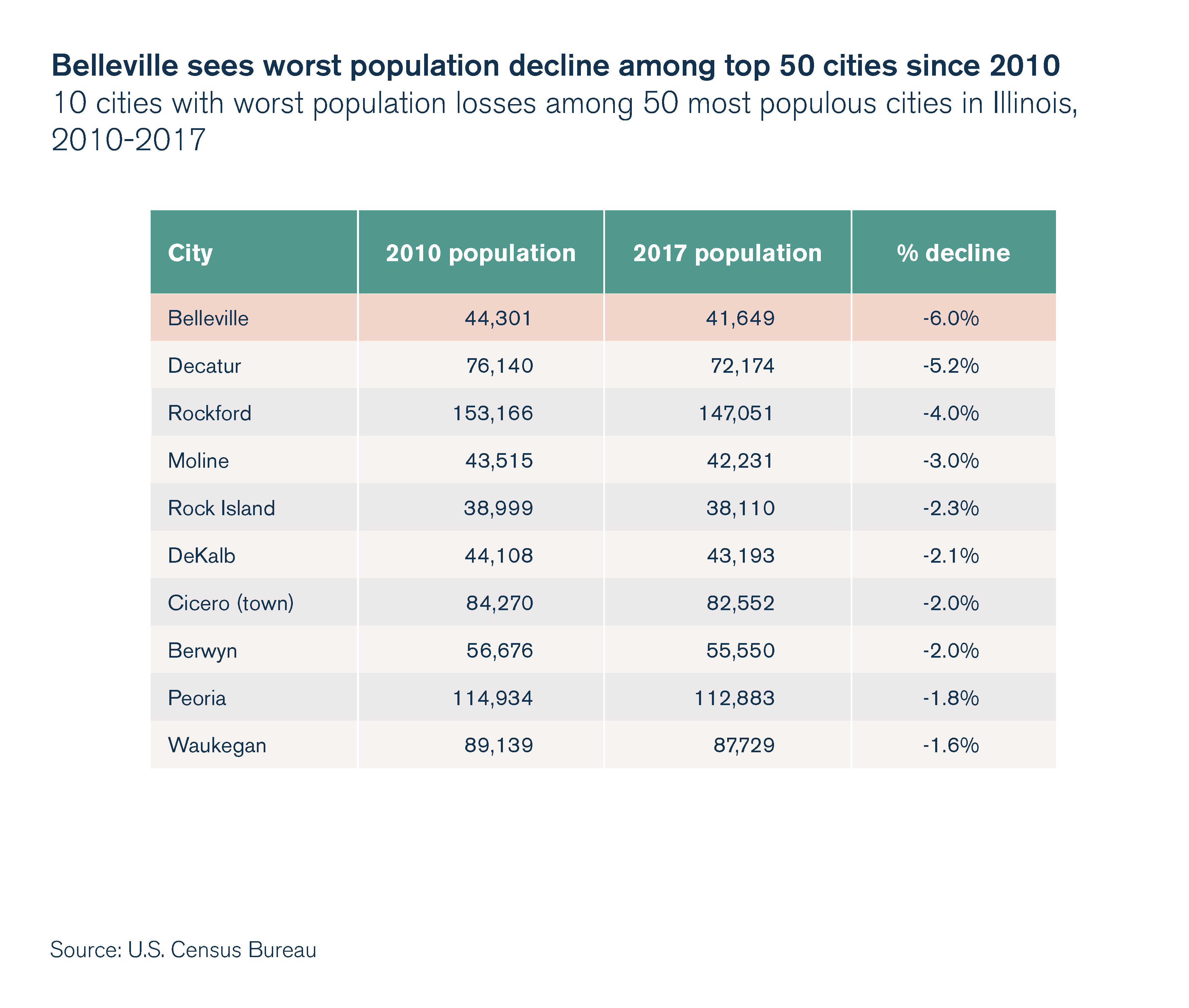 Belleville's decline was followed by that of Decatur, which saw the second-worst population loss among Illinois' 50 largest cities over that time, shrinking by 5.2 percent.
Illinois has consistently lost more residents than it's gained from other states, ultimately resulting in the Land of Lincoln falling to fifth- from fourth-largest state in the nation, according to Census Bureau data released December 2017.
Based on county-level numbers, this imbalance between incoming and outgoing residents appears to be what's behind Belleville's shrinking population. Despite enjoying natural population gains – births outpacing deaths – as well as gains from international migration, the outbound flow of residents to other counties cost St. Clair County 1,300 people on net between July 2016 and July 2017. Since 2010, St. Clair County has lost more 15,200 residents on net to other counties.
Policy failures at the state and local level have rendered the Metro East an unwelcoming environment for too many Illinoisans. For St. Clair County in particular, per capita personal income grew by less than 3 percent per year from 2005 to 2015, on average, trailing the state's weak income growth overall. And local officials' overreliance on tax hikes isn't likely to recover recent population losses.
Notes from neighbors
The side of the Mississippi River opposite Illinois tells different story. Although St. Louis County and the city of St. Louis have seen their population shrink over the years, the majority of Missouri counties bordering Illinois' Metro East – St. Charles, Lincoln, Warren, Franklin and Jefferson – have seen growing populations. Among those counties, only Jefferson County suffered a deficit in domestic migration from 2010 to 2017. However, natural population growth, coupled with gains from international migration, was enough to offset that outmigration.
Outmigration from St. Clair County alone doesn't account for the population gains in each growing Missouri county across the border, but from 2006 to 2016, Illinois lost 20 people per day to the Show-Me State.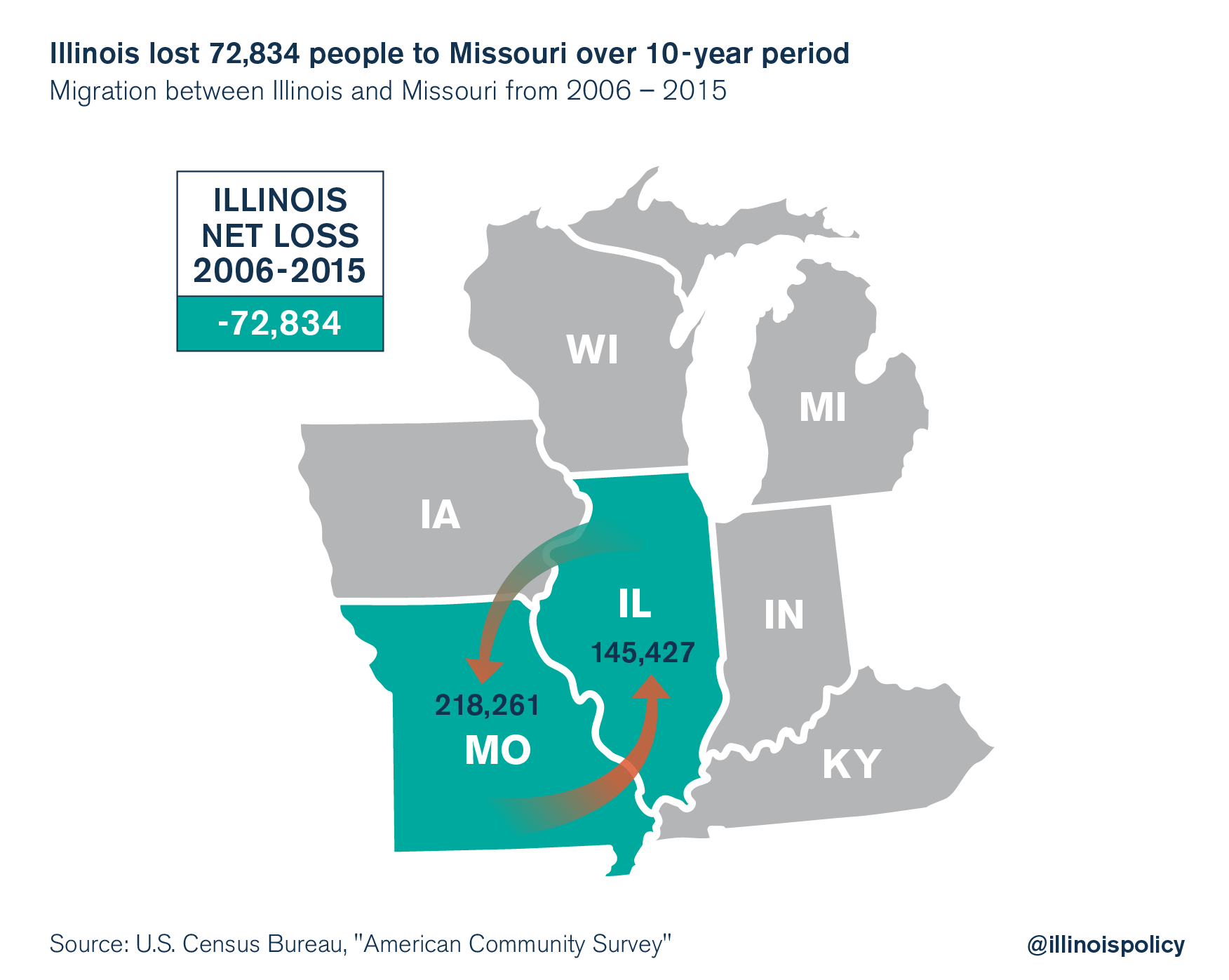 Missouri is not the only neighbor gaining Illinoisans. Illinois' six surrounding states have collectively received more than 100,000 former Illinoisans on net since 2010.
A look at the state's punishing tax burden offers a window into disenchantment with the Land of Lincoln. In 2017, Illinois' average effective property tax rate was 2.22 percent, according to ATTOM Data Solutions, a property data service. That's higher than the national average, which was 1.17 percent in 2017. But both the state and national average were outmatched by St. Clair County, which shouldered a 2.4 percent average effective property tax rate.
Missouri's average effective property tax rate, meanwhile, was 1.1 percent – below both Illinois' and the nationwide average. Among Missouri counties that border Illinois' Metro East region, the highest property taxes were in St. Louis County, with a 1.37 percent average effective rate. (The ATTOM data do not include Warren County, Missouri.) Residents' total state and local tax burden is also lighter in Missouri.
Unlike Illinois, Missouri has adopted some reforms conducive to protecting residents from routine tax hikes. Most recently – and in keeping with the rest of Illinois' neighbors – Missouri has started to introduce sensible measures that demand greater accountability of government worker unions that negotiate over taxpayer funds. Moreover, the states have clearly differing attitudes toward business. While Illinois' heavy-handed approach has discouraged job growth, Missouri is home to a more competitive regulatory environment.
Illinois' population problem should signal to Springfield that taxpayers are in desperate need of relief. State lawmakers must address the primary causes behind Illinois' rising cost of government and introduce prudent reforms that relieve taxpayers from an overreliance on tax hikes.