Blagojevich comes home to America's most corrupt city
Chicago and the state of Illinois are notorious around the country for high-profile corruption convictions. Rod Blagojevich settles back in after the former governor's imprisonment for corruption.
As former Gov. Rod Blagojevich walked out of prison calling himself a "freed political prisoner" and proclaimed he never let the people of Illinois down, federal investigators continued to work on multiple public corruption investigations in Illinois. The targets of those investigations are part of a long history of abuses by public officials in the state.
Chicago and northern Illinois have had more corruption convictions than any other U.S. District Court in America, according to a new report from the University of Illinois-Chicago. The vast majority of those convictions were in the Chicago area, leading researchers to dub Chicago the nation's most-corrupt city.
Overall, Illinois ranks as the second-most corrupt state. The report analyzed annual public corruption convictions statistics from the U.S. Department of Justice and ranked conviction totals by court district and per capita.
The U.S. District Court for the Northern District of Illinois, which covers Chicago, saw 1,750 convictions for corruption from 1976 to 2018. Los Angeles, the city with the second-most convictions, saw 203 fewer.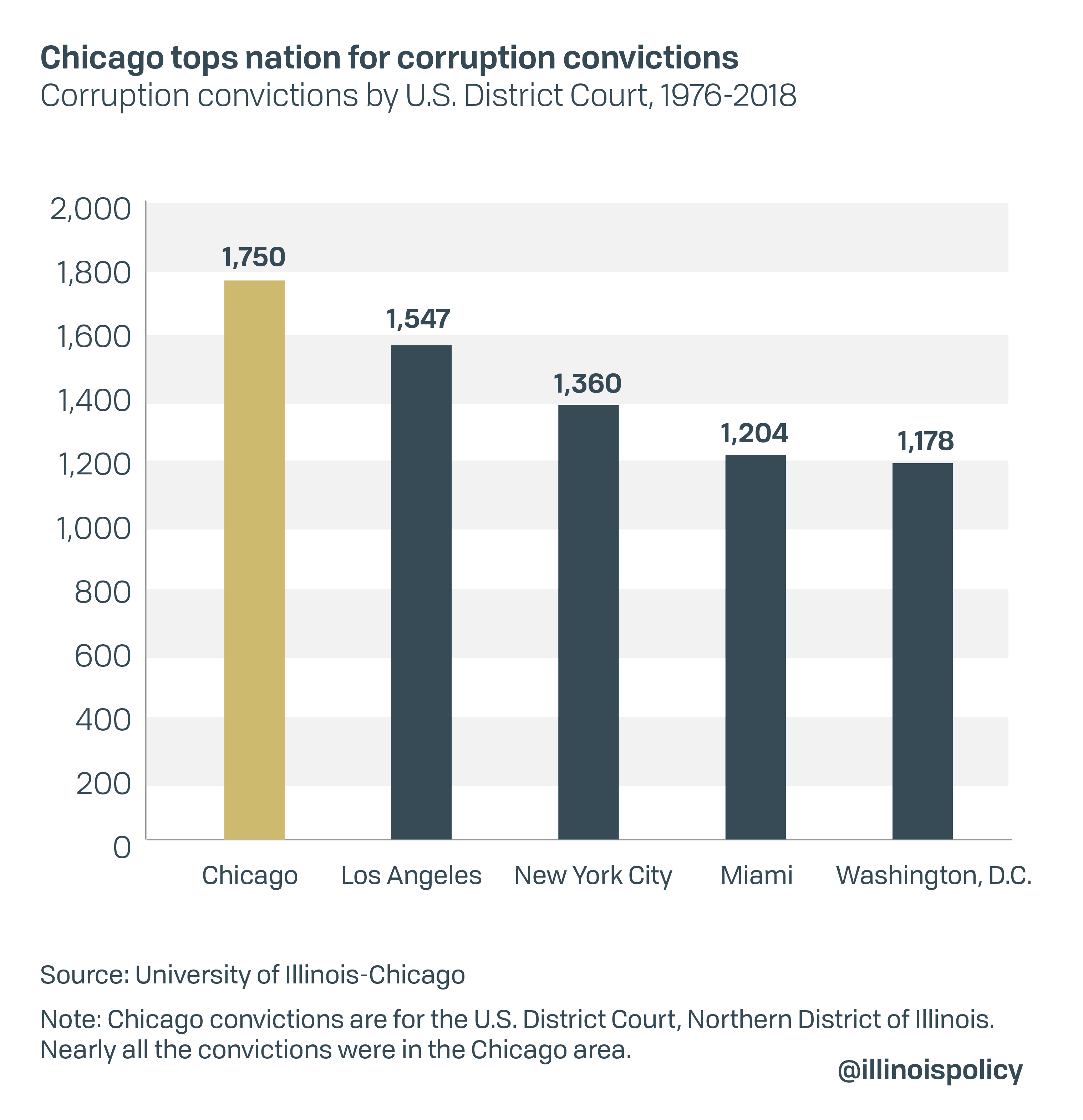 Illinois' No. 2 ranking was based on corruption convictions per capita. The report showed Illinois had 1.66 corruption convictions for every 10,000 residents. Only Louisiana had a higher per capita number with 2.62. The study notes Washington, D.C., is an outlier with 16.79 convictions per capita because of their vast amounts of public employees and levels of courts.
Another report from WLS-TV found Illinois tallied the most public corruption convictions since 2000. The state has seen 891 public officials convicted during the past two decades.
Blagojevich's trip to a federal penitentiary for multiple corruption charges, including trying to sell President Barack Obama's former U.S. Senate seat, is just one of the hundreds of cases tried in Chicago's federal court that earned it the top corruption ranking.
Two other former governors have also made the trip from the Governor's Mansion to a concrete cell and helped add to the Justice Department's totals. George Ryan, who left office in 2003, got six and a half years for racketeering while he was governor. Dan Walker's business activities after he left Springfield in 1977 earned him about 18 months behind bars for bank fraud.
The fourth former governor sent to prison, Otto Kerner, was convicted of bribery in the late 1960s, before the survey data was collected.
More convictions are expected in the Northern District. The Chicago FBI's former Special Agent in Charge hinted at more indictments in the coming months when he left the position in September. That has proven to be the case so far.
Multiple arrests have been made since September as federal investigators close in on more corruption scandals involving red-light cameras. Patrick Doherty, chief of staff to Cook County Commissioner Jeff Tobolski, was charged with three counts of bribery and conspiracy to commit bribery on Feb. 14. Former state Sen. Martin Sandoval pleaded guilty in January to multiple charges, including taking over $250,000 in bribes and $70,000 in campaign funds, for his role in persuading municipalities to install SafeSpeed red-light cameras and protecting the company.
Chicagoans will also be watching the trial of Ald. Ed Burke when it convenes in 2021. Burke pleaded not guilty to 14 counts of corruption.
Top corruption rankings will continue making Chicago and Illinois notorious until state leaders enact reforms. A number of reforms are up for consideration during the current legislative session:
Corruption from leading politicians erodes the public's trust in their elected leaders. Sandoval played a leading role to get a doubled gas tax passed and to put the progressive income tax amendment on the ballot.
When Blagojevich was impeached in 2009, an ethics task force compiled reforms to curb corruption in the state. The reforms have languished and the cycle of corruption has continued. It's time to revisit those reforms and rehabilitate Illinois' reputation.