BLS data show Illinois would have 250,000 more people working if it kept up with surrounding states
Illinois has been lagging behind the rest of the region over the last decade, and will continue to do so if the state doesn't enact necessary economic reforms.
Illinois suffered another month of weak economic performance in May, according to new data from the Illinois Department of Employment Security. Illinois' workforce shrank by 22,600 people in May, causing the unemployment rate to fall due to workforce dropout.
Illinois' economy has been the long-term laggard of the region, and the Land of Lincoln has performed as if it is in a single-state economic depression. And data for all states from the Bureau of Labor Statistics shows that if Illinois had kept up with surrounding states, 250,000 more people would be working here.
Illinois' personal income growth is the worst in the nation, and has remained stagnant for families who need to earn and save more money. In addition, jobs growth has left too many without opportunities, and Illinois' housing crisis has left 1 in 6 mortgages deeply underwater.
The number of people working in Illinois is down over the last decade
Illinois' household employment, which counts how many people are working in the state, fell by nearly 14,000 people on net in the month of May. Only Missouri had a worse month.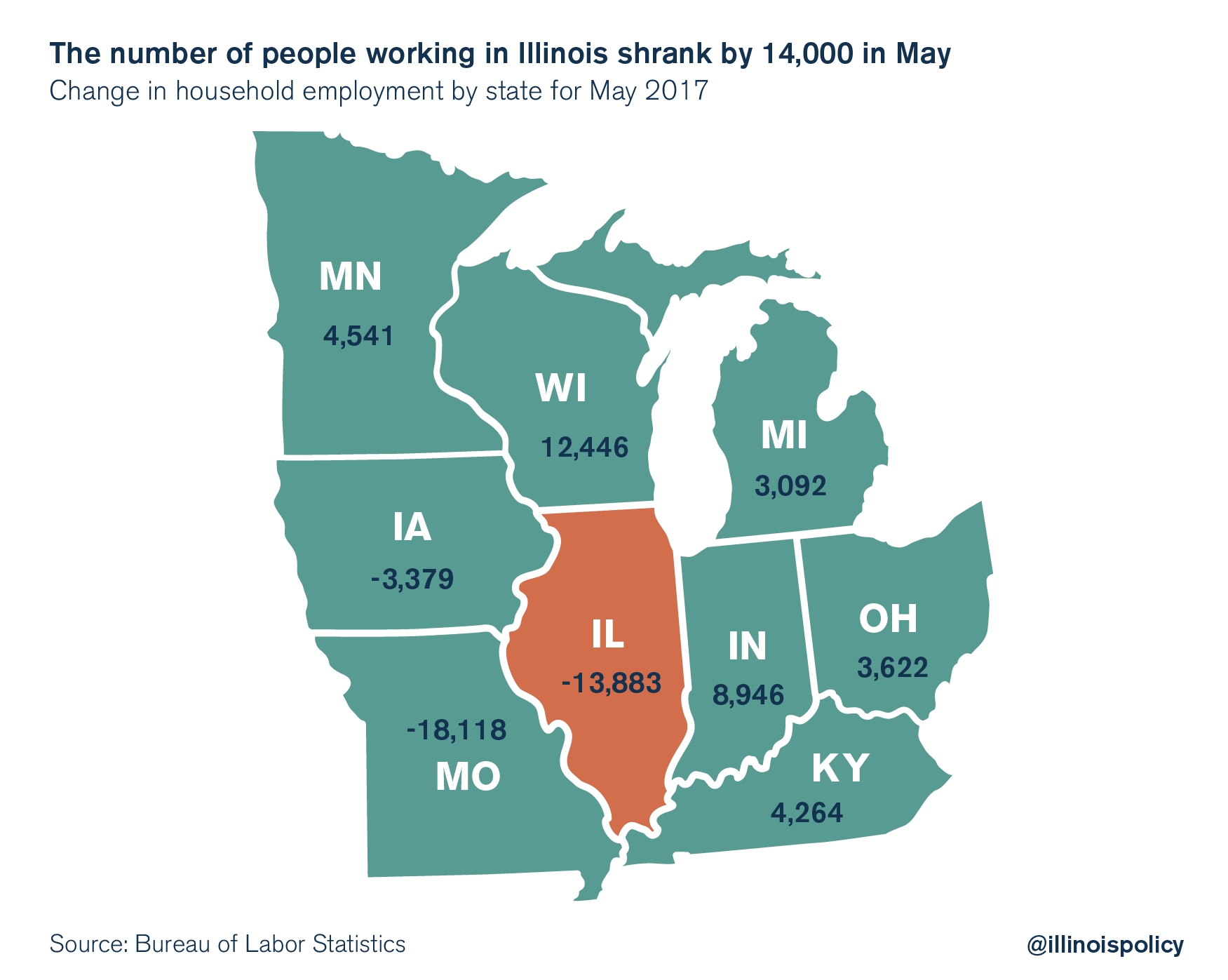 The state's long-term economic drag and rapid out-migration of working adults has left Illinois with fewer and fewer people working. There are 160,000 fewer Illinoisans working on net compared to before the Great Recession, the worst result in the entire United States.
Illinois has been the worst performer in the region over the Great Recession era. There would be 250,000 more people working on net in Illinois if the Land of Lincoln simply kept pace with surrounding states' average for putting people back to work.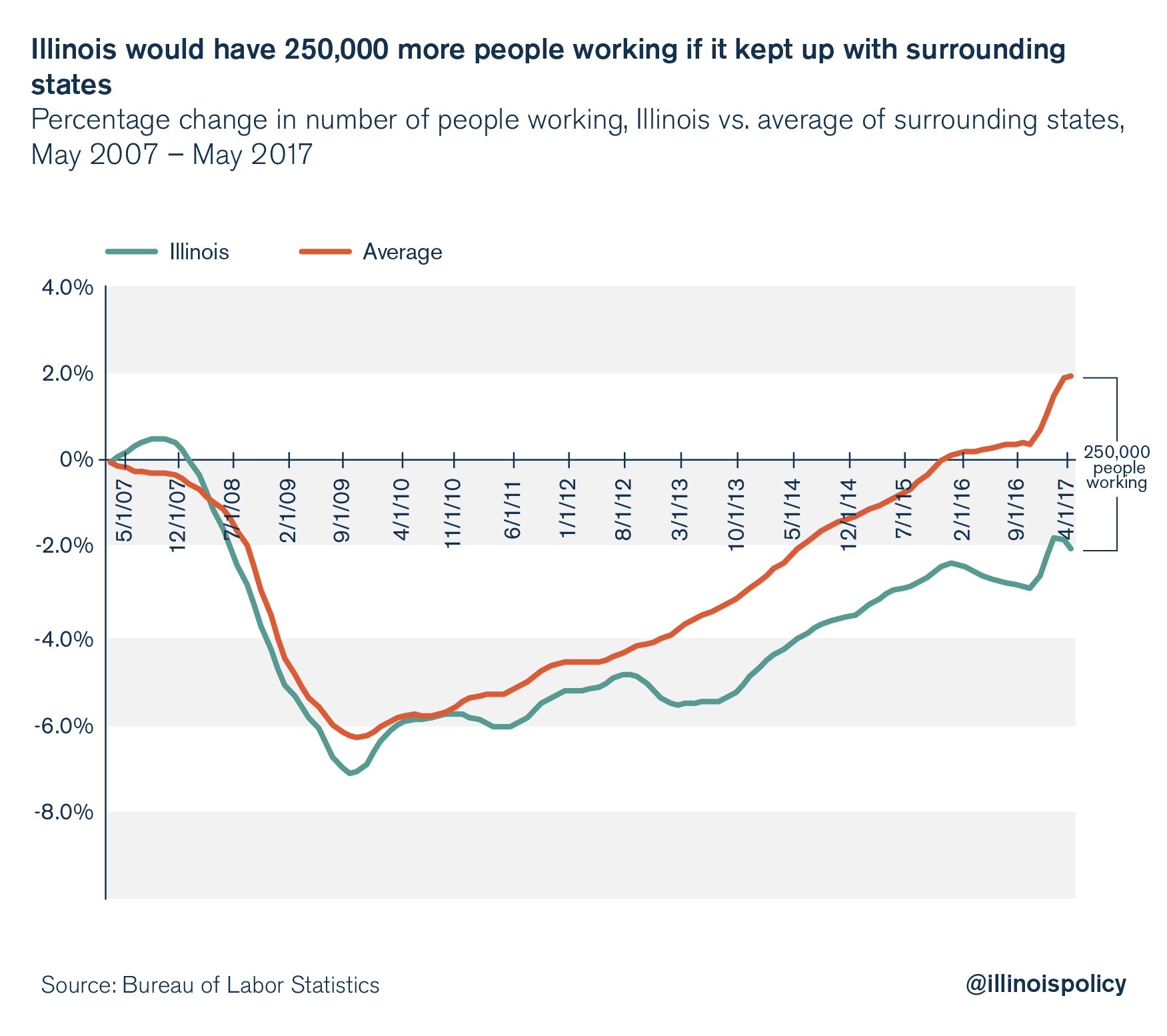 Business payroll jobs growth is weak, and Illinois manufacturing has the worst 10-year job losses in the region
Illinois gained only 2,400 payroll jobs on net in May, with several surrounding states struggling with payroll jobs growth on the month. Weak payroll jobs numbers could be a sign of regional economic weakness.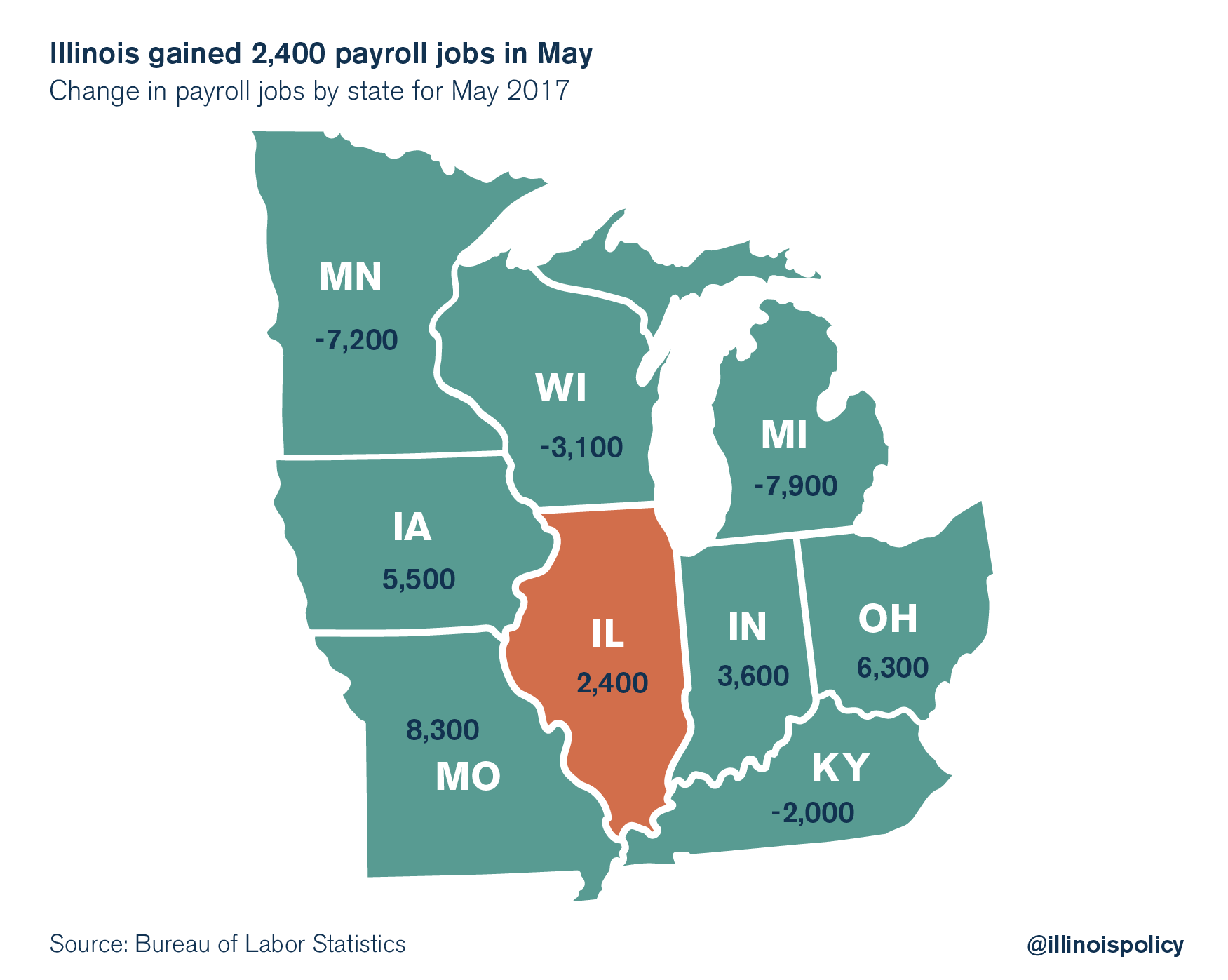 Illinois' weakness has been long running, unlike most other states in the region. Illinois has the worst payroll jobs performance of all surrounding states for the last decade. If Illinois had lost and then regained payroll jobs like the average of surrounding states, an additional 140,000 payroll jobs on net would be in Illinois.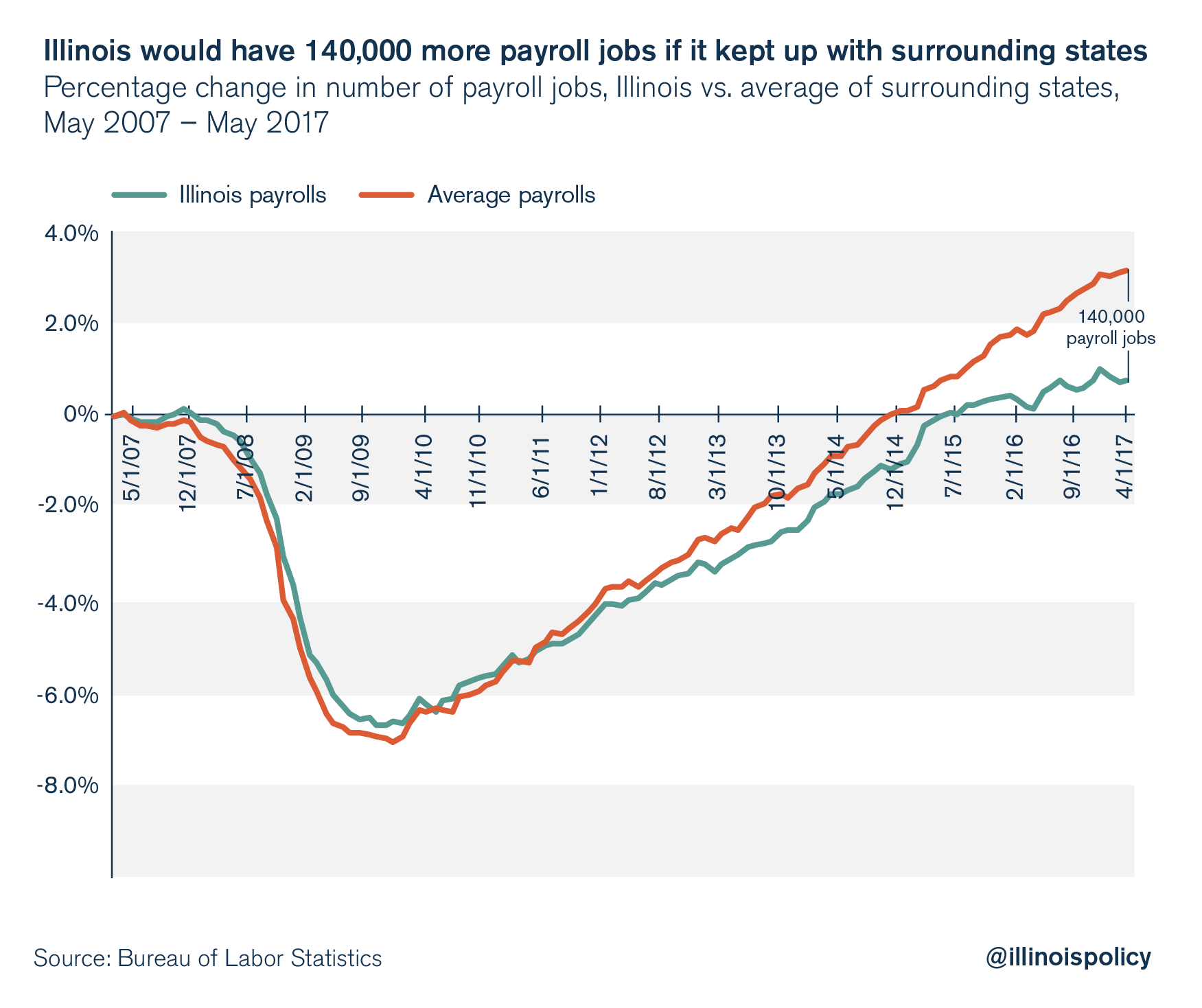 Illinois especially sticks out for weakness in manufacturing jobs growth and retention. The Land of Lincoln has lost 1 in 6 manufacturing jobs over the past 10 years, the worst loss of any surrounding states.
States around Illinois have averaged a loss of only 1 in 15 manufacturing jobs over the last decade.
If Illinois had treaded water and performed like other states in the region, 60,000 more manufacturing jobs would be in the Land of Lincoln.
Illinois must reform – or continue to underperform
Illinois families are experiencing the pain of joblessness and heavy taxes, causing many to lose hope and leave the state. State government needs to reform or the state will continue to underperform.
The Land of Lincoln needs massive spending changes along with debt restructuring so spending and debt levels can be brought down to what Illinois families can afford. An important part of making Illinois affordable for families is freezing then cutting property taxes. This will require spending reforms for local governments.
To foster better job creation, Illinois also needs economic reforms to job-killing policies such as workers' compensation, prevailing wage laws and occupational licensing. Lawmakers should adopt the end goal of making Illinois an attractive place to invest, train a new workforce and hire new workers.
However, the story from Springfield is always the same: State government needs more money. Taxpayers should reject this idea from all public officials, and demand real reforms and no new taxes.