Workforce dropout causes Illinois unemployment to fall slightly
A new report from the Illinois Department of Employment Security shows Illinois had a modest net gain of 2,400 jobs in May, but still has fewer jobs today than before the Great Recession began.
Illinois' workforce shrank by 22,600 people in May, according to a new economic release from the Illinois Department of Employment Security.
Illinois' unemployment rate fell to 4.6 percent from 4.7 percent, but the rate declined entirely because of workforce dropout. The state gained only 2,400 payroll jobs on net in May, which is a fraction of the growth needed to keep Illinois workers from having to leave the state to find a job. Illinois is up only 10,300 jobs on the year.
Illinois now has 160,000 fewer people working compared with before the Great Recession. By comparison, total employment is at or near new all-time highs in bordering states, all of which have gained people from Illinois.
Illinois is in an economic depression, but Illinois Republicans in the General Assembly announced June 14 they want to balance the state budget with a massive $5.4 billion tax hike.
Illinois payroll jobs summary
Illinois' May payrolls showed a net gain of only 2,400 jobs for the month, with the biggest pickups in construction (+4,000) and education and health services (+3,700). Sectors with significant losses included trade, transportation and utilities (-3,700) and government (-2,500).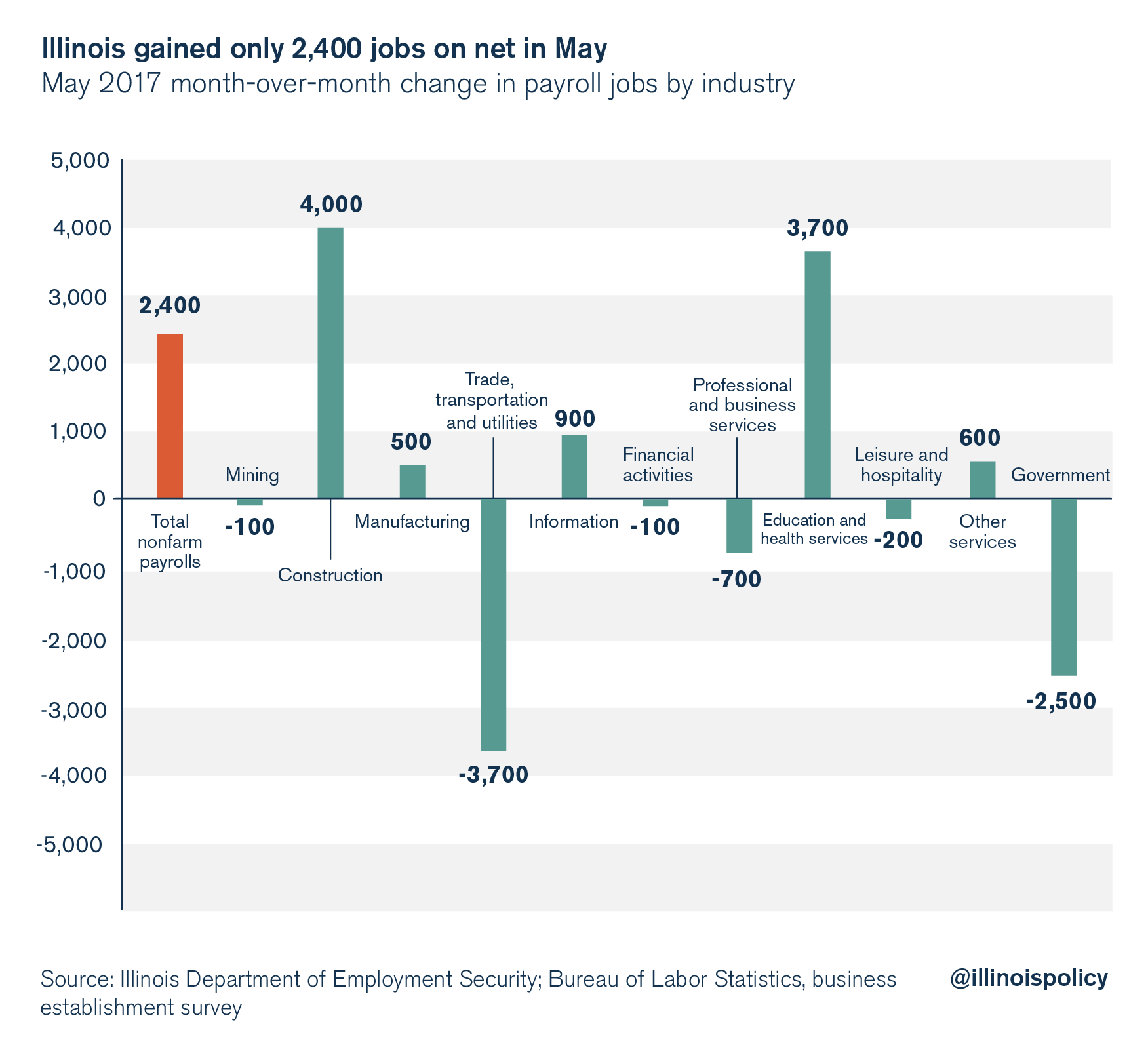 Illinois still has 23,300 fewer jobs compared with the year 2000. Illinois is one of the only states in the country to have fewer jobs today than it had at the turn of the century.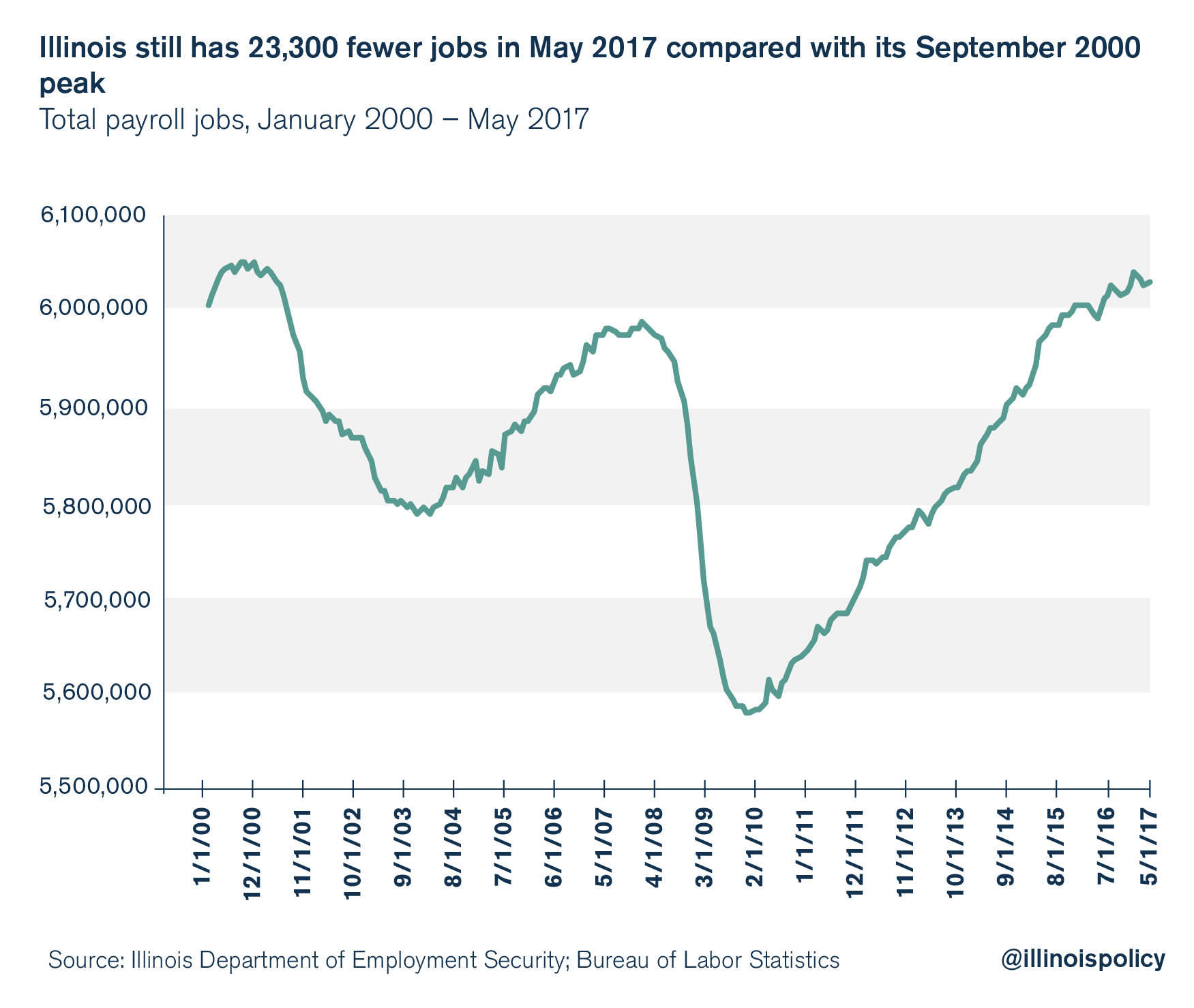 The overall composition of Illinois' jobs has also changed since the turn of the century, with significant losses of blue-collar jobs such as manufacturing, and gains in white-collar work such as professional services.
Blue-collar workers are being left behind in Illinois, as long-term job weakness especially hurts Illinois' working class.
Illinois household survey summary
Illinois' unemployment rate dropped to 4.6 percent in May from 4.7 percent, entirely because unemployed workers dropped out of the workforce. The state's workforce shrank by 22,600 people because the number of working Illinoisans dropped by 13,900, and the number of unemployed Illinoisans fell by 8,800.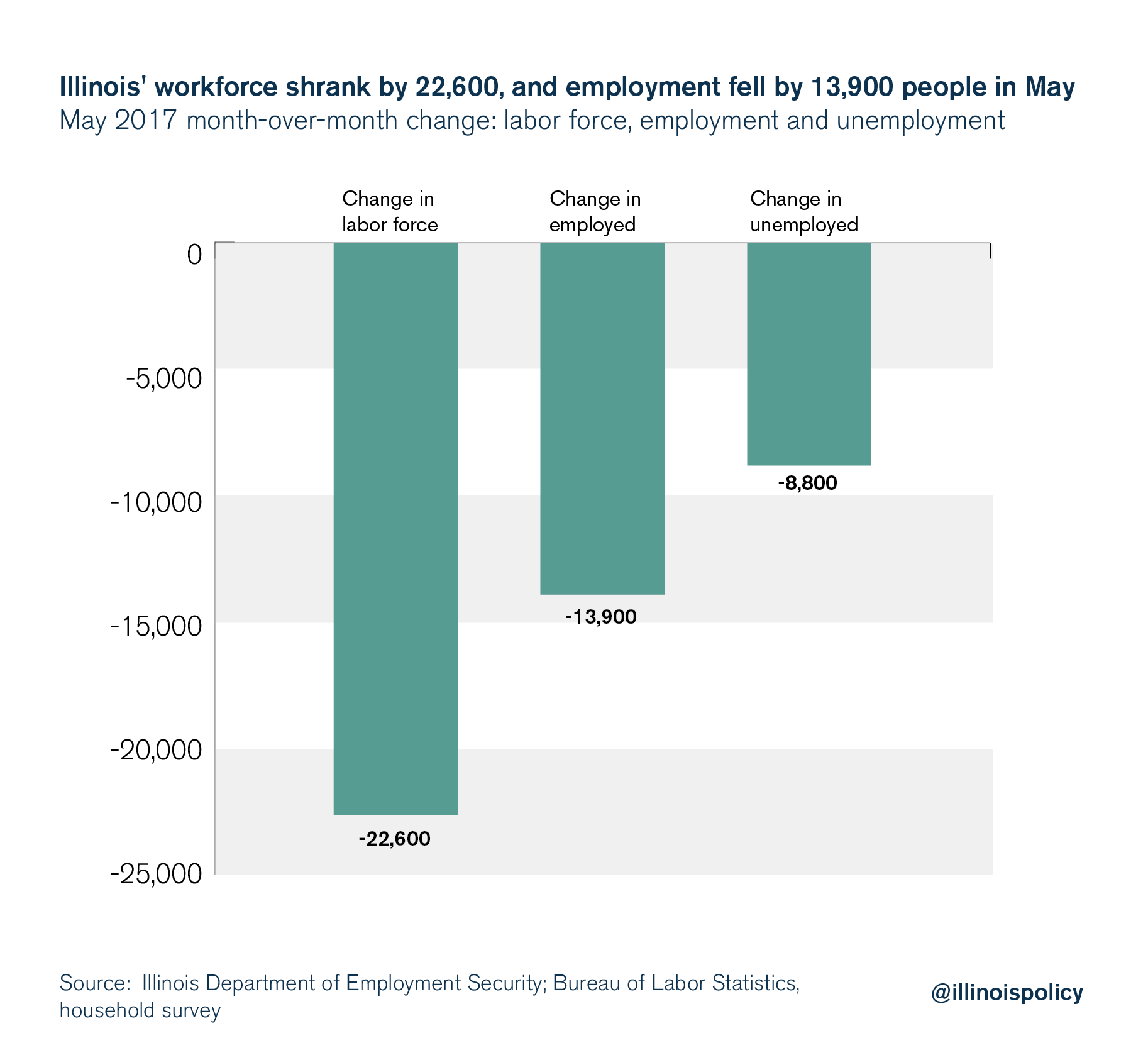 Illinois has 160,000 fewer people working today compared with its employment peak before the Great Recession began. Fewer people working compared with a decade ago is clear evidence that Illinois' economy is in a depression.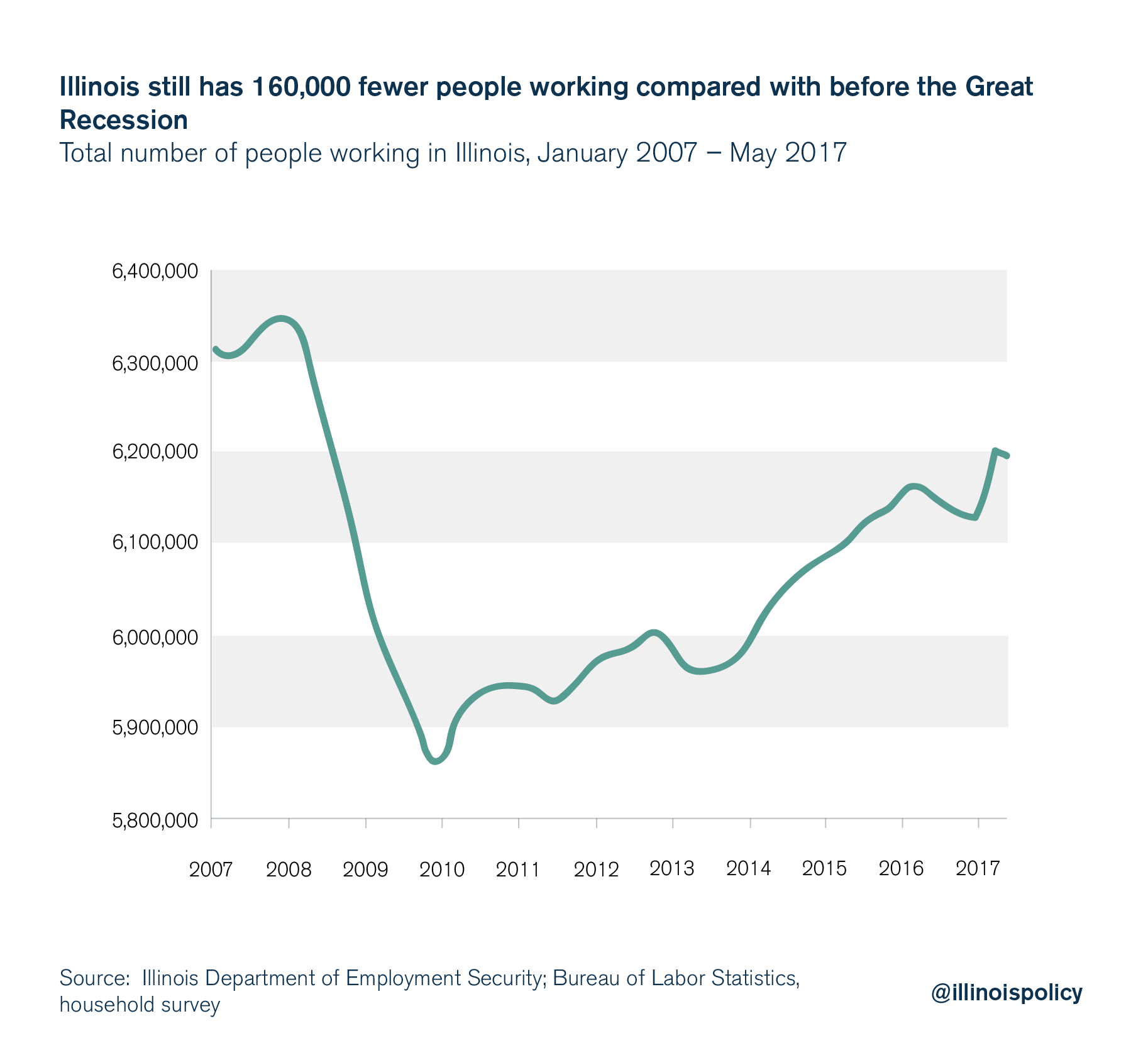 Illinois' economic depression necessitates honest reform, not tax hikes
Illinoisans are in dire economic straits. The Land of Lincoln has the nation's highest black unemployment rate and second-highest youth unemployment rate, and the region's worst manufacturing jobs recovery. The combination of these factors has resulted in Illinois tying with Nevada for the worst income growth in the country over the Great Recession era.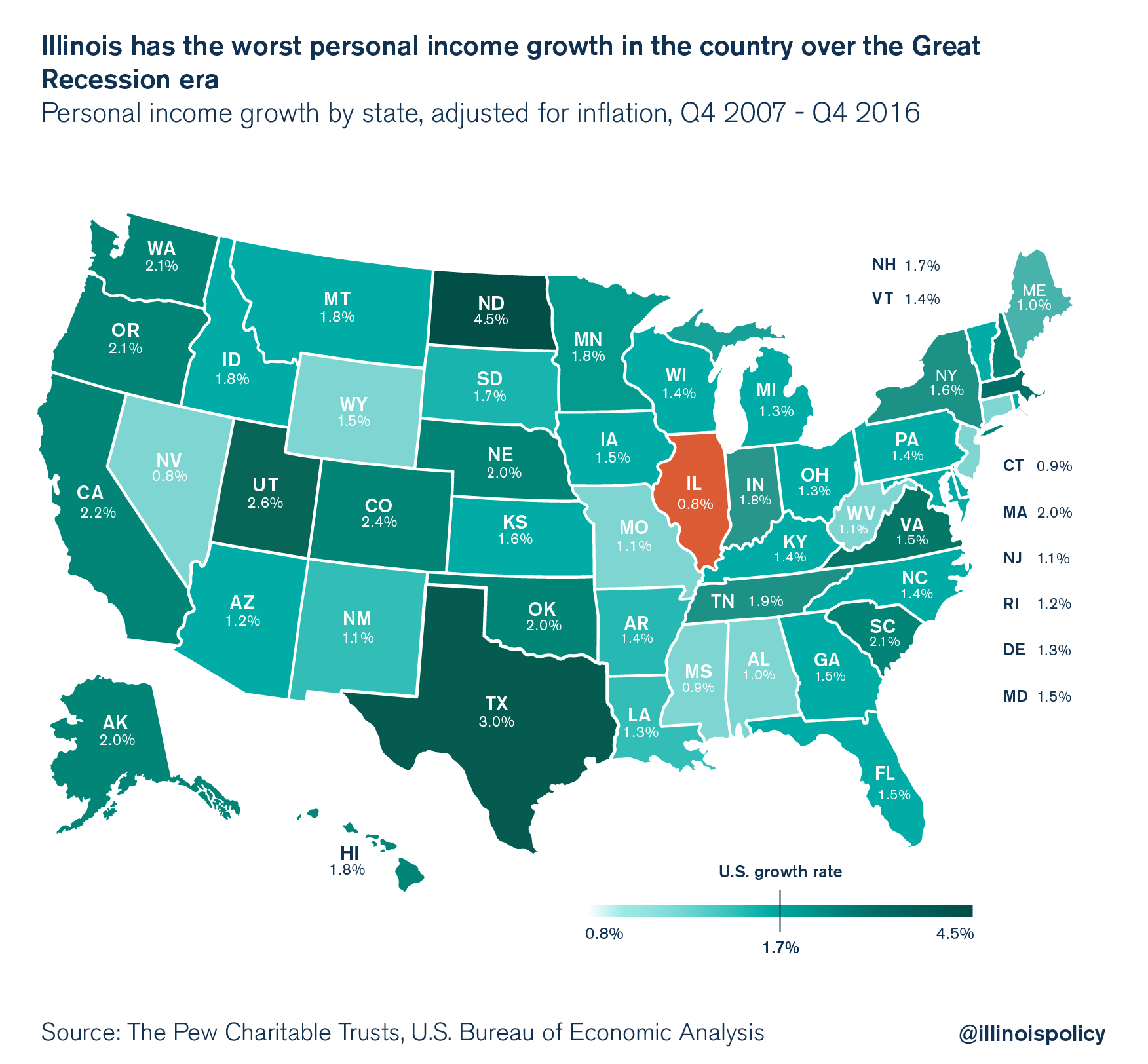 Decades of bad policy decisions have crippled the state. In fact, Illinois' economic growth is worse than the country's during the worst years of America's Great Depression.
Illinois is in an economic depression, and productive, working-age adults with decades of their careers still ahead of them are leaving the state. Working-age adults are fleeing Illinois, and millennial taxpayers are exiting fastest.
Illinois' economy will continue to deteriorate until lawmakers give up on the idea of endlessly hiking taxes to paper over gargantuan mistakes.
Illinois Republicans should abandon their tax hike scheme. It is a terrible economic idea and is entirely out of touch with what the population of Illinois needs. A May poll commissioned by the Illinois Policy Institute revealed the overwhelming majority of Illinoisans surveyed want the budget balanced without a tax increase, with 64 percent of respondents saying they don't want an income tax hike as part of a budget deal.
Illinois Republicans should listen to the people they represent and balance the budget, reform the economy, bring the state's debt and spending under control and refrain from raising taxes.